A Scientist at Heart
New President Draws on Lessons Learned in Augusta University Lab
"I like to say that even though I gave up my lab, I gained 800 of them."
That's the perspective of Augusta University's new president, Dr. Brooks Keel, as he reflects on his transition from scientist to administrator.
Keel, who joined Augusta University in July after serving as president of Georgia Southern University for five and a half years, relishes the challenge of overseeing every aspect of the institution, including its academic and clinical missions. But research will always have a special place in his heart.
He earned both his undergraduate degree and PhD from Augusta University (then Augusta College and the Medical College of Georgia, respectively), and he takes great pride in an alma mater that has made such indelible marks in biomedical research. "I earned my PhD in reproductive endocrinology, a discipline in which MCG has been tremendously influential," Keel said. "This is where Dr. Robert B. Greenblatt published the first scientific paper on the sequential form of oral contraception."
Keel had a National Institutes of Health-funded lab for many years, building not only on Greenblatt's achievements, but those of other prominent Augusta University researchers, including his mentor, Dr. Tom Abney, and then-Chairman of the Department of Physiology and Endocrinology Virendra Mahesh. Augusta University's groundbreaking research into reproductive endocrinology continues today, including Dr. Lawrence Layman and colleagues' identification of four to five genes implicated in delayed puberty (see page 14).
Keel is eager to perpetuate Augusta University's dynamic research legacy. "I want Augusta University to be a top-50 research institution," he said. "We need about $30 million more in NIH funding to make that happen. That's going to be very, very heavy lifting. It won't happen overnight, but we'll be on track to get there."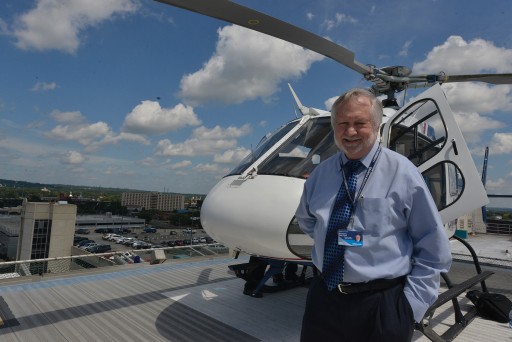 He plans to invest in "facilities, translational research and people," ensuring that scientists have the time and resources needed to pursue their studies.
"We need to be strategic," he said of his research goals. "We have real strengths in areas including neurology, cardiology, cancer and pediatric care. Then we have emerging strengths in areas like preventive medicine, public health, personalized medicine/genomics and regenerative medicine. We're moving toward National Cancer Institute designation, and that will be a huge component."
He also plans to strengthen existing partnerships while cultivating new ones. "I want to see more collaboration, including with other University System of Georgia institutions," Keel said. "For instance, I'd like to capitalize on engineering research with Georgia Tech and Georgia Southern. We can't really go down this road on our own. It's too expensive and resource-intensive to duplicate services or facilities."
Another key component of Augusta University's research enterprise is its focus on undergraduate research, he said.
"We're moving quickly down the path of better integrating our undergraduate and graduate-level missions," Keel said. "The opportunity to be president of both my graduate and undergraduate alma mater is incredibly unique. I find it enormously exciting to oversee a major biomedical research university, and I really appreciate the wonder of an undergraduate campus. There's a real electricity in this sort of environment. I love being around both sets of students, and one of the great benefits of consolidation is that now we're able to bring them together as never before. We have vital pipelines in place – and we're creating more – to expedite undergraduates' passage into graduate or professional school."
He is gratified that students have second-to-none educational and research facilities both to learn in and to aspire to. "The Harrison Education Commons, for instance, provides exceptional facilities for our medical and dental students," Keel said. "And buildings like that are a constant reminder to our undergraduates that that's where they want to be."
Keel is also eager to incorporate cutting-edge technology into both biomedical research and clinical care. "Technology is a huge component of medicine," he said. "It won't be long before three-dimensional printers will be in every operating room."
He envisions Augusta University becoming a destination location for education, clinical care and research, attracting the best minds nationwide and beyond. As he optimizes existing talent and recruits world-renowned faces onto campus, his most pressing agenda, he says only half-jokingly, is "to give them what they need and keep out of their way when necessary."
Keel is heartened that the Augusta University faculty and staff seem to share his optimism about unprecedented opportunities on campus, many made possible by consolidation. "Faculty and staff morale is very, very good, and the outlook for the future is incredible," he said. "I've heard nothing but good things about consolidation. This is a new opportunity to move forward."
And his inner scientist will always be appreciative of the research he now oversees. "I now live vicariously through the success of others," he said. "My job is not just administrator, but facilitator of other people's goals and dreams."
He envisions AUGUSTA UNIVERSITY becoming a destination location for education, clinical care and research, attracting the best minds nationwide and beyond.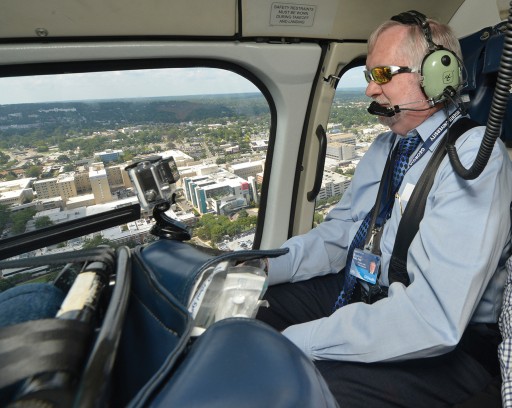 President Keel at a Glance
Education: Bachelor of Science degree in biology from Augusta College, doctorate in reproductive endocrinology from the Medical College of Georgia, postdoctoral work at the University of Texas Health Science Center (Houston) and the University of South Dakota School of Medicine (Vermillion)
Previous Position: President, Georgia Southern University
Highlights of GSU Tenure: Launching the Allen E. Paulson College of Engineering and Information Technology and the Institute for Interdisciplinary STEM Education; overseeing the transfer of the  Herty Advanced Materials Development Center
to GSU
Appointments: Chairman of the American Board of Bioanalysis and member of the Scientific Advisory Board of the American Board of Bioanalysis Proficiency Testing Program, the Georgia Chamber of Commerce and the East Georgia Regional Medical Center Board of Trustees