Campus Master Plan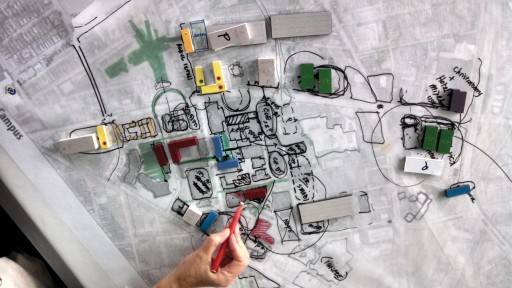 Released this fall, our Campus Master Plan reveals a bold, exciting vision for Augusta University's physical future.
SIX PLANNING PRIORITIES
Provide state-of-the-art academic and research space
Advance the research mission
Create a vibrant student life experience
Effect smart, sustainable facilities growth
Create a safe, seamless and pleasing pedestrian experience
Ensure quality, functionality and cutting-edge technology
Strategic expansion and renovation will create a state-of-the-art research and educational experience in a thriving student–centered residential setting.
1. Summerville Campus
Create a 21st-century educational experience, while maintaining the beauty and character of its 19th-century roots.
2. Health Sciences Campus
State-of-the-art research, lab and classroom space on a seamless, student-centric, pedestrian-friendly residential campus.
3. Forest Hills Campus
Expand indoor and outdoor venues so the Jaguar Nation becomes a magnet for top student athletes across multiple sports.

4. All linked together —
and to a vibrant downtown Augusta — via an upgraded, optimized transportation system.

Move One to Grow Four
Relocating the College of Science and Mathematics to the Health Sciences campus will free up space for other Summerville programs and colleges to expand.
20
PERCENT
STUDENT ENROLLMENT
20
PERCENT
FACULTY AND STAFF
50
PERCENT
RESEARCH PLATFORM
250
PERCENT
STUDENT HOUSING
SUMMERVILLE CAMPUS
The preservation of historic and archeological treasures
on the Summerville campus will be ensured, without
disturbing the beautiful neighborhood that surrounds it.
Relocating CSM will allow for growth of the other colleges
and programs, including East Georgia State College.
Renovations of existing structures — like Science, Allgood
and Washington Halls — will include state-of-the-art
technology enhancements in classrooms and labs.
Students will enjoy new and improved dining, studying and
life experiences through Jaguar Student Activities Center
(JSAC) improvements and other campus renovations.
HEALTH SCIENCES CAMPUS
Create a vibrant residential experience for
undergraduate and graduate students from all colleges
and programs.
Cement the campus as the university's destination for
health and sciences education and research.
Establishing academic neighborhoods around
pedestrian-friendly quads will create a true campus
experience.
An expanded research core along Laney-Walker
Boulevard will provide facilities and space worthy of a
world-class research institution.
Learn more at gru.edu/facilities/cmp.