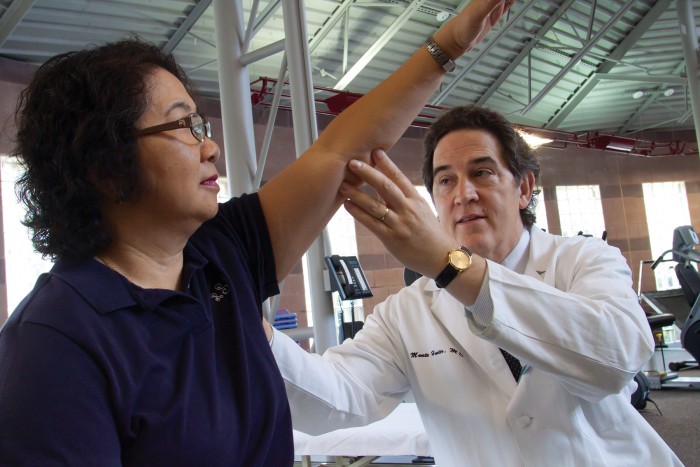 TWO CHAIRMEN NAMED

DR. D. MONTE HUNTER has been named Chairman of the Department of Orthopaedic Surgery, and DR. CHARLES LINDER has been named Chairman of the Department of Pediatrics.
Hunter served as interim Department Chairman since March and Vice Chairman since 2007. Hunter, a specialist in sports-related injuries and rehabilitation, has directed the GRHealth Sports Medicine Center for 12 years and is Medical Director of GRHealth Tissue and Donor Services. He is a member of the Board of Trustees and Executive Committee of Georgia Regents Medical Associates, the practice group for MCG physicians.
"Dr. Hunter is an excellent physician leader who builds teams in the operating room, the classroom, and the research lab and provides great medical care to athletic teams to boot," said Dean Peter F. Buckley.
Hunter is team physician for the GRU Jaguars, the Augusta GreenJackets, and Paine College and is a consultant for the Augusta Ballet. He has previously served as a team physician for the Wake Forest University Demon Deacons and the University of California, Los Angeles Bruins. He provides medical support to local athletic events. Hunter directs the GRHealth Athletic Trainers Leading Academic Success program, where athletic trainers teach a sports medicine curriculum to high school students and provide coverage for their sports events.
He researches the prevention and treatment of athletic injuries and their consequences such as arthritis, as well as promotion of bone strength and health. His studies include using approaches such as whole-body vibration to prevent cartilage loss and accelerate healing of ligaments and muscles.
He is a member of the Medical Board of Directors and Nominating Committee of the Musculoskeletal Transplant Foundation. He recently served on the Enduring Education and Publications Committees of the American Orthopaedic Society for Sports Medicine.
Hunter is a graduate of Bowman Gray School of Medicine at Wake Forest University. He completed an emergency medicine residency and primary care sports medicine fellowship at Wake Forest University Baptist Medical Center. He completed his orthopaedic surgery residency at the Winston-Salem Medical Center, followed by a sports medicine fellowship at UCLA.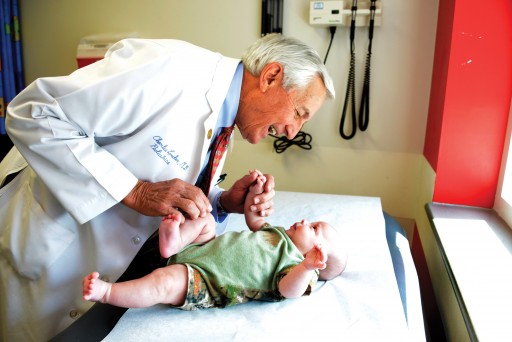 Linder ('63) directed the Division of General Pediatrics and Adolescent Medicine for nearly 30 years and has served as Interim Chairman and Pediatrician-in-Chief of the Children's Hospital of Georgia since June 2014. He will continue to serve as the top medical officer for the children's hospital.
"Dr. Linder is an exceptional individual and leader with an absolute commitment to the well-being of children and his medical school," said Buckley.
Linder was named Director of the Division of General Pediatrics and Adolescent Medicine in 1972, Professor in 1981, Associate Dean of Medicine in 1985, and Associate Dean Emeritus in 2001. He has served as an Assistant Hospital Administrator, Chief of Staff, and Chief Medical Officer for the university's teaching hospitals. He served on the MCG Admissions Committee for seven years.
He is a member of the Child Health Finance Committee of the Georgia Chapter of the American Academy of Pediatrics and the Provisional Committee on Development of the American Academy of Pediatrics. He is a past President of the Georgia Chapter of the Academy and recipient of the chapter's Lifetime Achievement Award. He helped bring the Ronald McDonald House to Augusta in the early 1980s. The Charles W. Linder, MD, Endowed Chair in Pediatrics was established in his honor in 2009.
He completed a pediatrics residency at Fitzsimons Army Hospital (now the Fitzsimons Army Medical Center) and Colorado General Hospital in Denver and a pediatric allergy and respiratory disease fellowship at MCG. He served as a major in the U.S. Army Medical Corps before joining the faculty of the MCG Department of Pediatrics. Linder's clinical specialties include primary care and prevention and fluid and electrolyte therapy in children.
DR. AYMAN AL-HENDY, Director of the MCG Department of Obstetrics and Gynecology Division of Translational Research and GRU Director of Interdisciplinary Translational Research, has received the President's Achievement Award and the Rogerio A. Lobo Award from the Society for Reproductive Investigation. The former honors a junior society member for outstanding research and the latter honors outstanding contributions to reproductive sciences by a society member. Al-Hendy researches women's health, particularly fibroids.
DR. FENG-MING "SPRING" KONG, radiation oncologist and Associate Director in Advanced Technology for the GRU Cancer Center, has been elected President of the American Association for Women Radiologists. Kong, Co-Leader of the Lung Cancer Multidisciplinary Clinic and Co-Director of Lung and Esophageal Cancer Programs at the GRU Cancer Center, will serve a one-year term. She has been a member of the AAWR leadership group since 2007, has chaired its Radiation Oncology and Membership Committees, and has served on its Strategic Plan Committee. Kong has served as Chairwoman of Public Relations for the association and twice served as Editor-in- Chief of its FOCUS Newsletter.
DEAN PETER F. BUCKLEY has been selected for a three-year term on the Administrative Board of the Council of Deans of the Association of American Medical Colleges. The AAMC represents 158 accredited North American medical schools, nearly 400 major teaching hospitals and health systems, and approximately 90 academic and scientific societies. The Council of Deans' focus is the continued improvement of the nation's medical schools.
DR. JOSEPH HOBBS, Chairman of the Department of Family Medicine, has been elected President-Elect of the Association of Departments of Family Medicine. The association represents chairmen and other senior administrators of approximately 150 family medicine departments at medical schools nationwide and works to transform health care, education, and research to improve health. For more information about Hobbs, see page 14.
DR. NANCY MORAN HOCKLEY has been named Chairwoman of Clinical Sciences at the GRU/UGA Medical Partnership and Associate Professor in the Department of Surgery at GRU's Medical College of Georgia. Hockley formerly served as the Regional Director of Clinical Clerkships and a lecturer in Pharmacology at Indiana University School of Medicine for five years. She also served as a Physician Advisor at the Lutheran Hospital of Indiana for six years. She will oversee development and maintenance of all clinical sites for medical students on the Medical Partnership campus.
DR. NORMAN B. THOMSON III, Chief of the Section of General Radiology in the Department of Imaging and Radiology, has been appointed to a four-year term on the Centers for Medicare & Medicaid Services Advisory Panel on Hospital Outpatient Payment. The 15-member panel advices the Secretary of the U.S. Department of Health and Human Services on reimbursement rates for outpatient procedures. Thomson is Vice Chairman of the American College of Radiology's Committee on Hospital Outpatient Prospective Payment System and Ambulatory Payment Classification. He is a former President of the Georgia Radiological Society.