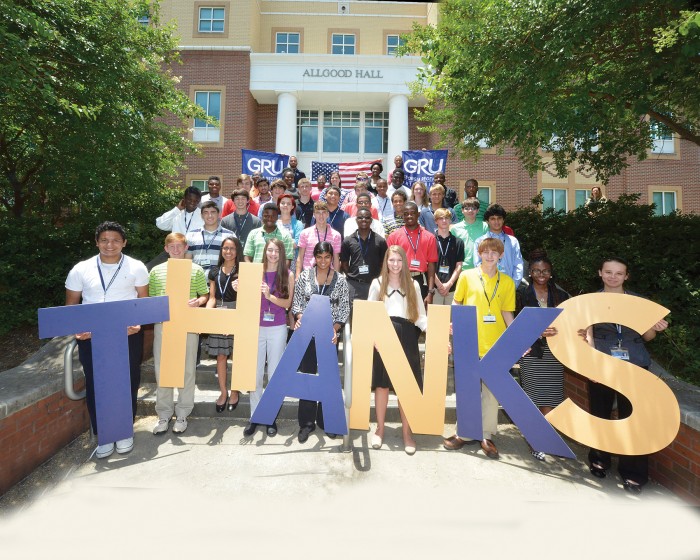 Wired Equivalent Privacy (WEP), one of the most widely used Wi-Fi security algorithms in the world, didn't stand a chance. After only a few days at the Cyber Sciences Summer Academy (CSSA), participating high school students cracked the code — and successfully hacked into a supposedly secure network.
"I was really surprised at how easy it is to hack," said Rebecca Helling, a Greenbrier junior who attended the weeklong program. The experience helped clarify her future plans. "I definitely want to go into the cyber realm," she said. "There are a lot of good career opportunities there."
Thomas Fu, a senior at the Davidson Fine Arts Magnet School, attended both academies offered at Augusta University this summer, the CSSA and the Health Sciences Summer Academy (HSSA). He came away especially intrigued by Augusta University's Medical and Dental Scholars programs, where selected students can earn a Bachelor of Science and either an MD or DMD in only seven years.
"I liked the hands-on experiences," he said. "At the dental school, we made a model of our own teeth. And they created a scenario for us using dummies … so we got to do procedures on a person in a car crash."
Designed as a pilot to bring specialized Governor's Honors Programming to our campus in Augusta, the academies are an opportunity for Augusta University to leverage its expertise and resources in the health and cyber sciences to the benefit of students, the university and the state.
Denise Kornegay, executive director of the Statewide Area Health Education Centers (AHEC) and associate dean of AHEC at MCG, said the academies brought together talented Georgia students and gave them the opportunity to explore majors. "We have unique resources here that allow us to offer more to our students — including the state's highest level of [health care] simulation tools," she said. "It really helps solidify their understanding of what it means to be in that career."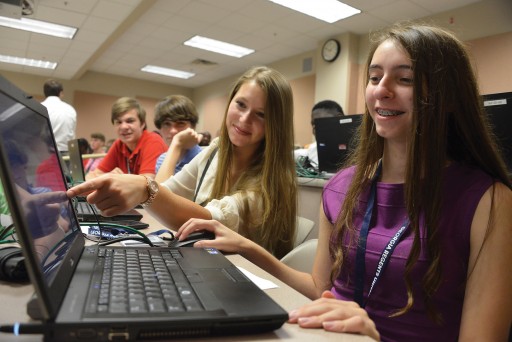 And students attended at no cost, thanks to sponsorships from GRHealth and Georgia Regents Health Professionals Associates; the Medical College of Georgia, The Dental College of Georgia, James M. Hull College of Business and College of Nursing; as well as AHEC, WellCare and a partnership with NSA's and the National Science Foundation's GenCyber program.
The weeklong academies, offered in June and repeated in July, were open to 40 rising sophomore, junior and senior high school students per academy or 160 overall. Nearly 500 applications were received from across the nation. Students from both academies lived in campus residential housing for the week. They completed separate classes and labs during the day, but joined together for student enrichment, leadership activities — and supervised fun — in the evening. The homemade water slide greased with baby shampoo was a particularly big hit.
Paula Owens, program coordinator from the Office of Continuing Education, said sponsor generosity meant talented students from throughout the community and beyond were able to attend, without regard for ability to pay. "We really worked to bring in students who probably wouldn't have been exposed to it," she said. "Academics was a factor in the selection process, but not the main factor."
According to Joanne Sexton, director of Augusta University's Cyber Institute, it took the combined efforts of dozens across the university to make the academies happen: "Not only [in terms of] the curriculum, but residential, continuing education, the government and community relations office and others," she said. The project team also worked closely with staff at NSA Georgia, who provided a tour of their facility to those CSSA students who were able to complete a security screening beforehand.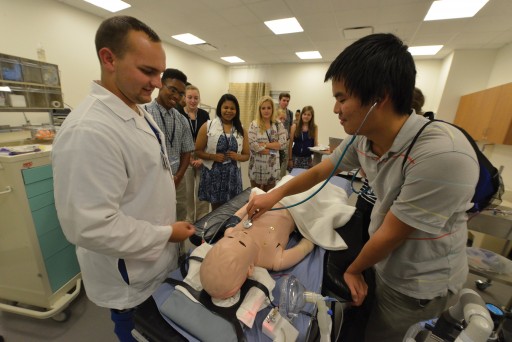 "What I heard most from parents and students was '[Augusta University] wasn't really on my list of possible colleges — but it is now,'" Sexton said. "It's a win-win-win, for the students, parents, the university and the NSA."