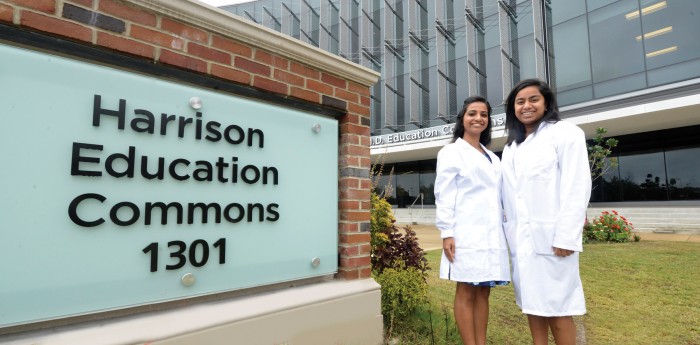 What's New at Augusta University? Innovative and Future-Oriented Programs
Before 1900, human knowledge doubled about every century, according to widely accepted estimates by 20th-century inventor and visionary R. Buckminster Fuller. By the end of World War II, it was every 25 years. Today, human knowledge is estimated to double every 13 months, and before long, it will be every
12 hours.
Before 1900, human knowledge doubled about every century, according to widely accepted estimates by 20th-century inventor and visionary R. Buckminster Fuller. By the end of World War II, it was every 25 years. Today, human knowledge is estimated to double every 13 months, and before long, it will be every
12 hours.
How does a university keep up?
Augusta University's colleges and schools have an answer: Create future-oriented programs and learning initiatives that not only meet the economic and societal needs of today, but also create leaders equipped to solve the rapidly evolving challenges of tomorrow. Over the past several years, such programs and course offerings have been multiplying, as we expand our program offerings and create degree paths tailored to student demand and workforce needs of the future.
Cross-Campus Collaborations
Divya Chawla is thrilled at her acceptance into Augusta University's fast-track Dental Scholars Program this year. "It's fabulous," said Chawla, a freshman. "It gives me opportunities I couldn't find elsewhere. The program has the dental school and the medical school right here in one place, so it allows the chance to work closely with those professionals."
Lakshmi Thulluri considered several similar BS/MD programs around the country, but came here from Michigan because the new J. Harold Harrison, M.D. Education Commons "is just gorgeous" and for the chance to earn a medical doctorate more quickly.
This collaboration of the College of Science and Mathematics with the Medical College of Georgia and The Dental College of Georgia allows outstanding students to earn their Bachelor of Science and MD or DMD degrees in only seven years. Three years are spent pursuing a BS in Cell and Molecular Biology through the Department of Biological Sciences in the CSM, after which students switch to medicine or dentistry for a four-year degree at either MCG or DCG.
The James M. Hull College of Business also reaches across disciplines to offer its students a dual degree option: an MD/MBA. MCG students can be accepted into the program after completing their third year of medical school; they then complete both degrees over the next two years. "In today's complex and constantly evolving health care environment, understanding the business of delivering health care is becoming more important," said Hull interim Dean Mark Thompson.
The Department of Political Science in the Katherine Reese Pamplin College of Arts, Humanities and Social Sciences is teaming up with the Hull College of Business to offer a new undergraduate minor in nonprofit management, and the two are working on developing a postbaccalaureate certificate in nonprofit leadership.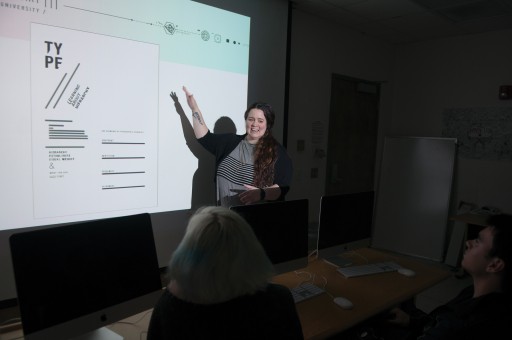 New Degrees and Programs
The liberal arts disciplines are at the heart of Augusta University's education mission, and Pamplin is creating new opportunities for student learning and, ultimately, for graduate employment. The Department of Art hired Carrie Dyer as an assistant professor of graphic design and is developing a graphic design track within its Bachelor of Fine Arts degree programs to prepare students for a variety of creative careers.
As demand for health professionals across all sectors continues to rise, the College of Allied Health Sciences is answering the call. A new doctorate in applied health sciences was implemented this fall in The Graduate School to fill the need for doctorally trained faculty and clinical professionals. A program in clinical nutrition has been approved for implementation in 2016, and this year, the college launched the Augusta Area Dietetic Internship Program, a 10-month program of postbaccalaureate study accredited by the Academy of Nutrition and Dietetics. As the only health sciences professions program in Georgia affiliated with an academic health center, Augusta University's CAHS is uniquely positioned to provide students valuable research and clinical opportunities.
The College of Education has several new programs on offer. The Doctor of Education in Educational Innovation in The Graduate School offers a curriculum designed to keep graduates ahead of the curve in their careers, skilled in offering creative solutions in today's fast-changing educational environment. This challenging environment calls out for professionals who will be leaders in their field, and COE's new Masters of Education in Teacher Leadership creates exactly the educators who can help fill that need. And students with a master's in counseling or a related field can earn the Educational Specialist in Counselor Education degree and take advantage of opportunities to assist practicing counselors to develop greater expertise and leadership skills in their current counseling field and to gain knowledge and practice in the supervision of counselors.
The College of Nursing has reinstated the RN-BSN, offering an updated version of the highly popular program that put Augusta University on the map for online nursing education in the '90s. This fall, the college rolled out a newly redesigned PhD program, optimized for the distance learner. You can read more about the rich history and exciting future of the CON in our feature story, "Carrying the Torch."
Cybersecurity Education
Pamplin's Department of Communications has begun a training partnership with the National Security Agency's civilian cyber command, newly relocated at Fort Gordon. NSA employees receive for-credit continuing education in advanced writing and editing and in visual communication.
This new offering is one of many options related to Augusta University's emerging leadership in cybersecurity education. When Fort Gordon was selected headquarters for the U.S. Army Cyber Command, Augusta University accelerated efforts already underway to lead Augusta into the future, preparing students for careers in this high-demand field. The Cyber Institute was launched in June to provide the framework for all things cybersecurity at the university and to develop research, new curriculum and outreach opportunities. Currently offered courses and degrees include cybersecurity programs through the Hull College of Business, a medical informatics program focused on protection of health information through the College of Allied Health Sciences, and courses on cyberterrorism through Pamplin. Stay tuned — much more
is coming!