Dr. Louvenia Annette Rainge considers it the highest form of flattery that someone nodded off in her presence last week in the middle of the day.
"It was a young lady having a major procedure done, and she felt so at ease, she fell asleep," says Rainge, a 1990 graduate of The Dental College of Georgia who practices general dentistry in Augusta. "Actually, a lot of my patients fall asleep. That's how comfortable they are."
Tender Loving Care
Rainge's total dedication to her patients – a dedication that engenders their boundless trust and respect – is among the many reasons she was named The Dental College of Georgia's 2016 Distinguished Alumna. The Alumni Association presented the award to her during Alumni Weekend April 28 through May 1.
"Dr. Rainge has met and exceeded all of the qualifications for this award," wrote Dr. T. Barrett Trotter ('73) in his nomination letter. "She has provided outstanding leadership and service to our school and our profession for over 20 years. She would be a distinguished alumna of whom all in the profession of dentistry would be extremely proud."
As a child growing up in rural Nahunta, Georgia, Rainge dreamed of wrapping others in care and kindness, a concept she'd experienced voluminously on the receiving end as the youngest of 12 children. She laughs that although her siblings' TLC was always mixed with generous doses of bossiness, her family formed the tightest of units. "Both of my parents worked hard and served as tremendous role models," she says. "We were all very close. Even now, when we get together, we have a lot of fun laughing and talking."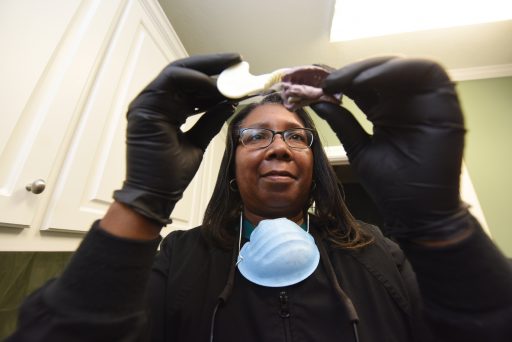 [su_note note_color="#efefee" text_color="#000000″ class="story-side-box"]
Dr. Rainge at a Glance
• Valedictorian, Brantley County High School, 1979
• Dean's List Graduate of Georgia Southern University with bachelor's degree in biology, 1983
• Graduate of Harvard University Predentistry Health Professions Program, 1983
• Graduate of The Dental College of Georgia, 1990 n Owner, Rainge Family Dentistry, P.C.
• Honorable Fellow, Georgia Dental Association n Fellow, Pierre Fauchard Academy
• Fellow, American College of Dentists
• Recipient, Eastern District Dental Society President's Award
• Recipient, Georgia Dental Association Committee Award, Council on Dental Health
• Recipient, Augusta Dental Society President's Award[/su_note]
Just Like Home
Rainge always envisioned herself in a helping profession, and she loved to work with her hands. Dentistry seemed like a no-brainer, and the DCG was her first choice. "It was a top-ranked school, and I liked how they handled first-year students," she says. "We were able to see patients right away, and that was very important to me."
She received multiple scholarships during dental school and received the Student National Dental Association President's Award.
After graduating, she opened a practice on Lumpkin Road in Augusta. "It's a very rural, serene and quiet part of town," she says, "and there are lots of blue-collar workers in the area, so it reminds me of home."
Golden Rule
She has practiced long enough that now many of the patients she served as children are now adults, and Rainge treasures the strong bonds she has cultivated. "I think of my patients as my family," she says. "Lots of my pediatric patients have adopted me as an auntie. I know them so well, it's sort of like having a ministry. I treat people the way I'd want to be treated."
Rainge enjoys sports and travels extensively in her spare time – Europe is a favorite destination – but she's admittedly a workaholic. "I just really enjoy my profession," she says. "I have great colleagues, fantastic friends and wonderful patients. My profession is
so rewarding."