The Class of 2016 logged a 100 percent pass rate on the Central Regional Dental Testing exam.
ThE DCG CHAPTER of the American Student Dental Association held its first Wellness Week Sept. 19-23. Dental student Nadia Heidari, event chair, and her committee organized events for each day of the week to educate our dental college staff, faculty and students on ways to focus on their overall health and well-being. Wellness Week activities included free lunchtime presentations on healthy eating, exercise and mental health, and a yoga class on the patio of the Harrison Education Commons. The group plans to make the week an annual event.
Dozens of our students participated in the annual Costa Layman Health Fair in Trenton, South Carolina, July 22. The health fair is sponsored by Augusta University and coordinated by the College of Nursing to offer free health screenings and blood work to seasonal workers at Costa Layman Farms. Dr. Nancy Young, assistant professor in the Department of General Dentistry, oversaw the dental screenings and oral health instruction provided by participating DCG students and other volunteers.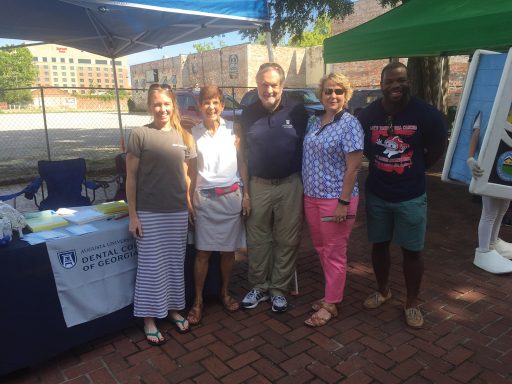 Chas Plaisance, president of the dental college's Class of 2018, has coordinated a monthly outreach project with DCG students and faculty providing oral health education and screening at the Saturday Market on the River in downtown Augusta. The students man a booth from 8 a.m. to 2 p.m. at the market, located at Eighth and Reynolds streets.
Three DCG students presented posters on oral medicine cases during the American Academy of Oral Medicine annual meeting in Atlanta last spring. The students are Dahlia Levine, Wesley Sherrell and Lyn Wilson.
The Class of 2016 presented a significant financial contribution to the Give a Smile Foundation, a student organization providing dental care for underserved children, and Dentists for Della, an outreach effort for residents of the Georgia War Veterans Nursing Home. Dr. Anisha Nathu presented the gifts as president of the Class of 2016 during commencement. Said Dean Carol A. Lefebvre, "As is tradition, the senior class presented us with a gift that will leave a lasting legacy of their time here."
Tamika Brown, a second-year DCG student, completed a David E. Rogers Medical and Dental Student Research Fellowship over the summer. She researched the influence of loan-repayment programs on career choice in community health centers with her mentor, Dr. Kate Ciarrocca, assistant professor in the Department of Oral Rehabilitation. Brown presented her findings at the New York Academy of Medicine in August.