Augusta's Red Carpet Moment
One of the most celebrated cases of "multiple personality disorder," and the best-selling book and Hollywood classic that told the story, happened right here in Augusta, Georgia.
The story was irresistible. Eve White, a seemingly ordinary young wife and mother, seeks psychiatric help for debilitating headaches. Over months of treatment, she transforms before her physicians' astonished eyes into three distinct and separate individuals.
As her doctors described it, "A thousand minute alterations of manner, gesture, expression, posture, of nuances in reflex or instinctive reaction, of glance, of eyebrow tilting and eye movement, all argued that this could only be another woman."
A rare and fascinating case of what was then called "multiple personality disorder."
Her physicians wrote a best-selling book about the case, Hollywood took notice, the movie was released at a glamorous world premiere, and the young actress who played the main character won both a Golden Globe and an Academy Award.
And it all happened right here in Augusta, Georgia.
THE THREE EVES 
The patient — whose real name was Chris Costner Sizemore — was born in 1927 in Edgefield, South Carolina. Her psychiatrists, Corbett H. Thigpen (MCG '45) and Hervey M. Cleckley (MCG '29), were at the time the entirety of the Medical College of Georgia's Departments of Psychiatry and Neurology.
The movie was "The Three Faces of Eve," and a young Joanne Woodward, also from Georgia, starred in the role that launched her career.
Sizemore was referred to Dr. Thigpen's care in 1954 and remained in treatment for 14 months, coming to Thigpen and Cleckley's shared office located across the street from where the Children's Hospital of Georgia now stands.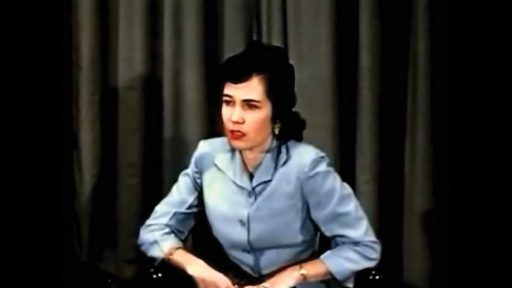 In their book (also "The Three Faces of Eve"), the doctors report that "Eve White" initially complained of ongoing and severe headaches. However, it was soon apparent to Thigpen that his patient was suffering from much more than headaches. Further conversations exposed a crumbling marriage, mysterious blackouts, and periods of amnesia.
Several months into treatment, the two physicians encountered "Eve Black," one of Sizemore's alternate personalities and a stark departure from the demure Eve White.
"Instead of that retiring and gently conventional figure," they reported, "there was in the newcomer a childishly daredevil air, an erotically mischievous glance, a face marvelously free from the lines of habitual care, seriousness, and underlying stress, so long familiar in her predecessor."
Months later, a third personality emerged, Jane, who was level headed and confident, different from either of the previous personalities.
Less than a year and a half after Sizemore first walked into Thigpen's office, she was discharged and given a clean bill of health. The final pages of "The Three Faces of Eve" are hopeful. Eve has regained control of her life – her three personalities having coalesced into one – she has a new, loving husband, and the future is full of promise.
The reality was later revealed to be quite different. But first came a magical premiere in downtown Augusta.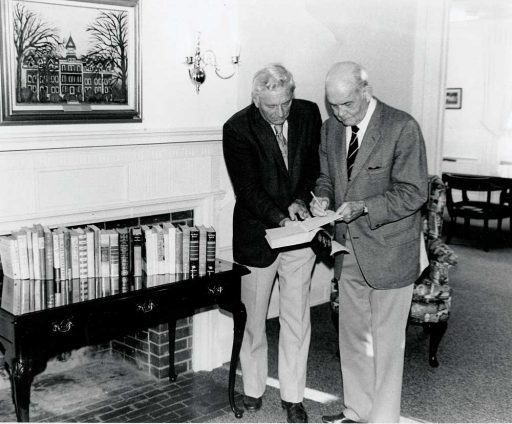 GLITZ AND GLAMOUR AT THE MILLER 
708 Broad Street.
The address is unlikely to ring a bell for most Augustans. But view an image of the property, even in its current state of disrepair, and recognition is instantaneous. The Miller Theater's Arte Moderne style is in stark contrast to adjacent brownstones and abandoned storefronts. The arced marquee, no longer glowing neon, is still impressive to behold.
Like an artifact from a different age, the theater is a glimpse into a golden era for Augusta. Entombed within the auditorium are decades of memories, dusty reminders of a time when downtown was full of possibility and promise.
Today, when the sun sets, the Miller Theater disappears into the darkness. Motorists and pedestrians pass by without a second glance. It is unlikely many consider the events that took place at this very same location on September 18, 1957: the world premiere of a major motion picture from 20th Century Fox.
A typical Wednesday evening for most Augustans, many families were likely heading to mid-week services at their local church. Television news was covering Eisenhower's most recent acts of diplomacy. Elvis Presley was crooning through the speakers of every teen's radio set.
Augustans eager to catch a glimpse of Woodward at the film's premiere were sadly disappointed. Busy filming re-takes for another picture, Woodward thanked the audience in a pre-recorded segment that aired just before the film. Several other Hollywood notables were in attendance: writer/director Nunnally Johnson, narrator and notable television journalist Alistair Cooke, as well as several representatives from 20th Century Fox.
"The Augusta Chronicle" deemed the premiere "a smash." Thigpen and Cleckley were honored during a special "Patron's Dinner" preceding the premiere, which was held at the Bon Air Hotel (today the Bon Air Apartments on Walton Way). They were also presented with matching plaques, courtesy of Spyros P. Skouras, then-president of 20th Century Fox, to thank the doctors for their "outstanding contribution to the motion picture industry and the world at large."
"He was like a father to me," she says, recalling the passing of her own father when she was a young girl.
Smith says Cleckley showed her actual footage of "Eve" swapping between her various personalities. And while psychiatry did not fascinate Smith, attending the world premiere most certainly did.
"Everybody in Augusta was there!" she says. "The Miller was beautiful in those days, and afterwards they had a party in the Richmond Hotel."
The movie went on to perform only modestly at the box office, but today is considered a classic.
THE REALITY 
"The Three Faces of Eve" bathed Thigpen and Cleckley in attention, and not all of it was positive. There was skepticism about the disorder, and followers of Freudian theory challenged their findings and their competence as physicians.
Thigpen and Cleckley also encountered criticism due to the unfortunate circumstances surrounding Sizemore.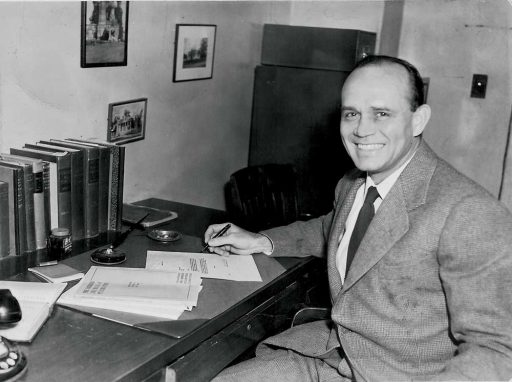 Sizemore unknowingly signed away all rights to her story to 20th Century Fox in 1956, while still a patient of Thigpen's. She sued the studio and won; the contract listed "Eve White," "Eve Black," and "Jane" under her signature, making it difficult for them to make the case she was "of sound mind" at the time.
The win enabled Sizemore to break her silence, which she did in 1977 with her book "I'm Eve." According to Sizemore, at the height of her illness, well after completing treatment with Thigpen and Cleckley, she suffered from more than 20 different personalities, each battling for control of her psyche. It was nearly two decades after the premiere of the movie before she was truly rid of the disease.
GOLDEN ANNIVERSARY
Sizemore was absent from the movie's world premiere in Augusta. Happily, 50 years later, she was given the opportunity to walk the red carpet during the golden anniversary of the film's premiere.
On September 18, 2007 – a Tuesday evening – crowds flooded Broad Street once again. The Miller was undergoing renovations, so the film was screened at the Imperial Theatre, just a football field away. As at the world premiere, the guests of honor arrived via Edsel sedan.
Michael Deas, former member of the Imperial Theatre's Board of Directors and mastermind behind the 50th-anniversary screening, says the idea of hosting such an event came to mind one day as he was snooping around the Miller Theater and discovered artifacts related to the original world premiere. Deas met with fellow boardmember Jim Davis – the very same Davis who served as master of ceremonies for the film's premiere – and the two discussed details and logistics. The biggest challenge, Deas says, was locating Sizemore.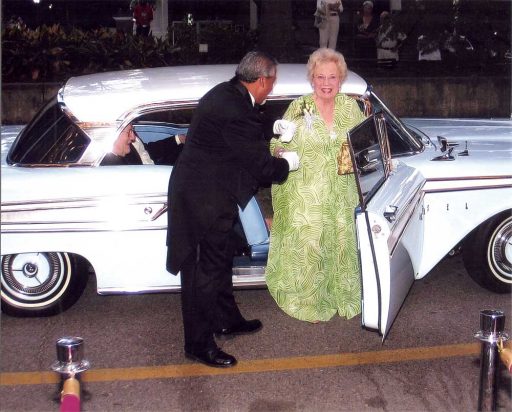 "She was disappointed that [years ago] this glamorous evening had taken place, but she couldn't attend," he says. "I wanted to celebrate the anniversary with her, the way it should have been 50 years ago."
Deas did connect with Sizemore, who was living in Florida at the time, and she was eager to attend.
"She said her life was complete after coming to the 50th-anniversary screening," Deas says.
Deas invited several original attendees in addition to Davis: Emily Remington, the organist who provided music during the Patron's Dinner and premiere; and Robert Symms, former photographer for The Augusta Chronicle, who photographed them.
Nearly 60 years after "The Three Faces of Eve" swept bookstores and theatres, the passage of time is quickly erasing the people and places so closely entwined with this groundbreaking story: Thigpen and Cleckley passed away before the turn of the century; Jim Davis passed away just this past year. The Miller is no longer the shrine to cinema it once was.
But the legacy of Thigpen and Cleckley remains, the story of "Eve" still fascinates, and Augusta's Hollywood heyday can still be invoked in photographs and memories.
Special thanks to Dr. Lee Ann Caldwell, Director of the Center for the Study of Georgia History, and Librarian Renee Sharrock for their help with resources and research for this story.
'Very Hollywood!'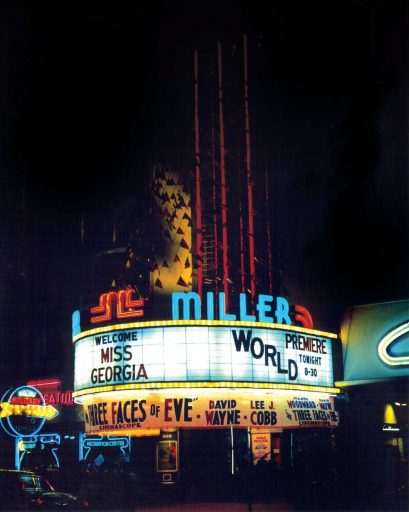 Jim Davis, a local radio and television news anchor, served as master of ceremonies for the Patron's Dinner and premiere. During an interview recorded in September 2007, Davis recounted the events from that celebrated evening.
"It was very exciting; through Ft. Gordon, they acquired two huge search lights and placed them in the center median in front of the Miller. It was very Hollywood!" Davis said. "It was beautifully staged, and it was a fun thing to be a part of."
The guests of honor arrived at the Miller Theater not by limousine, but by Edsel sedan, which had arrived on the market only a few months earlier.
Tickets to the full event sold for as little as $10. General admission for the film, which did not include the Patron's Dinner, was just $2.50.
Wayne Thigpen, eldest son of Dr. Thigpen, was only 10 years old when the film premiered.
"It was very exciting," he recounts. "We were seated in the middle of the theater with my grandparents. I specifically recall my little brother, Mark, saying in a loud whisper that everyone could hear, 'Where's my daddy? Where's my daddy in this movie?' My grandmother pointed out the actor Lee J. Cobb, who played Dr. Luther. But Mark said, 'That's not my daddy — he doesn't smoke a cigar!'"
Wayne remembers his father flying out to Hollywood at least a handful of times to meet with Johnson, the director. Dr. Thigpen was adamant that Hollywood's portrayal be as close to the truth as possible.
"The movie tracks the book almost 100 percent," Wayne says. "Daddy was very pleased with it."
The dinner and premiere also made a big impression upon young Connor Dyess Smith, the 21-year-old niece of Dr. Cleckley, who was invited to attend at the request of her uncle "Bubber," her affectionate name for him.