Drs. Drew and Kaylar Howard ('92) have established an MCG scholarship to attract the best and brightest to underserved parts of Georgia.
At Harvard University, it's the Presidential Scholars program. At Emory, it's the Woodruff Scholarship. And at Johns Hopkins, it's the Bloomberg Scholarship.
At most major universities, transformative gifts from alumni have made it possible to attract the highest-caliber students and catapult that university into a top 10 or top 20 institution.
Drew and Kaylar Howard, both class of 1992, want to do the same for the Medical College of Georgia. "I can't give billions, but I can start," said Drew.
"I want MCG to continue to be a world-class medical school and a leader because it was that for me…But it's also not Harvard or Johns Hopkins or Stanford right now. So we thought, let's start doing our part. The way to do that is to give."
"And if I do it, maybe other people will follow suit."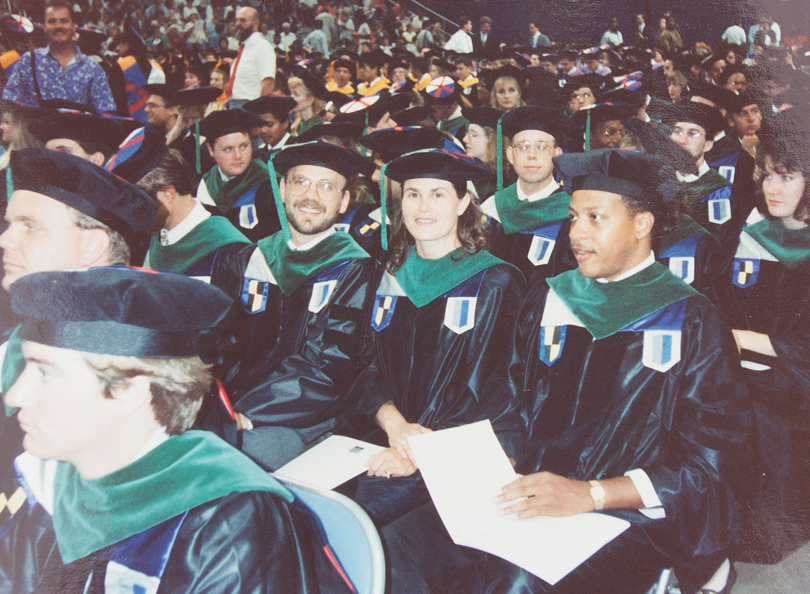 Back Home
    Today, Drew and Kaylar own The Howard Center, the OB/GYN practice they opened in July 2001. It's a large practice of 12 physicians, and the 19,000-square-foot facility supports state-of-the-art care including obstetrics, gynecology and anti-aging, all in a beautifully designed, relaxing setting, just the way the Howards envisioned it. It's a practice that would fit right in at a big city, but it's in Tifton, Georgia, smack dab in the middle of rural Southwest Georgia.
    Drew hails from only a few miles down the road in Sycamore, a spit-and-you'll-miss-it community of less than 300. He grew up on a farm, where his parents did a little of everything—corn, peanuts, cotton, soybeans, even cattle—and they believed their son would go into the family business. "But for whatever reason, as a child, 3rd, 4th grade, I just really liked our family doctor," said Drew. "He was a country doctor who did everything from surgery to delivering babies. He took care of all of us and I just really liked him and I wanted to be like him."
Accidental Insight
  Growing up just two hours north, in the slightly larger rural town of Jasper County's Monticello, Kaylar hails from a farm family too. But that's where her story takes a different turn. She majored in animal science at the University of Georgia and had landed her first job as a quality control manager at a ground beef company in Norcross when tragedy struck. Her mother and brother were in a car wreck on the Jasper-Newton county line and were life-flighted to Atlanta. While her brother was released after just a few days in the hospital, during her mother's three-month recovery, Kaylar drove back and forth to help take care of her. "I just kind of got intrigued with medicine when I was doing that," she said.
Kaylar's plan was originally to become an RN, like one of her aunts. But when she saw that she needed only a few more classes in order to qualify for medical school, she thought, "Why not?" Meanwhile, Drew worked hard, and the community around him worked hard to help prepare him—with the result that he was the first in his family to receive a college education, much less attend medical school.
Drew and Kaylar met their first day at MCG and quickly became friends as they discovered they came from such similar backgrounds. As they studied together, did laundry together and were drawn to the specialty of obstetrics and gynecology together, they also shared a dream: to one day go back to rural Georgia to practice.
For them, there was never the question of doing anything else. For Kaylar, the terrible car accident that her mother and brother experienced shed a light on the great need for clinicians in rural areas of the state. And for Drew: "MCG gave me the education and gave me that desire to go back to underserved areas and to give back a portion of what they gave me to a community. We never faltered in that thought."
Giving Back
Drew and Kaylar were both led to MCG for financial reasons—the school was at the time one of the more affordable options. Drew himself had attended Emory University as an undergraduate on a Coca-Cola scholarship designed to attract students from underserved areas of Georgia. It was a tough choice between his college alma mater and the state's medical school, but once he got to Augusta, "It was awesome. I came to MCG and just absolutely loved it. I excelled there…Later, when I was applying to residencies, everywhere I went [it was], 'We love students from MCG because they hit the ground running … At MCG, they're doctors and they're ready to perform.'"
Kaylar had much the same experience. "For me, it was very difficult to go to college and to medical school, financially … MCG was the most affordable medical school in the state for sure," she said. "And I think the training at MCG is really, really good, both from the basic science and clinical standpoint … I just felt like I could do anything after there."
Both always thought that they'd give to MCG. But it was when their own children were applying to universities like Harvard and Princeton and Emory and being offered scholarships that the Howards realized that the time to give back to their alma mater wasn't in 10 or 20 years, but right now.
An endowment is often thought of as a gift that alumni give when they are further along in their careers. "What I realized was how Emory for instance has gone from a normal university, fairly prestigious in Georgia, to a world-class university by its alumni giving back," said Drew. "That is what does it, when you can support students and attract students that you couldn't otherwise get."
Those high-caliber students are what's needed to drive a university to the top of those academic rankings — which in turn bring more bright students, new faculty, advanced research and more.
The Dr. Drew Howard and Dr. Kaylar Greer Howard Scholarship also has a twist: Along with merit and financial need, preference will be given to students who want to practice in Southwest Georgia.
Those roots, after all, are strong. "The high cost of malpractice insurance has become such a problem that it's very difficult to attract physicians at all to rural areas, which often present lower salaries," said Drew. "What we're trying to attract is world-class, brilliant people who want to come do underserved work."
"We had talked about it forever," added Kaylar. "As far as our state goes, there are two big needs. One is K-12 education and we're way behind on that, and two is medical care, and we're way behind on that. Both of those need to be provided in certain parts of the state…there was a burning desire to see that taken care of."