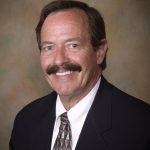 Dr. Marion Jordan ('69), who earned his medical degree from MCG and went on to become medical director of the Burn Center at MedStar Washington Hospital Center in Washington, D.C., passed away unexpectedly on Sept. 28.
In a Facebook post, the hospital center said that under Jordan's leadership, the center's burn and trauma teams received worldwide recognition for their work, particularly after the Sept. 11, 2001, attack on the Pentagon.
Dr. Jeffrey Shupp, the new director of the hospital's burn center, started under Jordan's tutelage during his second year of residency in 2007. Calling him a "surgical primary care doctor," Shupp told The Capital Gazette  "he took care of the patients from head to toe" and "truly managed the entire patient."
Shupp said in a medical field that is becoming increasingly specialized, Jordan stood out as someone who didn't just focus on what he was tasked with treating, but the entirety of the patients' issues.
It endeared him to local firefighters, who started the D.C. Firefighters Burn Foundation in 2004 in part to support Jordan's work in D.C. "He was a close friend of the fire service and well respected by the firefighters, burn teams and burn survivors around the country," the group wrote on social media.
He was an active member of the American Burn Foundation, including serving as its president in 2003, and was the 2008 recipient of its Harvey Stuart Allen Distinguished Service Award. Jordan was to be honored this spring as MCG's 2019 Distinguished Alumnus for Professional Achievement. He will now be honored posthumously.
Dr. Billy S. Hardman, ('43), died July 31.
Dr. Robert J. Mainor, ('51), died Sept. 26.
Dr. Goodwin G. Tuck, ('51), died Sept. 22.
Dr. Spencer G. Mullins, ('52), died May 4.
Dr. Frank A. Rizza, ('54), died Oct. 1.
Dr. James K. McDonald, ('56), died May 30.
Dr. William H. Chew, ('58), died June 4.
Dr. Louis J. Jacobs, ('58), died Aug. 26.
Dr. George E. Van Giesen, ('58), died May 23.
Dr. John L. Anderson Jr., ('60), died Dec. 17, 2016.
Dr. Perry Moore, ('60), died July 26.
Dr. Paula C. Sandidge, ('60), died Sept. 3.
Dr. Jim L. Rogers, ('61), died April 25.
Dr. Larry A. Cohen, ('62), died April 28.
Dr. Jack M. Bates, ('63), died April 2.
Dr. Clarence W. Donald, ('63), died Aug. 27.
Dr. Carlos G. Grantham, ('63), died Sept. 1.
Dr. C.N. Canup, ('64), died Aug. 6.
Dr. Lewis A. Hamilton, ('64), died June 27.
Dr. Robert Stephens, ('64), died Oct. 20.
Dr. Jimmy R. Asbell, ('65), died June 18.
Dr. Dean B. Talley, ('68), died May 12.
Dr. Frederick E. Youngblood, ('68), died April 19.
Dr. William A. Aultman, ('83), died Sept. 6.