Loan-repayment program has multiple benefits
What he remembers most are the tear-stained eyes.
Dr. Alan Furness, assistant dean of patient services, devoted two almost round-the-clock days last August volunteering for the Georgia Mission of Mercy.
The event, conceived by the Georgia Dental Association Public Relations Committee in 2009, sets up shop in various locations around Georgia — the 2018 event was held in Augusta — and opens its doors for two days to hundreds of uninsured or under-insured citizens in desperate need of dental care. The treatment, provided by volunteer dentists such as Furness, is free.
"What had a profound impact on me was the deep thankfulness we encountered," says Furness, who joined the DCG faculty in 2010. "Many of the patients were emotional in expressing their gratitude. You don't forget something like that."
Furness is full of gratitude as well. It is his role as a Health Resources and Services Administration (HRSA) Faculty Loan Repayment Program participant that paved the way to his volunteerism.
Dr. Carol A. Lefebvre has applied twice during her tenure as dean/associate dean for the HRSA funding and has received funding both times. The five-year grants fund full or partial student loan repayment for select faculty members who agree to devote at least a portion of their careers to academic general, pediatric or public health dentistry. The grant, which gives preference to applicants from rural and/or underserved backgrounds, incentivizes excellent dentists to teach future generations rather than work in the generally more lucrative private sector, helping ensure adequately staffed dental schools.
Lefebvre secured the first such grant, amounting to approximately $668,000, in 2010. Ten faculty were enrolled, seven of whom are still engaged in academic dentistry. She applied for the grant again in 2017, securing approximately $794,000 in funding. Six faculty are currently enrolled, with several hopefuls on a waiting list.
"The dentists can be at any point in their careers, and although many of our participants are alumni, that isn't a requirement," Lefebvre said. "This helps tremendously with faculty recruitment."
The timing couldn't be more opportune. "Many of our faculty are nearing retirement age," Lefebvre says, "and our class size has recently expanded, so we are in great need of new faculty."
The grant funding, she notes, helps ensure not only a steady supply, but the best of the best. "When multiple dental schools are all trying to attract the same talent," she says, "this gives us an edge. We're currently recruiting two pediatric dentists, talent we might not have been able to attract without the grant."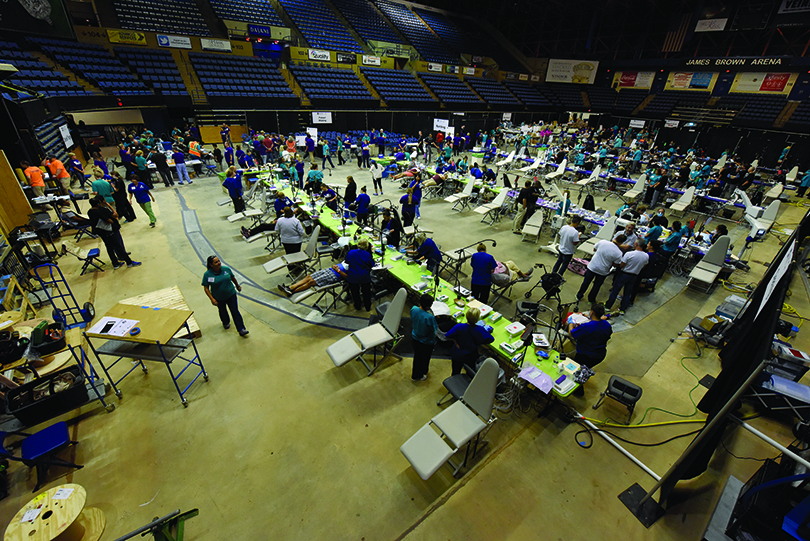 Furness, one of the six enrollees in the 2017-22 program, feels tremendously privileged to participate. "To be relieved of the burden of student debt makes a huge difference," says Furness, who is raising four children with his wife. "Student debt is almost like another mortgage payment. Having my debts repaid by the grant means more opportunities to do things with my family and more money to put into savings."
Dr. Tara Schafer ('95), chair of the Department of Pediatric Dentistry and a recipient of the DCG's initial round of funding, concurs. "My husband and I had four small children at home when I received the grant, and it was wonderful to have the burden of my student debt lifted from our shoulders," she says. "It freed us up to use that money on other things and took one huge worry off our plate. It was just an incredible bonus in what was already a great career for me."
She also deeply appreciates the initiative to attract more dentists to academia. "I had a very good group of mentors throughout my education," Schafer says. "I always saw that as my calling, to serve as a role model for the next generation of dentists and to be involved in dentistry on many different levels. It's a huge plus to be able to offer this incentive to new faculty. If you have the burden of student debt taken off your shoulders, it makes a DCG career all the more inviting."
She and her fellow recipients applaud the dean for using the time and resources necessary to secure the grants.
Says Furness, "I'm very grateful to Dr. Lefebvre for pursuing this funding. It demonstrates her awareness of issues facing faculty members and her investment in trying to ease our financial burdens."
He also appreciates her wisdom in going a step further than the program demands: Lefebvre stipulated that DCG participants perform at least 25 hours of community service a year to remain eligible for the program.
"That's what makes our program unique," says Lefebvre. She formed the DCG Committee for Community Outreach to manage and track the community-service component of the program.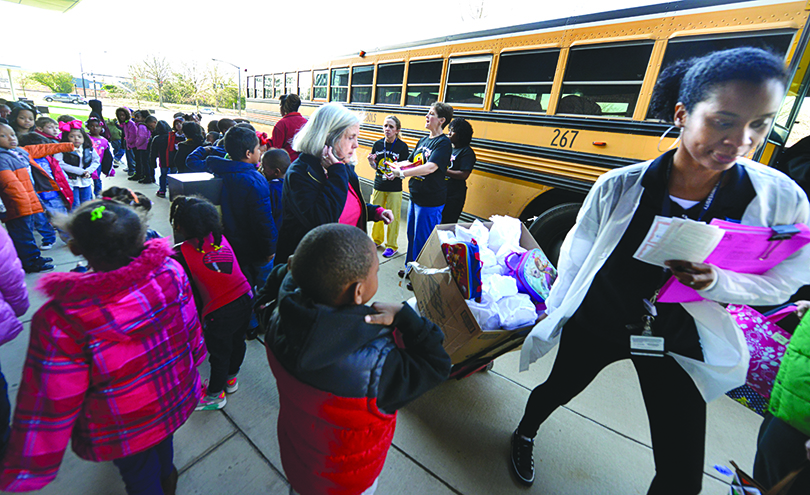 Furness chairs the committee, seeking out volunteer opportunities for him and his fellow program participants. Volunteer efforts have included health fairs, screenings, educational presentations and, of course, GMOM.
Furness and other program participants likely would be enthusiastic volunteers regardless of the community-service requirement, says Lefebvre, who notes that altruism is practically encoded in the DNA of DCG faculty, staff and students. But the program requirement prioritizes the commitment — an advantage highly valued by the funding recipients.
"It helps keep us aware of different opportunities," Furness says. "You always get more out of these experiences than you anticipate. It feels great and really opens our eyes to issues in the community."
Says Schafer, "As pediatric dentists, it's part of our responsibility to be out there serving the community. I still do a lot of community service, and I think the fact that this is an eligibility requirement demonstrates what a high priority this is to the DCG."
Lefebvre concurs.
"I believe it's vitally important to give back to the community," she says. "I think it's a small price to pay for the honor of being relieved of the burden of student debt."
HRSA Benefits
The Faculty Loan Repayment Program is but one example of Health Resources and Services Administration funding that benefits the DCG.
For instance, HRSA recently extended a DCG grant to help its faculty and staff better treat citizens in rural and underserved areas of Georgia. The $1.6 million funding will be spent over the next four years in areas including:
• Expanding senior dental students' externship opportunities in underserved areas of Georgia
• Offsetting the students' externship-related expenses, such as transportation and lodging
• Expanding perinatal and prenatal oral health education for underserved expectant mothers in Georgia
• Providing oral health care for the mothers' infants beginning at age 1
• Educating socioeconomically disadvantaged youths about dentistry as a potential career path
"We are thrilled to have this funding," says Dr. Tara Schafer, chair of the Department of Pediatric Dentistry. "We've had great support from HRSA in the past and are delighted they are demonstrating faith in our mission by continuing the funding."
Total DCG funding thus far through HRSA's Medical Underserved Areas program exceeds $6.5 million.