In April 2015, Dr. Brooks Keel, then the president of Georgia Southern University, returned to his alma mater to be recognized as the College of Science and Mathematics' Distinguished Alum.
There, sitting at a table with Dr. Rickey Hicks, the college's sitting dean, he learned about Hicks' radical plan to move the College of Science and Mathematics from Summerville to the Health Sciences Campus, which up until the 2013 consolidation with Georgia Health Sciences University had belonged to an entirely different university.
This unusual, uniquely Augusta University origin story was told four years after the initial conversation at the groundbreaking of the $70 million College of Science and Mathematics Building — the very building that had been the subject of their discussion.
"I must admit, at the time, I asked myself, 'What in the world are you thinking?'" Keel told those gathered under the tent located between the J. Harold Harrison, M.D. Education Commons and the Dental College of Georgia for the Aug. 23 event. "'Why would you possibly want to move one of the major colleges from the undergraduate Summerville Campus and plop it right down here on the Health Sciences Campus, some 4 miles away?'"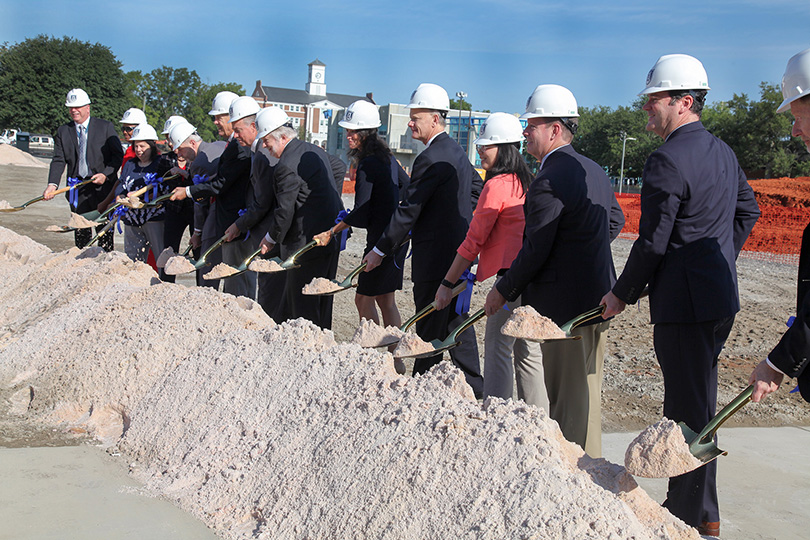 And if even he, with the rare perspective that came with being a graduate of both institutions, had a hard time envisioning the wisdom of the move, it's not surprising that it took others awhile to see it, too. But three months later, when Keel found himself president of Augusta University and therefore right in the middle of planning for it, it suddenly became a different story.
"It didn't take me very long to understand the wisdom and indeed the genius of this vision and to embrace wholeheartedly the planning and execution of this building," he said.
But why exactly was it so visionary? At the end of the day, isn't it more of a real estate matter than anything? A simple question of available space?
The answer — from Keel, from the Board of Regents and from everyone who has had a chance to study it — is a resounding no.
The Path Forward
"It's the proverbial first domino to make a lot of the other things happen," Keel said of the building's role in the coordinated march of progress that's propelling the university into its next phase of growth.
While the construction of the residence halls in 2016 may have laid the groundwork — not only by placing undergraduates on the Health Sciences Campus, but also because it required the establishment of a transportation system to move students between the two campuses — relocating the College of Science and Mathematics down the hill is the first major step forward, enabling a host of other things.
"Now you're going to have a bulk of students not just living here, but a bulk of students actually attending classes here," Keel said. "That's going to change the environment on the Health Sciences Campus and give it more of a feel of a comprehensive research university."
And that's something desired by the Board of Regents as well.
"The new facility's location means undergraduates will now be in the very heart of a vibrant research and clinical enterprise," said Regent Don Waters, chairman of the Board of Regents. "This meets our strategic imperative for Augusta University to have a closer connection between undergraduate study and graduate health sciences fields."
That connection unlocks a lot of important opportunities for students and learning, all of which contribute toward the goal of creating a more educated Georgia by increasing student enrollment, a goal aggressively embodied by the university's 16×30 initiative that calls for increasing enrollment to 16,000 students by 2030.
The Importance of Enrollment
Enrollment growth for any university is vital, but for a newly formed research university, it's even more important, because in order to compete for the high-achieving students that all the other big schools are competing for, a school needs to have the resources to attract them, and in order to finance those resources, a school needs a critical mass of students.
It's the paradox of modern higher education: In order to attract students, you need the things they want, but in order to pay for the things they want, you need students.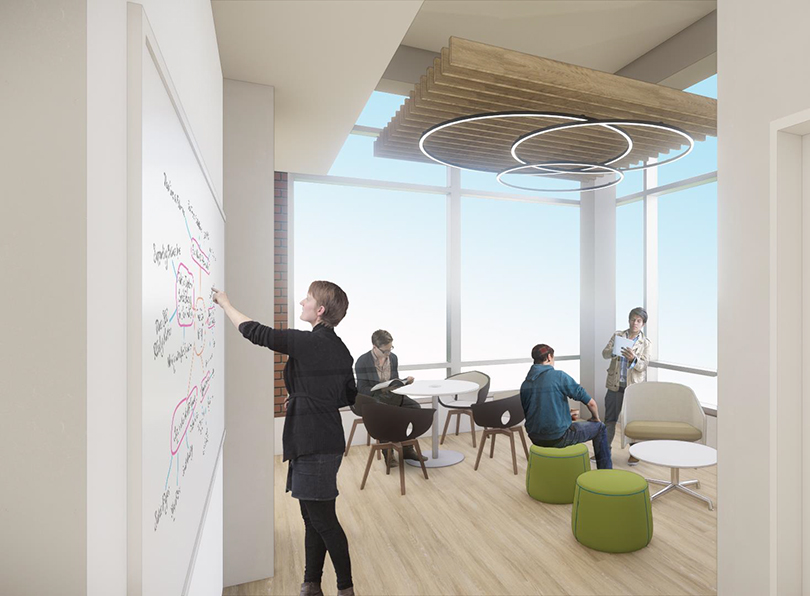 "It's a delicate balance between getting too far out ahead of yourself and having the amenities that are required to attract more students," Keel said.
Undergraduates want recreational space and state-of-the-art residence halls and dining that is more than just a buffet line, Keel said. They also need intramural fields and opportunities to expand into clubs, because those are the things that engage students and make them feel a part of the university. And those things keep them enrolled and make them more successful.
Creating that ecosystem internally also helps externally. When a school reaches a certain size, outside investment targeted at those students increases as well.
"We hope that in the coming years, we'll be able to start construction on a new dormitory to make room for those increasing students," Keel said. "We've already done some renovating in the dining facility on the Health Sciences Campus, and part of our plan over the next several years is a new parking deck adjacent to where the dorms are now."
Increasing Opportunities
Because the professional programs are either capped or limited, the majority of the growth necessary to move enrollment to 16,000 students has to happen at the undergraduate level, but that's easier said than done. The Summerville Campus is located in a National Historic District, making any large-scale expansion there impossible. Therefore, moving the majority of the College of Science and Mathematics to the Health Sciences Campus opens up valuable space in Science Hall for the remaining Summerville colleges to expand.
But as important as that additional space is, the physical expansion represents only part of the story. According to Keel, one of the major ways the university can compete with other universities is to push its marquee programs — the things that get people looking at Augusta University no matter where they live.
Obviously, cybersecurity has quickly become one of those programs — the School of Computer and Cyber Sciences has become one of the most talked-about cyber programs in the nation and is adding students and faculty at a phenomenal rate — but on an even larger scale, Augusta University is the only state-designated health sciences research university in the University System of Georgia. The opportunity to move undergraduate students directly into the graduate health sciences programs has been a selling point from the beginning, and moving the college housing most of the students interested in making that move to the campus where the next phase of their education will be taking place is a major recruitment tool.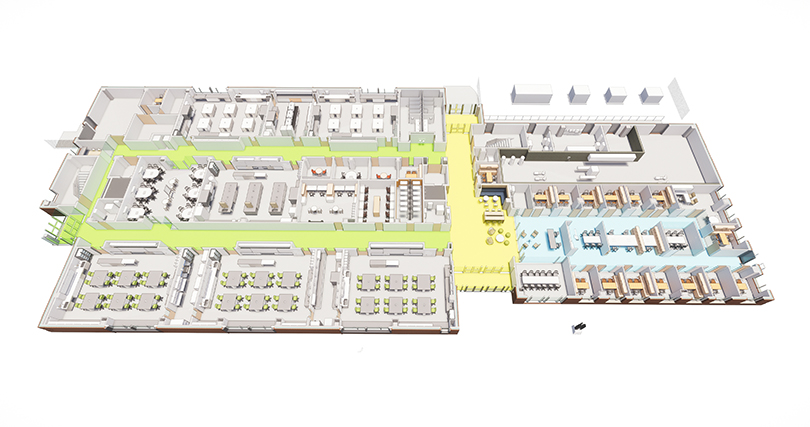 "It gives us a chance to take advantage of all the health science programs we have to create a pipeline of undergraduate students that will come into health sciences," Keel said. "So we want undergraduate students to know that if they want to go on to — name your health science: medical school, dental school, allied health, nursing, graduate research — that their best opportunity to get into that is to do their undergraduate training here."
Moving the College of Science and Mathematics not only provides students with the state-of-the-art facility to get that top-tier training; placing those students among all the white coats helps them visualize what they might become, and the proximity to the research opportunities makes that kind of involvement happen very organically. All of which will make them more competitive when it comes time to apply for those graduate programs.
The university's existing BS/MD and BS/DMD programs allow students to achieve both undergraduate and graduate degrees in only seven years, and new pipeline programs are in the works to allow for similar transitions.
"I think it's really key that those students, as they're thinking about becoming a dentist, say, begin thinking about that on their first day on campus, not their junior or senior year as they start applying to those programs," Keel said.
The Building Itself
With nearly 125,000 square feet, the new building will include three floors of education and lab space with a fourth floor of shelled space for collaborative research and growth. This floor will also contain a connector to the Interdisciplinary Research Center — a literal bridge to the research opportunities Keel says are important for all students.
"If I had been right in this environment where I could have literally crossed a bridge to get to a research lab, it would have escalated my interest in graduate research a whole lot quicker," he said.
"It's not just the doctors and dentists, which are important, and it's not just the nurses and physical therapists which are also important — it's the pure graduate research, the basic science research, that we want to get young people interested in as well."
According to Esther Kent, a chemistry major with a concentration in nuclear science who will graduate before the building opens, the new facility will help students be better prepared to pursue their dreams.
"While my experiences have been great, those students will have an even better one by learning from and along with students and faculty from different fields," she said. "Being on the Health Sciences Campus will not only expose students to careers within health care, but it will also expose them to new ways of learning and create knowledge by actually doing science in the form of research."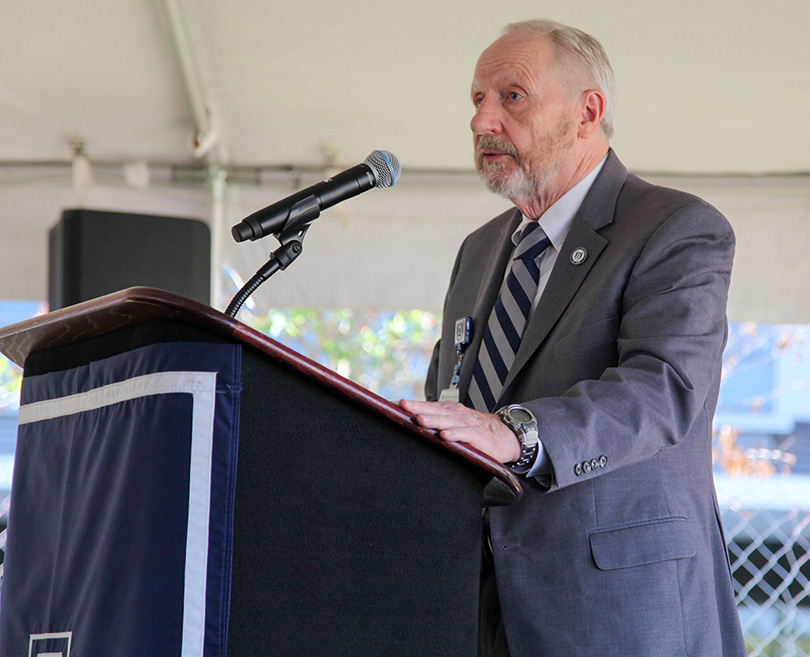 And for Dr. John Sutherland, the College of Science and Mathematics' current dean, those connections are important for many different reasons.
"The prospect of being on the same campus with medical and dental and nursing and allied health students is going to be informative for our students in that they're going to be able to find out what these fields — and research — are really like," he said. "And there will be informal contact all over the place."
And that informal contact, he said, means more than most might imagine.
Students will have access to two 300-seat tiered auditoriums, a 150-seat tiered classroom and a 150-seat active learning classroom, and the labs, collaborative areas and study areas will energize research opportunities and increase chances for collaboration.
Building on Reputation
Keel is quick to point out that by concentrating on the marquee programs he is in no way turning his back on the other important programs in the university.
"It's reputation," Keel insisted. "As you start getting high school juniors to begin to think about Augusta University in cyber and science as the marquee programs, word is quickly going to spread to their colleagues that there are other things going on here, too. So as we use the marquee programs to build the reputation and visibility of Augusta University, it opens up all the other things we do as well."
And while it's the large-scale investment in cyber and, now, this new building that makes the headlines, Keel pointed out that Summerville has also seen its share of investment recently, including the renovation of the Fine Arts Building, the renovation of the ceramics and sculpture studio as well as plans in the works to renovate the Maxwell Theatre.
"It's easy to get so caught up in the health sciences and cyber that we overlook that," Keel said. "But I'm always reminding people that we're using science and cyber as a springboard to get the word out, and that word will also resonate across all the programs we do."
The new College of Science and Mathematics building is scheduled to open in the summer of 2021.