Three young women completed an arduous seven-year journey when they graduated from the Dental College of Georgia this spring.
And now, the real adventure begins.
The graduates — Paige Elliott, Courtney Marshall and Jessie Yuan — were the inaugural members of the Dental Scholars Program, launched in 2014 to guarantee DCG admission to select Augusta University undergraduates, provided they meet rigorous criteria throughout their college careers. Those criteria include excellent grades and completion of undergraduate research with a DCG faculty member. The program also consolidates the senior year of undergraduate college and the first year of dental school, enabling a seven- rather than eight-year completion time.
The women look back on the experience with laughter, gratitude and hard-earned relief.
"Dental school taught me the true meaning of stress," says Paige with a laugh. "But I definitely adjusted. Once I was halfway into my second year, I kind of let go of the pressure and felt like Wonder Woman. From then on, I've just been riding the wave."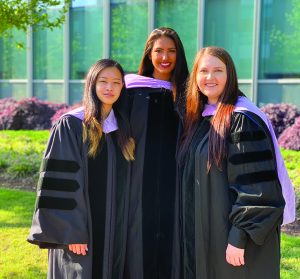 She and her fellow scholars come from very different backgrounds but were privileged to take their journey together.
Paige, from Johns Creek, Georgia, was crowned the Augusta University Homecoming Queen in 2017 and had a full volleyball scholarship.
Courtney, from Young Harris, Georgia, grew up sculpting wax models with her dad, a dental technician. The pastime morphed into a burning desire to combine art and science in a helping profession.
Jessie, from Lawrenceville, Georgia, balanced multiple jobs and internships (one in Taiwan) as an undergraduate student. A problematic dental bite prompted her to pursue dentistry so she could help others with similar problems. At age 18, she had been accepted to Johns Hopkins University — "I'd actually already sent in my deposit" — when she learned of the Dental Scholars Program and changed course.
"The three of us are very different, but we'll be friends for life," Paige notes. "We were the first; we took a leap of faith and didn't have anyone's example to follow. But we got through it together, and we're so happy with the choices we've made."
Read more: Colleges celebrate first Professional Scholars Program graduates
She adds, "The three of us graduated with lilac cords (dentistry's professional color), which was unique to us. We definitely share something that no one else can fully understand."
Jessie concurs. "We've spent seven years together and are really close friends. It's great to have others to talk to about this shared experience. We all cheered on each other's accomplishments."
They supported each other through the hard times as well. "The program was really challenging," Jessie concedes. "We had to study hard, particularly with our senior undergraduate year and our first year of dental school combined. But the university sponsored events and activities that offered a lot of fun and balance."
Courtney agrees. "At first, it was hard managing the workload. But once I was in dental school, I realized how well-prepared I was for it. I loved it. I was so happy to be doing what I'm passionate about. And I always made time for friends and extracurricular activities."
Although undergraduate college and dental school are very different experiences, she adds that the Dental Scholars Program managed to make the transition feel seamless. "The beginning of a dental education is classroom-based," she says, "so the first year of dental school felt very familiar. Of course, it's a lot more exciting to get a taste of what your career is going to look like than to sit in a classroom, so seeing patients is when the real fun began for me, and that starts very early at the DCG. I've always been a people person, and I love interacting with patients. It's so rewarding to reach the end of a treatment plan and realize how far we've come together."
Adds Paige, "The DCG creates a great mentor environment as well. We always had people supporting us and helping us through any issues we might have. I felt very comfortable reaching out to the faculty and other students when I needed to."
Although their careers have already taken them in different directions, they plan on staying in touch for life. Paige practices general dentistry in Greenville, South Carolina. "It's the perfect city for my boyfriend and me," she says. "Everybody's really into fitness and riding bikes wherever they need to go. We've always been athletic — my boyfriend was a Division I soccer player — so this is a great fit."
She is grateful that the DCG instilled in her a lifelong love of learning. "There's so much to know in dentistry, and things are constantly changing, so I'll always be on a learning curve. But I had great training, and I'm very excited to have my own patients and my own treatment plans."
Jessie, the first person in her family to pursue a health care career, is completing a periodontics residency at the DCG. "Periodontitis is a systemic disease, and I'm interested in providing comprehensive treatment, which is what I needed for my own dental issues," she says. "I look forward to treating patients long term and solving complex problems. I never knew how rewarding it would be to help patients through the kinds of issues I've dealt with myself."
Courtney has returned to her beloved north Georgia mountains to practice general dentistry."I definitely think it was a great choice to participate in the Dental Scholars Program," she says. "I made up my mind at a very young age that I wanted to be a dentist, and the program brought me to where I knew I wanted to be."
Says Paige, "The Dental Scholars Program has provided us with such a luxury. We're only in our mid-20s and have already started our careers."