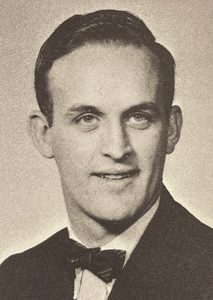 Lamar Fleming, MD
Lamar Lafayette Fleming, MD, a 1965 graduate and retired orthopaedic surgeon who served as president of the American Orthopaedic Foot and Ankle Society, died Aug. 14.
While at MCG, he was a member of the Scholastic Honor Society and was inducted into the Alpha Omega Alpha Honor Medical Society during his third year. He received the medical school's Distinguished Alumnus Award for Professional Achievement in 2009.
After medical school, Fleming completed his internship and training in internal medicine at Parkland Memorial Hospital in Dallas, Texas; his general surgery residency at MCG's Eugene Talmadge Memorial Hospital in Augusta (now AU Medical Center); and orthopaedic surgery residency at Duke University School of Medicine in Durham, North Carolina. He was a veteran of the US Navy, serving as a naval flight surgeon and earning the rank of lieutenant commander.
Fleming was a professor and chair of orthopaedic surgery at Emory University in Atlanta and served as chief of the Hand Service at Grady Memorial Hospital, as well as chief of the Hand Section at Atlanta's Department of Veterans Affairs Medical Center.
During his 15-year tenure as chair, he recruited talented faculty and guided the Emory Orthopaedic Department through significant growth in size and national prominence. He started the Emory Sports and Spine Center, which led to the expansion of Emory Orthopeadics throughout the Atlanta metropolitan area. He founded the Emory Orthopaedic Surgery Residency Alumni Organization, the Robert Kelly Society, which is still active today. He received the Emory Distinguished Medical Achievement Award in 2012.
Throughout his career, he served in a variety of leadership roles, including president of Atlanta Orthopaedic Society, president of Georgia Orthopaedic Society) and president of Eastern Orthopaedic Association and Southern Orthopaedic Association. He published over 40 peer-reviewed articles and served on the editorial boards of the Journal of the Southern Orthopaedic Association, Clinical Orthopaedics and Related Research, Journal of Orthopaedics, American Foot and Ankle Journal and Journal of Sports Medicine.
He is survived by his wife of 53 years, Sally Hurt Fleming; daughters, Anne Ridley Fleming of Greenville, South Carolina and Sarah Sibley Fleming of Atlanta.
---
Jack G. Williams, MD, '66, July 1
John R. Andrews, MD, '70, July 5
William L. Wilkes, MD, '67, July 13
Oliver W. Jenkins, MD, '67, July 19
Donald R. McRae, MD, '73, July 20
Larry D. Gattis, MD, '77, July 29
John D. Reynolds, MD, '65, Aug. 19
Sidney P. Johnson, MD, '65, Aug. 20
H. J. Beecham, MD, '74, Aug. 25
James R. Wilhoite, MD, '66, Aug. 28
Olin C. Dobbs, MD, '57, Aug. 29
William R. Thompson, MD, '55, Sept. 5
Ferdinand V. Kay, MD, '59, Sept. 14
James H. Smith, MD, '58, Sept. 16
Theo G. Thevaos, MD, '48, Sept. 16
Robert Parrish Jr., MD, '56, Sept. 27
John B. Hill, MD, '68, Sept. 28
Ray H. McCard, MD, '60, Oct. 2
William M. Oxford, MD, '66, Oct. 15
Fred T. Owens, MD, '70, Oct. 23
Eugene R. Long, MD, '77, Oct. 23
Susan W. Belson, MD, '77, Oct. 26
Frederick D. Maner, MD, '57. Nov. 5
Rebecca A. Madden, MD, '79, Nov. 19
George E. Linney, MD, '69, Dec. 22
Robert J. Walker, MD, '67, Dec. 25
Jesse D. Hester, MD, '70, Dec. 28
Robert L. Galphin, '58, Dec. 31
James. W. Duncan, MD, '80, Jan. 7
Thomas J. Busey, MD, '57, Jan. 7