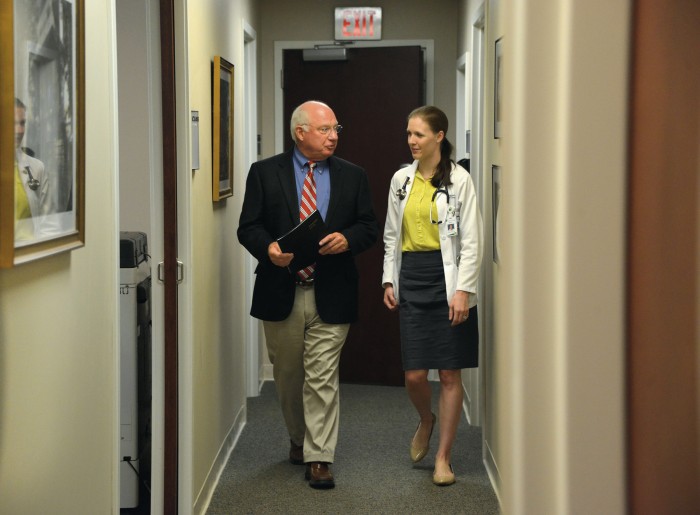 SOUTHEAST CAMPUS
Dr. T. Wayne Rentz Jr. ('72), a surgeon in Brunswick, Georgia, has been named associate dean for the MCG Southeast Campus, based in Savannah and Brunswick.
Rentz, formerly assistant dean for curriculum, completed a general surgery residency at the Naval Regional Medical Center at Portsmouth, Virginia. After training, he became a staff surgeon at the U.S. Naval Hospital at Roosevelt Roads in Puerto Rico and was named chief of surgical services there in 1979. He worked as a surgeon at the Naval Aerospace and Regional Medical Center in Pensacola, Florida, before leaving active duty with the U.S. Naval Reserves and coming to Brunswick in 1983 as a private practice surgeon, based at Southeast Georgia Health System. He has served in many roles within the health system, including chief of staff, director of the Surgical Intensive Care Unit and as vice chairman of the Credentials Committee.
Rentz is a fellow of the American College of Surgeons and a diplomate of the American Board of Surgery. He is a member of the Medical Association of Georgia, the Georgia Surgical Society, the American Society of Breast Surgeons, and the Glynn County Medical Society.
NORTHWEST CAMPUS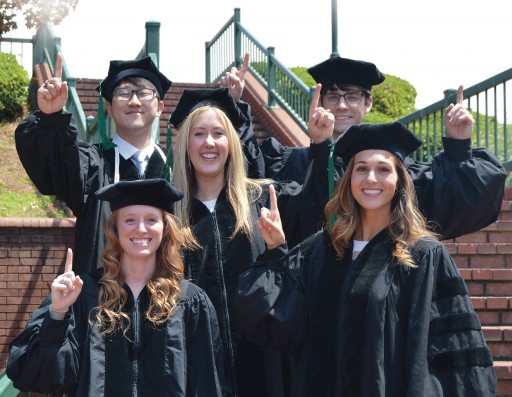 The first students to complete their clinical education at MCG's Northwest Campus in Rome graduated in May.
The graduates and their residency programs:
William Christopher Harding, Internal medicine, University of Virginia
Sung Gon Lee, General surgery, University of Tennessee
Elizabeth J. Schmidt, Emergency medicine, Johns Hopkins Hospital
Anne Louise Staigle, Obstetrics/gynecology, Greenville Health System/University of South Carolina
Bianca Marie Whitten, Emergency medicine, Case Western/MetroHealth Medical Center
SOUTHWEST CLINICAL CAMPUS
MCG's Albany-based Southwest Clinical Campus, the first off-site campus of MCG's statewide education network, is celebrating 10 years of educating the next generation of Georgia physicians.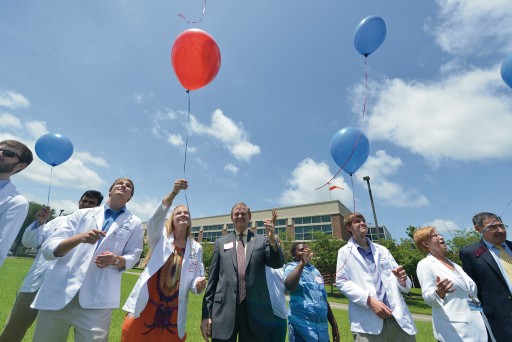 Although MCG students have participated in clinical practice experiences in southwest Georgia for decades, the clinical campus formalized the relationship while helping alleviate a statewide physician shortage. The Liaison Committee on Medical Education accredited the site in 2010, and the first residential students arrived that July. Since 2010, 72 students have lived and learned alongside Southwest Georgia physicians, an important aspect of ensuring the area has plenty of physicians in the future, said Dr. Granville Simmons, associate dean of the campus.
"We hope that by providing top-notch clinical experiences to them as third- and fourth-year medical students, they will want to return to the area to practice after they've completed their training, and ensuring access to top-notch health care is essential to this area's growth," he said.
More than 140 volunteer physician faculty offer students access to rotations in internal medicine, family medicine, obstetrics and gynecology, pediatrics, psychiatry, neurology, general surgery, otolaryngology, urology and more. The focus is on primary care, but the campus also offers access to advanced specialties and technology.
Students who attend the Southwest Campus also complete clinical rotations at sites throughout southwest Georgia, including Tifton, Cordele, Valdosta, Albany, LaGrange, Americus, Thomasville and Columbus.
GRU/UGA MEDICAL PARTNERSHIP
The first class of 10 internal medicine residents at St. Mary's Health Care System officially began work on July 1. The residency program is a component of the GRU/UGA Medical Partnership and St. Mary's.
"The start of northeast Georgia's first residency program is a historic occasion," said St. Mary's President and CEO Don McKenna. "It is the product of years of hard work and offers an unprecedented opportunity to enhance access to quality care by attracting a new generation of primary care physicians to our region."
Each internal medicine resident will complete three years of studies emphasizing prevention, diagnosis and treatment of adult diseases, practicing alongside attending physicians.
The program includes five core faculty members, 10 subspecialty education coordinators and approximately 70 additional faculty for the elective and subspecialty rotations.
The Internal Medicine Residency Program's inaugural class members and their undergraduate/graduate and medical schools are:
Brian Brewer, M.D.
University of Georgia
Medical College of Georgia
Heather Brody, M.D., M.Sc.
Tulane University
University of South Florida
The American University of the Caribbean School of Medicine
Narayana Gowda, M.D.
University of Georgia
American University of Antigua College of Medicine
Andrew Ke, M.D.
University of Georgia
Ross University School of Medicine
Soma Mandal, M.D., M.P.A.
Ohio State University
New York University
Albany Medical College
Tenzing Phanthok, M.D., M.S.
Emory University
Georgia Institute of Technology
University of the Caribbean School of Medicine
Akhil Rasim Reddy, M.D.
University of Georgia
St. George's University School of Medicine
Sonia Suda, M.D.
Duke University
Tulane School of Medicine
Kyle Walker, M.D., M.S.
University of Georgia
Georgetown University
Ross University School of Medicine
Addison Zhang, M.D.
University of Wisconsin-Madison
American University of Antigua College of Medicine
Dr. Leslie Petch Lee, who has been assistant dean for curriculum at the Georgia Regents University/University of Georgia Medical Partnership since 2010, was appointed interim campus dean in May.
A national search for the next permanent campus dean is underway.
Lee, who joined UGA in 2005 and also has an MCG faculty appointment, became involved in the early planning and development of the GRU/UGA Medical Partnership in 2007 and was appointed coordinator for the first- and second-year curriculum—known as phases 1 and 2—for the Medical Partnership in 2008. As assistant dean for curriculum, she oversaw the development and implementation of the phase 1 and 2 curriculum. She also represented the Medical Partnership on the MCG Instructional Technology Advisory Committee, the Phase 1 and 2 Curriculum Committee, the Curriculum Oversight Committee, the Admissions Committee, and the Executive Committee for Reaccreditation.
She was previously associate director of the Virology Core Facility at the University of North Carolina, Chapel Hill, Center for AIDS Research. She earned her Ph.D. in pharmacology from the University of North Carolina, Chapel Hill.