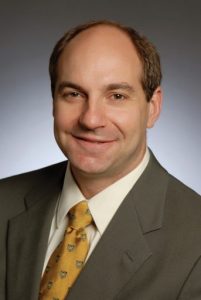 After spending his early life in Louisiana, Arkansas and Texas; his high school days in Atlanta and his undergraduate years at Wake Forest, Curt LaFrance chose to get his medical degree from the Medical College of Georgia, a choice that allowed him to do his part to make good on his childhood prayer, "Dear God – Show me the mind."
"When I was doing rotations at MCG, one of the big influences was working with the neurology faculty there," he says. "I knew I wanted to do something that would address looking at the brain and the mind as two sides to one coin."
So from MCG, he went to Brown University, which was one of the few places that offered combined neurology and psychiatry residencies. Six years turned into eight when he was awarded an extramural National Institutes of Health fellowship, and that eight has now turned into 21 years in Rhode Island.
One of his areas of research involves nonpharmacologic interventions for seizures, including nonepileptic seizures. He recently published a workbook that gives patients tools to help them take control of their seizures. It's an approach that has its roots in his time at MCG, particularly the Medical Campus Outreach (MCO) program that developed here, where he learned about the biopsychosocial-spiritual model of patient care that looks at the whole person.
"It was such a great community there at MCG and the Summer Medical Institute (SMI) (an MCO partnership)," he says. "Many of us who went to SMI are now training people around the world in the integrative model to be able to practice whole-person medicine."
Dr. W. Curt LaFrance Jr. (MD '95) is director of neuropsychiatry and behavioral neurology at Rhode Island Hospital, staff physician at the Providence VA Medical Center and associate professor of neurology and psychiatry at Alpert Medical School, Brown University.