In January 2016, Augusta University was a newly rebranded institution looking for ways  to inspire students, faculty and staff to rally behind the new university. Athletics was one of the answers, and six months later, individuals from all over the institution turned their attention to the world's biggst sporting stage to cheer on Pardon Ndhlovu (MBA '15) as he chased his Olympic Dreams at the 2016 Summer Games in Rio.
The following year, Jaguar Nation rallied around Keshun Sherrill as he became the Peach Belt Conference's (PBC) All-Time Leading Scorer, leading the men's basketball team to the PBC and NCAA tournaments. The men's golf team also won its sixth tournament under head coach Jack O'Keefe, and the men's cross-country team won the PBC championship and competed in the NCAA championships.
Sports have a power to bring people together unlike anything else. Whether you're having a friendly conversation about your team with a stranger in the checkout line or you're at a stadium cheering for your team to make the winning goal, it's a special connection. A special kind of unity.
But for our student athletes, the unity is even stronger and the lessons live long after the applause.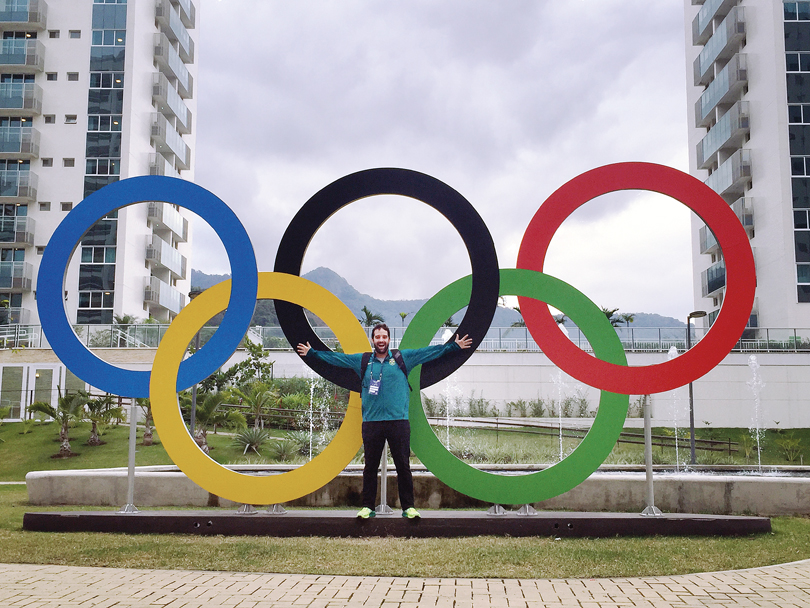 Marcelo Braga (Bachelor of Business Administration in Marketing, '10)
Brazilian Marcelo Braga traveled more than 3,000 miles to attend Augusta University on an athletic scholarship for tennis.
The tennis team's ranking and the reputation of the Hull College of Business were the deciding factors in Braga's decision to commit to Augusta, and from the moment he stepped foot on campus, he knew that he had made the right decision.
"Gina Thurman, associate dean of students, and Coach Michael McGrath introduced me to the Jaguar family," Braga said. "In the first few weeks after my arrival, they did everything they could to make me feel like I was at home at Augusta University."
Augusta University quickly began to feel like a home-away-from-home, and Braga's teammates like family. Many of the athletes on the tennis team were Brazilians, and many of the Augusta University athletes were also international students. This provided Braga with a community of students, most of whom were far from home and in a new environment. They quickly became part of an even larger family.
"We were a big, international family," Braga said. "With time, we made American friends. These friends would often invite us to their homes during Thanksgiving holidays."
As Braga's time at Augusta University came to a close, he began to consider his options following graduation. He felt confident in his future, in part because of the strong foundation built at Augusta. So confident, in fact, that he promised Dr. Marsha Loda, associate professor of management and marketing, 10 percent of the salary from his first job.
"My experience at Augusta University opened all the doors for my career, and without that experience I doubt I would have my current job," he said. "In the sports industry, your experience as a student athlete says a lot. Playing four years of college tennis and competing at the highest level gave valuable experience."
After graduation, Braga decided to return to Brazil, where he applied for a trainee program with General Electric. Braga was one of 15,000 candidates for the job, and there were seven available positions. After many interviews, in more than three different Brazilian states, Braga made it to the final 14 but
no further.
Though initially disappointing, it ended up being a blessing
in disguise.
"Shortly after learning I would not receive an offer from GE, I got a phone call from the Brazilian Olympic Committee," he said. "They offered me an interview. I was convinced it was a prank call, but in January 2011, I accepted a job offer."
Braga coordinates the Committee's High-Performance Coaches program. He has brought big-name coaches, such as Olympic and World Champion long jumper Dwight Phillips and Jeremy Fischer, Team USA vertical jump coach, to Brazil for international coaching internships.
His role changed completely during the Rio Games, however. Braga led the family and friends program, designed to provide assistance to family and friends of the Brazilian athletes competing at the Games.
There were 500 Brazilian athletes competing, and each athlete could apply for four family tickets.
"It was a huge challenge," Braga said. "Imagine distributing 2,000 tickets and making sure that each of these people were happy and their needs were met. It was 20 days of intense work, but it was a great feeling knowing that we were able to be a small part of the medals that our athletes won. They were able to concentrate on competing, because they knew we were taking care of their loved ones."
For Braga, being part of the National Olympic Committee for an Olympic Games in his home country was indescribable. One of the perks: he got to sleep in the Olympic village and eat his meals with Olympic athletes.
"Imagine that you're in line to get food and Usain Bolt is behind you," he said. "Or you're taking the bus to the village and you bump into Michael Phelps, Novak Djokovic or Rafael Nadal. You have a quick conversation with them, exchange pins. It was a huge dream that I was lucky to be a part of."
Braga calls himself a proud Jaguar, and admits that without Augusta University none of his success would be possible.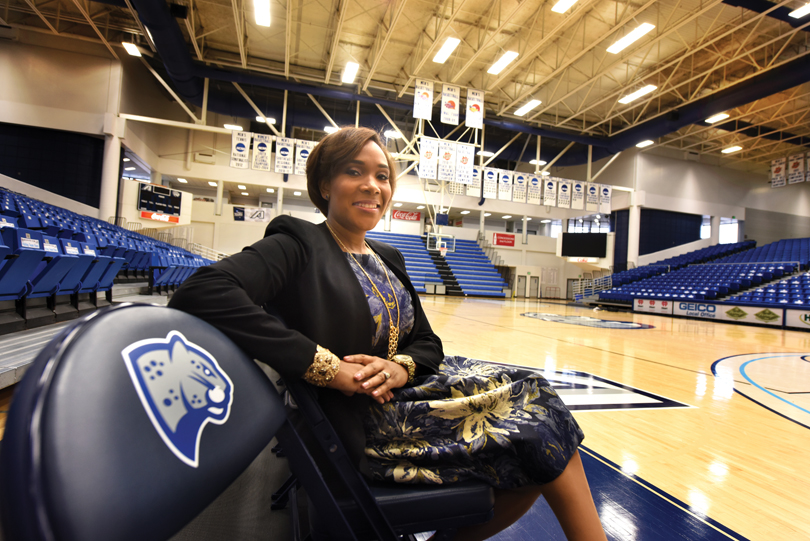 Ernesia Wright (Bachelor of Arts in Criminal Justice and Sociology, '04)
It's been more than 10 years since Ernesia Wright graduated from Augusta University, but her legacy as 12th all-time female scorer remains. You can also find her in the record book for most steals (ranked fourth) and assists (fifth). For Wright, though, her experience at Augusta was about more than basketball.
"College is the foundation that helps young adults transform into mature adults," she said. "I met so many people from different experiences and backgrounds, and I learned a lot from them. It really shaped me."
Wright credits her Augusta University basketball coaches with much of her personal success.
"Coach Greg Wilson really taught me how to humble myself," she said. "I was used to being a star and a starting player, but I didn't start on his team, at first. He taught me about myself, and really shaped me into the person that I am today."
During Wright's freshman year, she found herself struggling in school and got behind in her classes. She remembers Coach Wilson sitting down with her to have a conversation. He explained that if she didn't improve her grades, she wouldn't return to the university as an athlete the next year. This motivated Wright. She was able to improve her grades, continued to play basketball and graduated from Augusta in four years.
After graduation, Wright played professional basketball in Romania. Again, it was an Augusta University coach who helped her get the opportunity.
"Tameka Morton, the assistant basketball coach, was hosting a basketball combine," Wright said. "She called me and asked me to attend the combine. I didn't think I was ready. She convinced me that I was. I went to the combine, and within six months I got an agent and signed to play professional basketball overseas. If it wasn't for her, then I probably never would have gone overseas."
Wright played two seasons in Romania. It was a great experience. Wright has many fond memories of her time there, including traveling to Bucharest, where she could get a taste of home at Kentucky Fried Chicken and Ruby Tuesday.
The experience took some getting used to, though. Wright was the first African-American woman in Alexandria, Romania, and the first American on her team.
"I was almost like a celebrity," she said. "Kids would see me and ask me for an autograph. They had only seen a person of color on the television. For them, it was a shock, but it was also a shock for me."
As central as basketball was to her, her life as a professional athlete was relatively short lived, and like even the most celebrated professional athletes, she had to figure out what came next.
After retiring from basketball, she joined the military. Wright is now a captain in the United States Army. And in 2015, she added a new title to her resume: Owner and CEO of the Georgia Soul Basketball team.
The Georgia Soul was a semiprofessional women's basketball team in the CSRA. In Wright's first season as owner, the team won the regional tournament for their conference. The following season, the team won both the regional and national tournaments.
In the midst of this, Wright added yet another title, "mother," to her resume when she and her husband, Rocardo Wright, welcomed their first child into the world. It was this title that led to her decision to dissolve the team after the 2017 season.
For Wright, though, the goal was always bigger than basketball.
"Georgia Soul is about sisterhood," she said. "We did community service events. We talked to different groups of young women. All the women on the team have bachelor's degrees, they all played college basketball and many played professionally. They're role models. It was my vision to make it bigger than basketball. I think we accomplished that."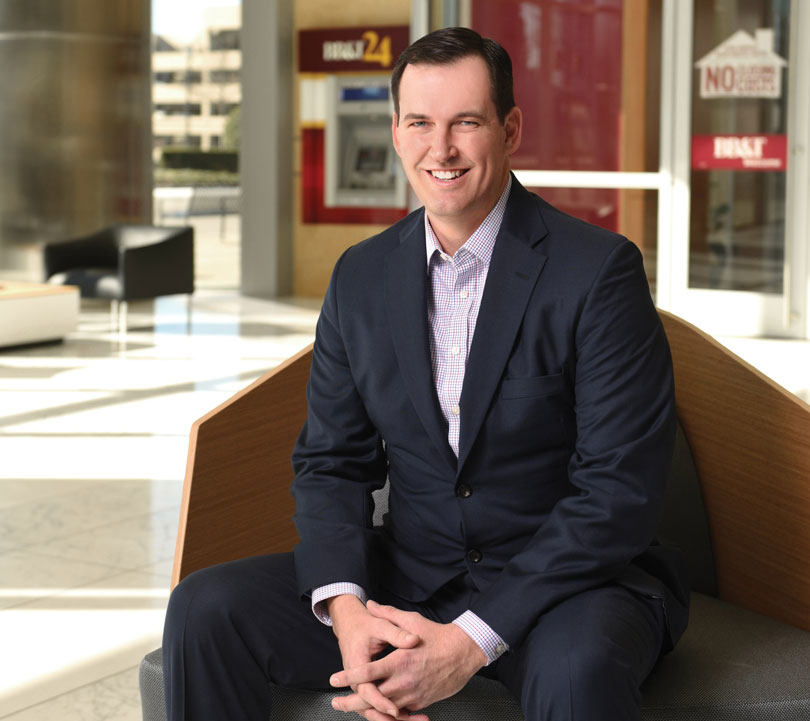 Rob Appleman (Bachelor of Science in Finance, '99)
For Rob Appleman, senior vice president and business development officer at BB&T Retirement and Institutional Services, finance is a way to give back to the community.
"After watching my dad wait until the last minute to start saving for retirement, I feel like I'm making a difference by helping companies look at their plans and helping people become more retirement ready," he said.
However, finance wasn't always part of Appleman's vision for his future.
He came to Augusta University in the 1990s as an athlete on the university's baseball team. Being an athlete shaped Appleman's college experience in ways he could never have imagined.
"Being a part of a team was like having your own built-in fraternity," he said. "There was a great support network amongst players from all the different teams. I was originally from Orlando, Florida, and being an athlete gave me an opportunity to meet people quickly. I made some great friends, but also learned to prioritize my studies."
At first, Appleman wasn't sure what to study. After being exposed to different disciplines in the Hull College of Business, Appleman realized he was good at math and interested in finance. And so that's what he pursued.
After graduation, Appleman moved to Florida to begin his career.
"Augusta University gave me a good foundation in finance," he said. "In the financial industry, there are certification tests you have to take. I was able to pass my first test because of the things I had learned through my studies."
His experience as an athlete also helped Appleman to be successful.
"When you work in a bank, you're part of a team," he said. "You have your own goals, but there is also a team goal. Being a part of a team helps you fight through the good days and the bad days. You might not win the first game in a triple header, but you have a few more games to go."
Appleman is proud to be an Augusta alum, particularly at such an exciting time for the university.
"There's a sense of pride as the university continues to improve the facilities and as they begin to lead the charge for cybersecurity," Appleman said. "It's exciting to see. People are now recognizing Augusta University's name, and people in Atlanta are talking about the university. It gives you a sense of pride."
Lasting Value
Maybe no one is better positioned to see the lasting value of sports than Clint Bryant, Augusta University's athletics director for the last 30 years.
"Augusta University athletics is much bigger than the athletic fields or courts we play on," he said. "I look at athletics kind of like fine arts — people become more well rounded if they're involved in athletics."
For many former student athletes, including Braga, Wright and Appleman, sports provided a springboard for success. During practice and in competition, they learned discipline, critical thinking and problem-solving skills — all characteristics that transition to the professional world.
"I am absolutely sure that my academic background at Augusta University gave me all the necessary tools for my success in my professional career," Braga said.