For almost a half-century, the Grover C. Maxwell Performing Arts Theatre has welcomed students, staff and community alike. Through these doors, people have gathered to hear concerts, recitals, academic and university-related lectures, watch theater performances and films, and participate in workshops.
When it was first built in 1968, this marked the dawn of a new era for then-Augusta College. The school was now creating educational facilities instead of repurposing old buildings. The theater was built at the same time as the neighboring instructional building, and for a while, both shared the name "Fine Arts Center." Eventually, however, the auditorium became the "Performing Arts Theater," finally being renamed the Grover C. Maxwell Performing Arts Theatre in 1984.
The facilities became unique not only in purpose, but also construction. Unlike other campus buildings, parts of the Maxwell are underground, including the backstage. Digging allowed not only a large backstage, but storage areas below, including a climate-controlled space that now stores two Steinway pianos. Also special to the theater – it has both a traditional main stage and a thrust stage (an extension which can be lowered). When the thrust is used, it provides audiences with an intimate all-around view of performers. Having two stages also allows the staff to set up two shows at once. Last year, the Maxwell boasted a record schedule with 216 events and, of course, the steady stream of onlookers to match.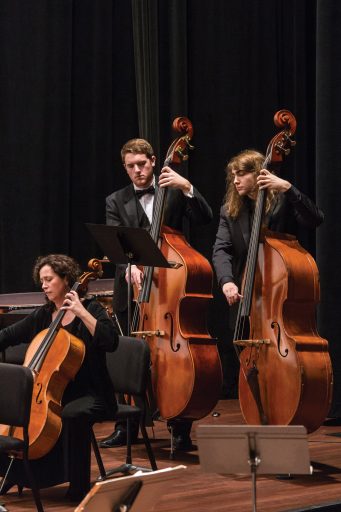 The theater seats 740 people, only about 100 less than downtown Augusta's Imperial Theatre, and the Maxwell has put those seats to good use. Over the decades, notable performers have included choral director Robert Shaw leading the Augusta College Choir during its inaugural event, to more recently, last year's performance by the Vienna Boys Choir.
Just a few years ago, the Maxwell gained a 32-foot-wide screen, the biggest on campus. So now the space also hosts films including those for the Cinema Series.
For information about upcoming shows, see augusta.edu/maxwelltheatre.