Bowdre Phinizy is the man behind MCG's first endowment, established in 1931.
In his life as a newspaper man, Bowdre Phinizy (1871-1931), owner and editor of the former afternoon paper, The Augusta Herald, and owner of The Athens Banner-Herald, was known for his vision and community commitment.
"He appears to have adopted as his 'Herald Code,' the need to promote public service, support the underdog and arm to assist in always growing Augusta," his great-nephew Bowdre Mays Jr. writes about Phinizy in the family memoir Is Living Well Still the Best Revenge?
At his death, nothing changed.
That year, Phinizy and his wife, Meta Charbonnier Phinizy, established the Leon Henri Charbonnier Endowment, the first at the Medical College of Georgia. The fund honors Meta's father, a native of France, who created the Department of Civil Engineering at the University of Georgia, served as chair of the university's Department of Physics and Astronomy, and later as its acting chancellor.
Eighty-five years later, public recognition of their generosity — a long-awaited plaque recognizing them and the professorships that the endowment has funded — has been placed in the lobby of the J. Harold Harrison, M.D. Education Commons.
"I think it's so wonderful and appropriate that we are in the J. Harold Harrison Education Commons," Regent James M. Hull, a descendant of the Phinizy family, told the crowd at the October unveiling of that plaque. Harrison and his wife, Sue, donated $10 million to help build the Harrison Commons and, after his death, made a transformative gift of $66 million to help fund student scholarships and endowed chairs. "There was a precedent for that gift," Hull added, referring to Phinizy's donation.
"It is the generosity of Phinizy and people like him in this room who have given to support MCG that has really transformed Georgia's public medical school," said Dr. Peter F. Buckley, MCG dean. "The plaque is placed in a very prominent place both to recognize the history in juxtaposition with this new building [and] so students and faculty who pass it can be constantly reminded of the support that has been given to them and will continue to be given."
"We know that they believed in medical education and medical education in Georgia," Hull said of the Phinizy and Harrison families. "I think they also knew the cost of medical education was leveraged many, many times over by a trained physician's benefit to society. They also knew that a life well-lived means giving to others and giving back. And that the most enduring legacy that you can leave to your family, the great inheritance, is the example of giving to others and giving back."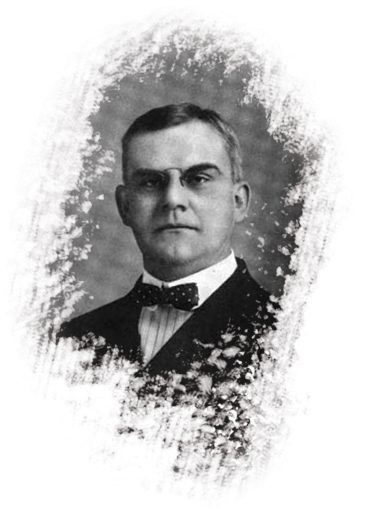 About the Phinizys:
Phinizy, one of three children born to Charles Henry and Mary Louise Yancey Phinizy, went to Princeton University, where he was managing editor of the Princtonian, a member of the lacrosse team, vice president of the Class of 1892 and one of five students to graduate magna cum laude. "School prophecy was that Bowdre would be U.S. President," Mays writes in his book.
After graduation, Phinizy went to Johns Hopkins, then to the University of Virginia for the 1894 summer law course and finally to Harvard Law in 1895. He returned home to open his law practice, but fate would intervene. His mother, or stepfather, had invested in the Augusta Herald, which was launched in 1890 by former Augusta Chronicle employees. When Phinizy returned home, the paper was barely above water, so he stepped in to run it and save the family's investment. "Large and loud headlines became a Herald feature," Mays writes. "The Herald also achieved much greater readership by reporting the triumphs of very normal ordinary men or women, rather than focusing mainly on notables of the day."
He met Margaret "Meta" Charbonnier McGowan after the death of her first husband, James, in 1909. By the late '20s, they had been an item for many years. They married in 1928.
Among his many community service roles, Phinizy was a member of the Georgia House of Representatives from 1894-96; a member of the Democratic State Committee from 1906-07 and 1910-12; and served as a trustee for the University of Georgia and the Medical College of Georgia concurrently from 1907-23. He was later elected a director of the Southern Mutual Insurance Company at Athens.
About the chairs:
"Since the establishment of the fund, we have had the opportunity to provide support to a number of chair holders," Buckley said at the plaque unveiling. "An endowed chair is a very important achievement in the life of any academic, but particularly when the endowment has such a glorious history. It would not surprise you that the recipients of these are indeed stars of our institution going back through the past and right up to the future."
"To hold a Charbonnier Chair means that you are a part of one of the proudest traditions at MCG because you hold a part of one of its most established and respected endowments," echoed scientist Dr. David Stepp, Charbonnier Endowed Chair of Physiology, who was named in May.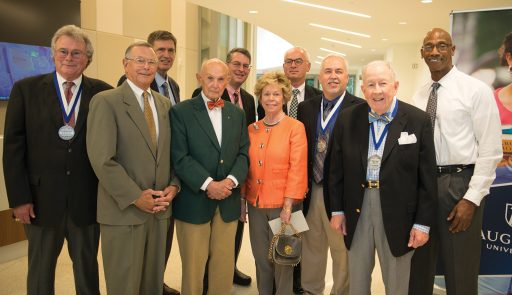 The endowment has helped support 15 faculty members at MCG. These Charbonnier Professors include:
Robert G. Ellison, MD, 1973, Surgery
Samuel A. Singal, PhD, 1973, Cell and Molecular Biology
Raymond P. Ahlquist, PhD, 1977, Pharmacology
William B. Strong, MD, 1978, Pediatrics
Joseph P. Bailey, MD, 1996, Medicine
Kimford J. Meador, MD, 2001, Neurology
John T. Benjamin, MD, 2001, Pediatrics
Anthony L. Mulloy, DO, PhD, 2001, Medicine
Michael H. Rivner, MD, 2003, Neurology
Michael P. Madaio, MD, 2008, Medicine
Julietta U. Frey, PhD, 2012, Neurology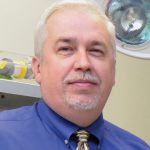 Dr. David Stepp is the Leon Henri Charbonnier Endowed Chair for Physiology. He is a vascular biologist in the MCG Vascular Biology Center. The chief of the center's Program in Metabolic Vascular Disease and professor in the Department of Physiology has secured more than $8 million in external funding, primarily from the National Institutes of Health, in his 15 years on faculty and has published approximately 75 articles in high-impact journals. His current studies focus on understanding the cardiovascular impact of fat and disconnecting the relationship.
Stepp has regularly served on NIH study sections since 2003 and was recently appointed chair of the Institute's Vascular Cell and Molecular Biology Study Section, which reviews researchers' applications for grants to study cardiovascular disease with an emphasis on the biology of endothelial and vascular smooth muscle cells. He also has chaired the American Heart Association Region II Vascular Biology and Blood Pressure Regulation study sections.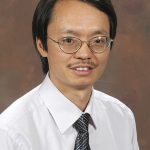 Dr. Zheng Dong, a cell biologist and Regents' Professor in the Department of Cellular Biology and Anatomy is the first Leon Henri Charbonnier Endowed Chair in Cellular Biology and Anatomy. Dong, whose research focuses on the molecular mechanism of cell injury and death, protection and subsequent regeneration, particularly in the kidneys, joined the faculty in 2002. He also serves as a senior research career scientist and director of research development for the Charlie Norwood VA Medical Center in Augusta.
Dong is the principal investigator on a recently renewed $1.5 million grant from the National Institute of Diabetes and Digestive and Kidney Diseases that aims to prevent the kidney damage often associated with the popular chemotherapy drug cisplatin. He is also the lead investigator on another $1.6 million grant from the NIDDK looking into how microRNA regulates renal cell injury and death during acute kidney injury. He has been continuously funded since 1998, including by the NIH, a MERIT grant and a Senior Research Career Scientist Award, both from the U.S. Department of Veterans Affairs. 
Dong served for four years, until this past June, as a charter member of the NIH's Pathobiology of Kidney Disease Study Section and has been an ad hoc reviewer for numerous study sections and special panels for the NIH. He serves on the editorial boards of the Journal of the American Society of Nephrology, Kidney International and American Journal of Physiology-Renal Physiology, among others. He is past president of the Chinese American Society of Nephrology and a member of the American Society of Nephrology, American Physiological Society, International Cell Death Society, American Society of Investigative Pathology and American Society for Cell Biology. Dong has published about 200 papers that have been cited over 14,000 times.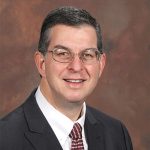 Dr. Paul Wallach, MCG vice dean for academic affairs, professor of medicine and an internist with over 25 years of experience in academic medicine, is the Leon Henri Charbonnier Endowed Chair in Medicine. As vice dean, he is responsible for administrative oversight of educational and student programs for the medical school. Since coming to MCG, Wallach has successfully led its Liaison Committee on Medical Education reaccreditation process, is promoting novel enhancements to the educational program — including the integration of ultrasound across all four years of the curriculum and the establishment of an academic house system that groups one of the nation's largest medical school classes into smaller, tight-knit groups — and has favorably impacted the diversity of medical school classes.
His previous appointments include vice dean for medical education at New York Medical College and vice dean for educational affairs at the University of South Florida Health's Morsani College of Medicine in Tampa.
Wallach is involved nationally in medical education, including with the National Board of Medical Examiners, where he is a member of the Executive Board and currently serves as treasurer. He has served as chair of the board's Advisory Committee for Medical School Programs and as its representative to the Composite Committee for the U.S. Medical Licensing Examination.
He received his medical degree from the University of South Florida and completed his internal medicine residency at its affiliated hospitals. In 1992, he completed a two-year faculty fellowship in general internal medicine at the University of North Carolina in Chapel Hill. As a general internist, his clinical interests include lipid disorders and hypertension.
Dr. Robyn Hatley, a pediatric surgeon and honored educator and mentor, is the Leon Henri Charbonnier Endowed Chair in Surgery. He has chaired the Children's Hospital of Georgia's Pediatric Trauma Committee and, for nearly two decades, has helped lead the extracorporeal membrane oxygenation, or ECMO, program, which has saved the lives of countless critically ill children. His research and clinical interests include general pediatric and thoracic surgery, including surgery on newborns, esophageal atresia, gastroesophageal reflux and sickle cell disease.
A leader in his profession, he is a past recipient of the MCG Distinguished Faculty Award for Patient Care and Educator of the Year Award and the Department of Surgery's Outstanding Faculty Award. Hatley is a fellow of the American College of Surgeons and the American Academy of Pediatrics Surgical Section and a member of the American Medical Association, the Southeastern Surgical Congress and the American Pediatric Surgical Association.
After graduating from medical school at the University of Kentucky, Hatley completed surgery training at MCG and Augusta University Health and went on to complete a three-year pediatric surgery fellowship at Children's Memorial Hospital in Chicago. He rejoined the MCG faculty in 1989.