Though it was Jan. 11 when Gov. Nathan Deal announced the creation of the Georgia Cyber Innovation and Training Center, it might as well have been Christmas for the city of Augusta.
The $50 million gift will transform a portion of land adjacent to the Augusta University Riverfront Campus, formerly the Augusta Golf and Gardens, into a world-class, state-owned cyber range and innovation center and in the process inject a welcome influx of cash and manpower into the downtown economy. The center seeks to capitalize on the heavy investment already made by the federal government at Fort Gordon by bringing several of the state's most important cybersecurity players, including the Georgia Technology Authority (GTA), the Georgia National Guard, the Georgia Bureau of Investigation and the Augusta University Cyber Institute, together under one roof.
The facility, which is designed to promote the modernization of cyber technology for both the public and private sector, will put Georgia at the pinnacle of efforts to enhance American cybersecurity with a resource unlike any in the country. Not only will it function as an education and training center, it will serve as a business accelerator for startup companies, helping the Department of Economic Development attract business to Georgia and, more specifically, the Central Savannah River Area.
Understandably, the announcement made waves across the state, but perhaps no more so than in Augusta, where the effects of the 150,000-square-foot facility will be most immediately felt.
"With this unprecedented state investment, I am certain Augusta will become synonymous with innovation, where we'll begin to attract a number of business and industry partners who understand the benefits of interdisciplinary collaboration," President Brooks A. Keel said.
The interdisciplinary collaboration is especially exciting for Augusta University's Cyber Institute, which was established in June 2015 to enable, support and champion meaningful, innovative interdisciplinary research and education for cybersecurity.
The Cyber Institute's $2.5 million facility on the Summerville Campus opened in September 2016, but officials have been preparing for this "cyber tsunami" for years by taking a multidisciplinary approach to cyber education.
Current cybersecurity courses and degrees include advanced cyber defender courses at the Hull College of Business, a medical informatics program through the College of Allied Health Sciences and cyberterrorism courses through Pamplin College of Arts, Humanities and Social Sciences. A master's of science in information security management launched in the spring of 2017.
SECURITY THROUGH TEAMWORK
A cyber range is a contained environment to simulate specific computer network environments in order to evaluate their vulnerabilities and practice defending them against outside intrusions. It supports cybersecurity training the same way a firing range is designed to support firearms training. The range at the new Georgia Cyber Innovation and Training Center will be one of only a few state-owned ranges in the nation, making it unique in scope and purpose. It will be assigned to the GTA, which manages the delivery of IT and cybersecurity for 85 executive branch agencies.
According to Joanne Sexton, director of the Cyber Institute and a former information technology expert for the U.S. Navy, cybersecurity skills require constant training to remain current, and the cyber range will bring all the right people together. Training is about more than technical proficiency, she said. Working out communication issues among the teams that work together in a crisis is an important aspect of effective cybersecurity.
"You can't have a breach and suddenly have those skills," she said. "You have to practice them. You have to establish your teams and how you communicate up and down the chain."
From the state's perspective, safety is found in the concentration of knowledge and resources, both at the center and in Augusta, which is home to the U.S. Army Cyber Center of Excellence, National Security Agency Georgia and the relocation of U.S. Army Cyber Command, which broke ground on its new facility in November 2016.
"If things go really bad, we are going to have to work at the state, federal and local levels to protect our citizens, and the people who really know the latest and greatest are the federal government and the military," Sexton said. "So we're trying to create those lines of communication so that we're one huge team working for the citizens of the state of Georgia."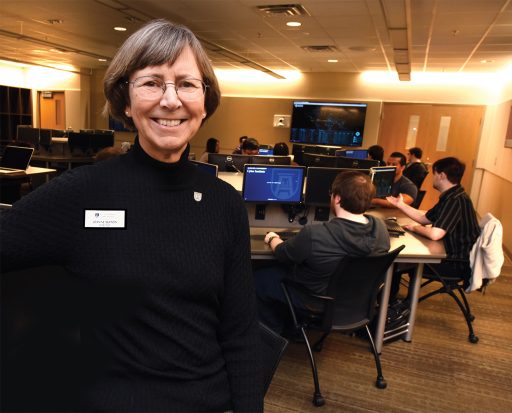 ECONOMIC BOOST
Because the Innovation and Training Center will also house accelerator space for outside companies involved in cybersecurity, the economic impact of the new Georgia center is substantial.
"It's not just $50 million," said Dr. Simon Medcalfe, associate professor of finance at the Hull College of Business. "You have this clustering effect now – this is the place to go if you want to be trained in cybersecurity or if you want to work in cybersecurity – so for any private firm that might be interested in that, either because they're in cybersecurity or they need that kind of service for their business, this is maybe the first place that they'll call."
That interest, he said, could lead to a clustering effect like those seen elsewhere in the country.
"It may not be Silicon Valley; it may not be the Research Triangle in North Carolina; but those all started at some point and have grown into a cluster of companies where people want to go to work and where businesses want to locate because of the complimentary skills and services other firms provide," he said.
And given the fundamental role that the internet plays in our lives, cyber's reach appears limitless.
"This is the age we live in now," he said. "We all bank online, and the industry will necessarily be here on a national security front. So those kinds of things are never going to go away. And in the 'Technology Age' we live in, we're still going to need these kinds of securities for just everyday living."
PROTECTING WITHIN
Everyday living is becoming more and more reliant on the internet, and that's not just in terms of convenience. For some, it can be a matter of life and death.
Given Augusta University's status as the state's only public medical school and academic medical center, pursuing health care-related cybersecurity makes sense. Even before Deal's announcement, the Cyber Institute had submitted a grant proposal to the National Science Foundation to look at protecting three electronic medical devices of special significance to Georgians: the pacemaker, the insulin pump and the continuous positive airway pressure (CPAP) machine.
"If you look at the Southeast, hypertension and diabetes are prevalent, so looking at these devices is where we can make the biggest difference," Sexton said. "All of these devices are networked, and none have security built in. There are a lot of different things we could pick, but for us, because of who we are, our pedigree, looking at these medical devices is a really smart move."
Again, it's about maximizing proficiency.
"If you look at who we are, we have tremendous expertise in health care and a growing expertise in cybersecurity," Sexton said. "In most places, these groups aren't talking. But here at Augusta, we will talk, and that's what's going to make us a leader in this field."
Not only does this have an immediate impact on the security of the devices themselves, Sexton hopes it will tip the scales regarding the public's perception of cybersecurity as it relates to the overall Internet of Things – the vast network of interconnected devices.
"We as a nation want the latest and greatest toy, and we don't even think about security when we buy it," she said. "We're going to have to change our viewpoint and begin to demand that security is built in, and we feel like this might be a more relatable concept, because when you talk about 'well, this can kill you,' it's an eye-opener."
A NATURAL FIT
Deal considers the Georgia Cyber Innovation and Training Center so important to the state that he chose to sign the amended state budget – the budget that includes the $50 million earmarked for the center – on the land set aside for the center itself.
"I do not know of any other state that has taken such a bold step, and I think once again that it will be an area where Georgia is going to be recognized as a national leader, and we welcome that opportunity," he said.
He also spoke directly to the fact that Augusta was prepared to step up to the challenge.
"I can assure you, almost every other community of this size would love to have this facility within their city limits," he said. "You're fortunate, I think, to have this, but it's a natural fit, and it's important to be in a position to take advantage of those opportunities that come your way. This certainly is one of those opportunities."