May 31, 2013 — The Weather Channel meteorologist Mike Bettes and his crew were in El Reno, Oklahoma, chasing an EF-5 monster tornado, when it unexpectedly turned and headed right for them.
And "monster" doesn't do it justice. With wind speeds estimated at 296 mph — just shy of the world-record 301-mph tornado that hit nearby Bridge Creek-Moore in 1999 — and the widest tornado ever observed in the U.S. at 2.6 miles wide, this was a truly terrifying storm. Within seconds, the full fury of the twister was upon them, tossing their Tahoe through the air. When it hit the ground 200 yards away, the seat-belted crew had miraculously sustained injuries they could walk away from. Others were not so fortunate, including a three-member veteran storm-chasing team from the Discovery Channel, who were among 18 who lost their lives that day.
Such accidents are extremely rare among the professionals who work every day to prepare and protect the rest of us, but the hazards of covering the worst Mother Nature has to offer are very real.
In the Studio
Like the rest of The Weather Channel team in Atlanta, senior marketing director Alana Moton Leverette (BS, Psychology '98) was watching the live coverage unfold as Bettes' shaky voice said, "Our worst nightmare — we were hit by the tornado … I've got to tell you, my life flashed before my eyes … Everyone in our vehicle is OK, [but] our vehicle is about pancake flat." In the studio, there were gasps of "Oh, my God!"
"Having a personal connection to someone who lived through that type of severe weather gave me a whole new appreciation for what they do every day to bring the weather to our customers," said Leverette. "It shows you how powerful the weather is and how much passion these guys have for what they do every day."
Leverette's job is to make sure the popular channel is widely broadcast when and where viewers need it. And in the midst of tornado season, visiting family in Florida, and juggling a two-year-old, days working in her car during her Atlanta commutes aren't uncommon. When she gets to work, it's at The Weather Channel's modern eight-story building in north Atlanta. Even for Leverette, who has been with the station since 2012, knowing nationally recognized personalities like Sam Champion or Jim Cantore are just downstairs in the first-floor live studio still feels a little surreal.
Leverette describes her colleagues as amazing, passionate, down-to-earth — and some of the smartest people she's ever met. "Talk about a pivot in my career," said Leverette, who originally planned to be a school counselor and middle school cheerleading coach. "I'm a social sciences major. What am I doing in here with all these brainiacs?"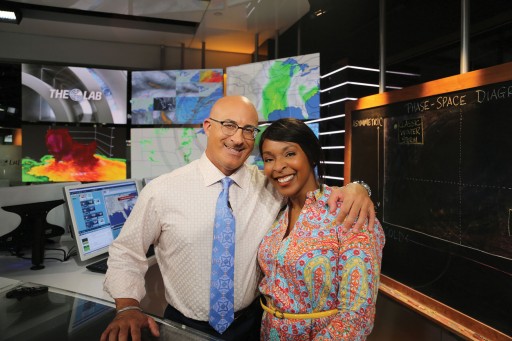 But Leverette fell in love with telecommunications and marketing when she took an administrative job in the cable industry, and she hasn't looked back. And while she fell into her job at The Weather Channel by happenstance while following one of her mentors, it's become her dream position.
Prepare and Protect
During Superstorm Sandy, Leverette recalls that senior meteorologist Stu Ostro, who consults with the U.S. military on weather patterns to prepare troops for deployment, blogged about where the storm was likely to hit.
"One of his colleagues or friends growing up read his article, and she left, and her family was safe, [even though] her home was destroyed," said Leverette. "He literally gave this really great warning to tell people this is happening. Then, full circle, someone reached out to him and said, 'You saved my family.'"
Leverette had her own up-close and personal experience of a high-stakes weather situation during last year's Atlanta ice storm. TWC was predicting that the wet snow would soon turn to ice, but it couldn't predict how city officials would respond. Like thousands of Atlantans, Leverette left work early and found herself stuck in gridlock for hours. "It took me nine hours to get home," she said, finally reaching her husband and toddler son by midnight.
But thanks to The Weather Channel's emphasis on emergency preparedness, she was better prepared than many of those camped out on Atlanta's highways. Not only had Leverette made sure to gas up as she was leaving the office, but her phone was charged, and she had snacks and water in her car. So her ice storm story involved a cozy few hours checking up on family and friends, with plenty of heat and food and water.
Cool Place to Work
Leverette's co-worker, on-air personality Alex Wilson, was at home during the ice storm. Her shift had ended at 10 a.m., and after a quick run to the grocery store, she saw cars starting to get stuck behind her house on Powers Ferry Road. The next morning, she was supposed to fly out to cover the Superbowl, but when the roads were still closed, she called in to see if the station needed help. She walked the two miles to work, meeting up with Mike Bettes on the way. At the station, a shell group was still on air, having slept at the station overnight. Wilson pulled her high heels out of her backpack, did her own makeup, and for the next six hours, pitched in. "It was quite an event — a perfect series of events and conditions that led to a huge mess for a couple of days," she said.
Wilson agrees that working at The Weather Channel has been a dream. "It's as cool of a place to work as you would imagine," said Wilson. "You can't beat the group of people that we have. Not only are they the smartest and brightest people I know in the field of weather, but … they're the hardest workers; they're the most passionate … and compassionate people."
It can be gratifying: During tornado season, the station regularly shares safety information with viewers on what to do should a twister strike in their area. When straight-line winds began to threaten severe weather in one viewer's area, the gym owner followed TWC's advice, grabbed a radio so she could stay posted on what was going on, and took her 60 students into the basement to ride it out. Wilson spoke to her after the bad weather was over. "She said, 'I always hear from you and other media to stay weather aware and know what's going on. I knew the basement was the place to be, and I had that severe weather plan ready.'"
Wilson's first role at TWC was in 2013 as a co-anchor with Jim Cantore on "Weather Center Live." Like Leverette, she admits that when she first walked in the door, she was star struck. "But they're [all] really the same on TV as they are in person," she said. "There's no showbiz to them." Still, it's a little unbelievable to share ice cream with severe weather expert Dr. Greg Forbes, who always gets ice cream instead of cake for his birthday. Or to go out to that first after-work birthday dinner at a Mexican restaurant and see Jim Cantore stride in wearing jeans, said Wilson with a laugh.
Leverette traveled to New York City with Sam Champion for a TWC fan meet-and-greet and, on another occasion, with Jim Cantore to a school assembly. The veteran meteorologist was to teach middle schoolers what to do in the event of a weather emergency. He bounded on stage in Doppler radar sneakers — and the crowd went wild. "He wears these sneakers, and they think he's the coolest thing ever," recalled Leverette. "That's what I love about these guys: They want to make [science] cool and hip and relatable and fun."
That infectious spirit is partly what keeps the staff going, especially during often hectic days and nights when there's breaking weather news — along with plenty of chocolate and what employees fondly call "preemption pizza." The fast-paced world of cable television is a far cry from where she thought life would take her, and Leverette couldn't be happier about it.