In April, Dr. Lori Foster (BA '94) took some time out of her busy schedule to attend Alumni Weekend as the Distinguished Alumna for the College of Science and Mathematics.
"It was really moving and special to me to be back," she says, adding it had been more than a decade since she'd last set foot on the Summerville Campus. "I hardly recognized the campus. An incredible transformation has taken place."
Less than a month later, she was traveling through Jordan and the nation of Georgia before ending up in Beirut as part of the work she does for the United Nations Children's Fund (UNICEF). A psychology professor at North Carolina State University, she also served on the White House Social Behavioral Sciences team, a multidisciplinary group that worked across federal agencies to apply the best of the social and behavioral sciences to help the agencies accomplish their objectives.
She admits it's fun to see how far her career has taken her from when she was an undergrad split between her love of psychology and her love of microeconomics. "At that point, I never would have dreamed that these two fields would have come together the way they have."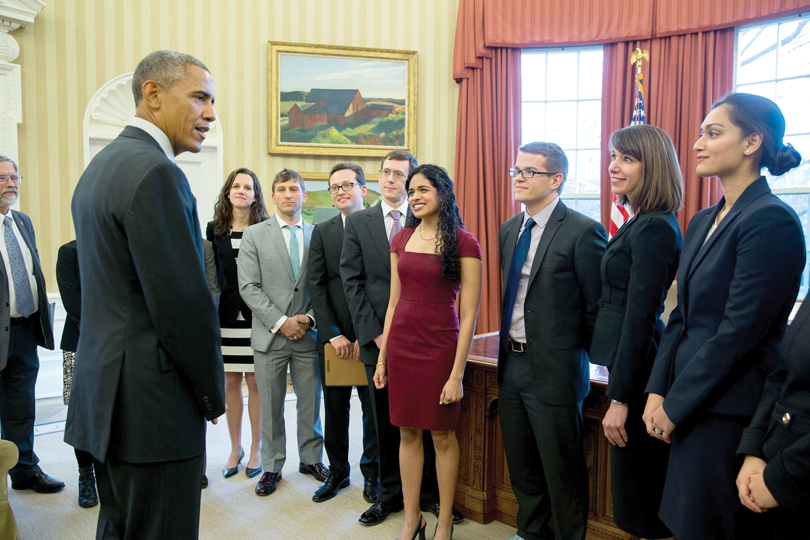 > As an undergrad, the notion that psychology could be applied to solve problems in organizations was really exciting to me. It was both the classroom stuff, but also this realization that it was a big deal that could actually be very useful for solving problems in the world.
> A lot of times when we hear the term, "sustainable development," our minds immediately go to the environment, but it's really much broader than that. It means paying attention to people, to the planet and to prosperity and keeping those things in balance so the level of development can be maintained.
> It occurred to me how much of our life we spend at work and how under the right circumstances, work can be more than a means to an economic end, and under the worst circumstances, it can be oppressive. I didn't want to leave that to chance.
> When families get displaced, things don't just affect society right then. There are vast implications for the future unless we can figure out how to support things like education and health for families who are on the move.
> Mentors have been incredible in my life, and they can come in many different sizes and shapes and forms.
> There are a lot of synergies in terms of the various things I do, so leveraging the amazing network of students and colleagues and mentors that I have not only makes my work so much fun, but it means I'm not trying to do everything myself.
> Think big and start small. Whatever starting small means to you — it might be your home; it might be your work; it might be your community — see how that connects to some of these bigger goals that the community and our country and society have.