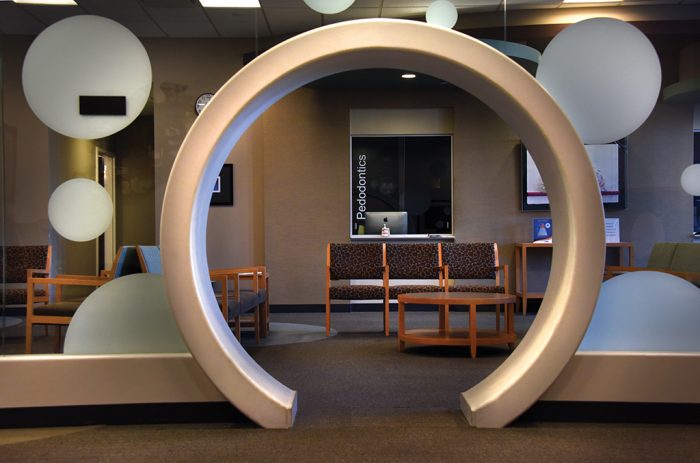 Giggles and happy chatter fill the air as kids leaf through picture books or play wall-mounted video games.
The décor – vivid primary colors and loopy geometric shapes – infuse the room with fun and vitality.
Housed in the Dental College of Georgia Building on Augusta University's Health Sciences Campus, this idyllic playroom is part of the pediatric dentistry and orthodontics waiting room. Patients in both departments receive a wide range of clinical services from faculty clinicians and residents of DCG's dental programs.
The pediatric dental clinic serves children from infancy through adolescence, providing primary and comprehensive oral health care. Services include preventive care – sealants, cleanings and ongoing education for both children and parents to ensure a lifetime of healthy smiles – as well as in-depth treatment for patients with more extensive needs, according to Dr. Tara Schafer, interim chairman of the department.
"Most of our patients actually look forward to coming to the dentist," says Schafer. "We provide a fun, safe and relaxed environment. And we continually strive to exceed our patients' expectations by constantly improving our services with enthusiasm, teamwork and creativity."
Patients in the orthodontic practice range from babies only a few months old who might undergo surgery for lip or palate repair to adults seeking aesthetic services like teeth restoration or realignment. "The majority of our patients are still adolescents," says Dr. Eladio DeLeon, Marvin C. Goldstein Chair of Orthodontics and director of the Orthodontic Residency Program. "But across the country, there is a new interest in aesthetics, and adult patients now make up about 25 to 35 percent of our practice."
While serving their patients, faculty members simultaneously impart their expertise to DCG students. The pediatric dentistry department's two-year residency provides specialized pediatric training in clinics and hospitals locally and throughout the state and are a constant presence on the volunteer scene, opening their doors – or taking their skills on the road – to treat underserved populations.
The orthodontics department offers a highly selective 30-month residency program to nine top students, three from each year. "Our residents have the advantage of an interdisciplinary experience — from orthognathic to restorative to periodontic care — and the opportunity to serve patients who run the gamut from infancy through adulthood."
"It's a real privilege to serve such a vital role in both the community and the state," says Schafer, noting DCG's status as Georgia's sole dental school. "Our services provide lifelong dividends. It's impossible to overstate how fulfilling this work is."