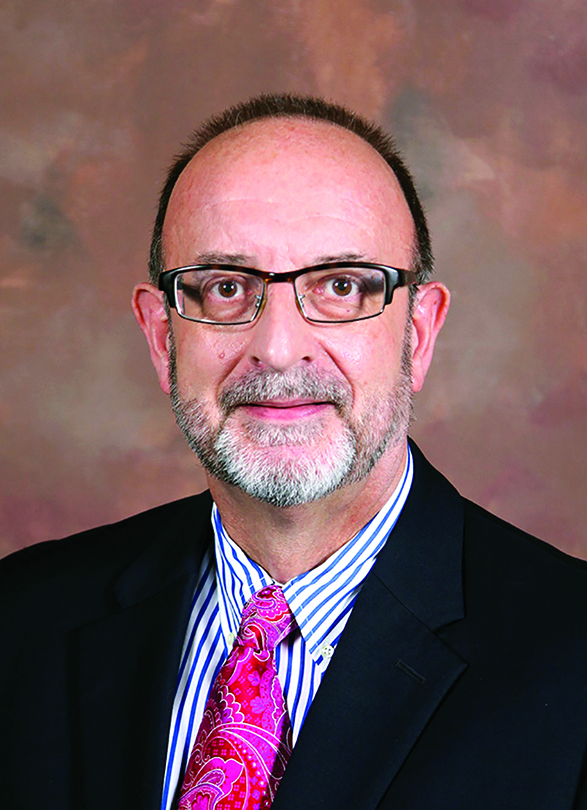 Alumna Honored
Dr. Jackie Delash ('15) has been named the DCG's 2020 Outstanding Young Alumna. Delash completed an Advanced Education in General Dentistry residency at Grady Hospital and Lutheran Medical Center, focusing on compassionate care for underserved communities and high-risk populations. She then joined the DCG faculty, serving her first year as director of the Occlusal Analysis Course. She serves on the DCG Admissions Committee.
Hinman Scholarship
The Hinman Dental Society has presented a $255,000 check to the DCG, the society's largest annual investment for DCG scholarships. "This is yet another example of Hinman's incredible commitment to our students and mission," says Dean Carol A. Lefebvre. "Its generosity and support grow with each passing year, and words can't express our gratitude." The gift will fund forty $5,000 scholarships as well as additional resources for student recruitment.
Coleman Appointed
Dr. John Coleman has been appointed interim program director for the Advanced Education in General Practice Residency. Coleman earned his dental degree from the Medical University of South Carolina and completed a General Practice Residency (GPR) at the MUSC Teaching Hospital. He joined the faculty in 2008 and was named assistant program director for the DCG GPR in 2012.
Interim Chair
Dr. Kim Capehart has been named interim chair of the Department of General Dentistry. He earned his dental degree at the West Virginia School of Dentistry, a master's degree in health care management with honors at Regis University and a Ph.D. in management and marketing at the University of Phoenix. He joined the faculty in 2018 after practicing dentistry in Greenville, South Carolina for 16 years. He received the 2019 Judson C. Hickey Outstanding Faculty Award.
Dean Appointed
Dean Carol Lefebvre has been appointed to a four-year term on the American Dental Association Council on Scientific Affairs, representing the specialty of prosthodontics. The council develops a biennial research agenda presenting key research priorities for dentistry and the advancement of oral health care. Lefebvre is also a member of the Seal Committee that evaluates consumer dental products such as therapeutic agents, drugs, chemicals, materials, instruments and equipment used to treat or prevent dental disease. DCG Vice Dean Kevin Frazier also serves on the council. Both were nominated by the Georgia Dental Association.

ADEA Initiative
DCG faculty, staff and students participated in an American Dental Education Association program February 1 to raise awareness about career opportunities in dental education. Topics included a demographic review of career pathways in dentistry, as well as leadership, teaching, scholarship and collaboration with mentors. The program was funded by an ADEA Gies Foundation grant and was sponsored by the DCG Diversity and Inclusion Steering Committee.
Mentorship Program
The DCG Chapter of the Student National Dental Association has created a mentorship program pairing DCG and dental hygiene students with pre-dental undergraduate students at Augusta University. The participants network with their mentors and learn more about dental and dental hygiene school. The SNDA's mission is to support and retain minority students for the dental profession.
Student Appointed
Stephanie Jaipaul ('22) has been appointed electronic editor of the American Student Dental Association Editorial Board. She was chosen from a competitive field of national candidates.
Customer Service
Pam Bales, an administrative assistant in the Department of Orthodontics, received the DCG's 2019 Sherry Barnett Customer Service Award. The award recognizes professionalism, understanding, respect, service and excellence exemplified by former DCG staff member Sherry Barnett.
Teaching Honor
Dr. Mohamed Al-Shabrawey, professor in the Department of Oral Biology and Diagnostic Sciences, has received the DCG's 28th annual Teaching Excellence Award, which honors educators who optimally impart knowledge, competence and professionalism. Students cited his ability to relate clinical findings to his anatomical sciences courses and by faculty for his YouTube Channel, Easy Anatomy, which as of press time had been viewed almost 900,000 times worldwide.
Scholarship Award
Dr. Courtney Babb, instructor in the Department of General Dentistry, has received the second annual Research and Scholarship Award from the DCG Chapter of Omicron Kappa Upsilon for her significant accomplishments in scholarship during the 2018-19 faculty review cycle. The award includes a one-time supplement to support scholarly activities.
Excellence Award
The College of Allied Health Sciences' Department of Dental Hygiene received Augusta University's 2019 Program Teaching Excellence Award, honoring excellence in teaching and service to students.
Wacky Wax-Ups
Nineteen first-year dental students participated in the 2019 Wacky Wax-Up Competition, molding artistic and comical creations out of wax. The competition was the brainchild of Vice Dean Kevin Frazier. Dr. Rhoda Sword oversaw the event.
Mental First Aid
Several DCG faculty, staff and residents have been trained in mental health first aid to recognize symptoms of stress, depression, anxiety and other maladies in their peers. Dawn Gantt, office coordinator in the Dean's Office, oversaw the training. Says Dean Carol Lefebvre, "The subject of mental health is now widely covered and discussed from as early as undergraduate orientation and continuing through graduate school. Classes and concepts such as self-care, mindfulness, yoga, therapy dogs and mental health first aid classes are part of everyday life on college campuses and much of society. With a demanding lock-step curriculum, the ability to manage the workload can lead to a high stress level for our students. While some students are able to adjust easily and balance classroom and clinic workloads, others may find it daunting. The DCG is aware and proactive about these realizations." The training was an initiative to address these challenges and expedite early intervention for those potentially at risk.
Baban Appointed
Dr. Babak Baban, interim associate dean of research, has been appointed a 2020-21 site visitor by the Commission on Dental Accreditation. His term begins after the American Dental Association's Annual Meeting in October 2020 and ends with the following Annual Meeting in October 2021.
OUTSTANDING FACULY
Dr. Brett Haeberle, Assistant Professor in the Department of Restorative Sciences, received the DCG Outstanding Faculty Award. Dr. Haeberle was nominated by his peers who stated that he is the "go to" faculty member for the treatment of patients with complex dental needs. They further stated that Dr. Haeberle is the ultimate colleague and team player.