Award Recipient Fosters Goals of Students, Colleagues
Dr. Frederick Rueggeberg's explanation of his life's work is simple: "I like to use my hands and my head."
Rueggeberg, professor and section director of dental materials in The Dental College of Georgia, has gotten more mileage from those skills than he probably ever imagined.
Optimal Environment
Rueggeberg, a Delaware native, earned a master's degree in dental materials from the University of Michigan after completing dental school at Emory University, then sought out an environment complementing his interests.
"[The Dental College of Georgia] had a great reputation for innovation in dental materials, which is like engineering for dentistry," he says. Rueggeberg joined the faculty in 1987 and immediately immersed himself not only in researching dental materials, but in teaching the skill to students, residents and colleagues.
"I like both teaching and research," he says. "It's exciting to do an experiment; you never know how it's going to turn out. And when you meet someone who gets interested in the project, it's a lot of fun to work together. Once they get started, some find they really, really like it."
Over the years, those projects have included researching innovations in composites, fillings and other restorative materials. Rueggeberg often researches products in the development stage, testing them to ensure they will deliver on whatever claims will be made to dentists or the general public upon commercialization. "It's a limited field and a small number of companies involved in developing these products, so the higher-ups don't change very much," Rueggeberg says. "You get to know them personally. Some are unbelievably outstanding in terms of integrity. It's a joy to work with them."
Keeping Them Honest
As for those who fall somewhat short of that ideal, well, he tries to keep them honest. "I test a whole lot more than what the company wants done," he says. "I'm more interested in the overall science behind the innovation than in any particular product."
That being the case, much of the research he's conducted through the years has much broader implications and applications than was necessary to fulfill his grant obligations. Recent projects include studying biologically inert materials – those that won't leach into the mouth and create a biologic response. "One material I'm testing, for instance, claims to be very biocompatible while rebuilding enamel," Rueggeberg says. "Some testing on it has already been done, but not as extensively as ours. The students working with me will present the research and publish our findings, if we think it's warranted."
His latest endeavor is the next logical extension: not only working with others on individual projects, but paving the path to their own future research careers.
[su_note note_color="#efefee" text_color="#000000″ class="story-side-box"]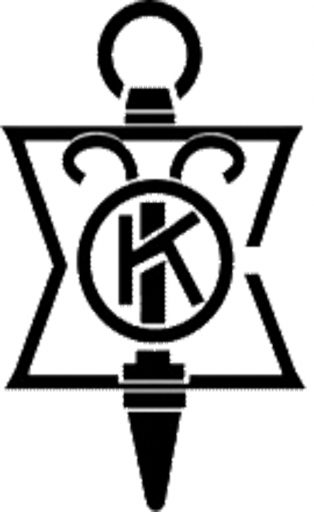 About the Leeper Award
The Omicron Kappa Upsilon Stephen H. Leeper Award for Teaching Excellence rewards significant contributions to the advancement of dental education. Recipients have implemented innovative techniques and/or exhibited consistent excellence in dental education and have established original and creative methods of educating and engrossing students, faculty and administrators. The award was established in 1997 to honor Leeper, who served on the Supreme Chapter of Omicron Kappa Upsilon from 1969-96. He began his career in dental education in 1967 teaching removable prosthodontics at the University of Nebraska Medical Center College of Dentistry. He retired after serving as dean of UNMC College of Dentistry from 1989-2000. He is a fellow of the American College of Dentists and the International College of Dentists, an honorary member of the American College of Prosthodontists and a member of the Nebraska Dental Association's Hall of Fame.[/su_note]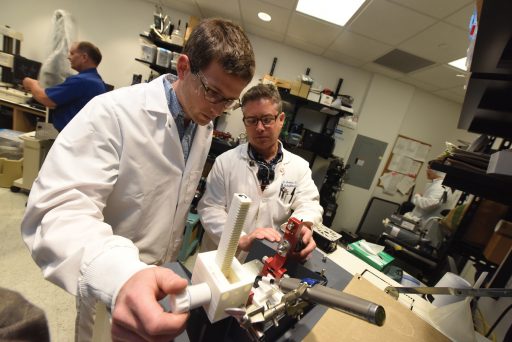 FOSTER-ing Excellence
About a year ago, Dr. Kevin Plummer, interim chairman of the Department of Oral Rehabilitation, approached Rueggeberg and two of his colleagues, Drs. Martha Brackett and Alan Furness, with a request. He asked them to conceptualize a plan to help secure more research time for overstretched faculty. So they created the FOSTER Program: Faculty Opportunity Strategies Toward Effective Research. The program partners experienced researchers with relative novices. Those novices include junior faculty as well as select students and residents. The college reserves time for the teams to work together on a research project. Rueggeberg notes that the projects not only advance science, but teach the novice how to navigate the grant process and other intricacies involved in research. "With one project, we're able to satisfy the needs of multitudes of requirements for promotion and tenure and prerequisites for admission into specialty programs," he says.
The projects also potentially enable the participants to present and/or publish their research. "We try to strategically populate each project with those goals in mind," Rueggeberg says.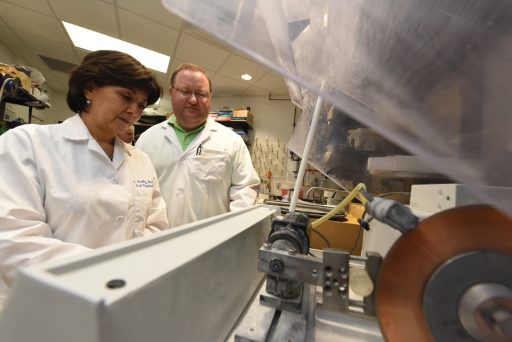 'An Incredible Opportunity'
The program kicked off its first set of projects this summer. The participants – seven senior faculty members, 14 junior faculty members, 21 dental students and a dental scholar student – are completing a total of 16 projects. "It's a lot of work, but it's also an incredible opportunity," Rueggeberg says. "We've made a very aggressive undertaking, but the end result is having homegrown faculty who can eventually do this independently with less and less hand-holding."
Teaching innovations such as this haven't gone unnoticed by Rueggeberg's colleagues. He recently received the 2016 Omicron Kappa Upsilon Stephen H. Leeper Award for Teaching Excellence. "The Leeper Award was a total surprise," he says. "When you look at past recipients, their level of achievement is astonishing. I'm incredibly honored."