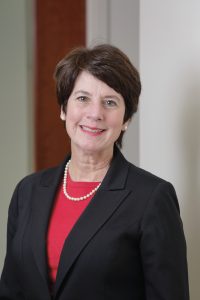 For Dr. Marguerite Kearney, the move to Catonsville was almost a homecoming.
The most recent recipient of the College of Nursing's Phoebe Kandel Rohrer Distinguished Alumna award, Kearney is originally from a suburb of Baltimore, but now lives in Catonsville, located about seven miles from the Baltimore-Washington International Airport and about 20 miles from Baltimore.
Like anywhere else in America, though, a 20-minute drive can make a world of difference.
"Catonsville is a very small, very community-oriented town," Kearney said.
Part of Baltimore County, Catonsville boasts a population of roughly 40,000. It's also home to Kearney's husband's family.
While much smaller than neighboring Baltimore, there's a lot to love about "Music City, Maryland." For one thing, it's a short drive to the nation's capital (just 35 miles away). Alternatively, a quick stint on I-95 will put you close to the Baltimore city limits. The town also claims the unique honor of having Maryland's best Fourth of July fireworks show — a day-long celebration involving, among other things, a decorated bike contest and an afternoon parade — which nearly 60,000 people attend every year.
For Kearney, though, peace lies somewhere between Catonsville and Bethesda, where she serves as the director of the Division of Extramural Science for the National Institute of Nursing Research.
"I own a horse, so I ride three or four times a week to relax," she said, joking that the experience is "better than valium."
Kearney, who reports directly to the Director of the National Institutes of Health, said she's thankful to the Medical College of Georgia for helping mold her into the scholar she is today.
"My degrees from the Medical College of Georgia gave me the keys to the kingdom in terms of commitment to learning  and becoming a lifelong scholar," she said. "I was an NIH-funded researcher for 17 years and a professor of nursing; I never thought that I would be where I am today."
Dr. Marguerite Kearney (BSN '76, MSN '77) is a director in the National Institute of Nursing Research at the National Institutes of Health. The division includes the Office of Extramural Programs, the Office of End-of-Life and Palliative Care, and the Office of Extramural Research Administration.