When Augusta University's cancer treatment facility opened its doors on Jan. 4, 2010, it signified a radical departure from the dour, antiseptic treatment facilities people were accustomed to. Designed with the help of patient advisors to be warm and nurturing, it included such non-clinical elements as natural light, calming colors, outdoor views and art.
These last two elements — outdoor views and art — combine seamlessly in the building's majestic glass entrance, a two-story atrium that serves as the home for the spiraling blue ribbons of Thomas Lyles' Ribbons of Hope.
One of 11 artists chosen to display work in the new facility, the Martinez, GA-based sculptor certainly drew the prime location. Bathed in sunlight and with beautiful views of the Health Sciences Campus, the atrium is a welcoming, life-affirming space enclosing a sweeping stairway leading up to the second floor.
And while the $62.5 million expansion of the M. Bert Storey Research Building at the Georgia Cancer Center might have dominated the headlines recently with its 42 new laboratory benches and the dramatic three-story connector bridge joining it to the outpatient space, the sculpture continues to inspire.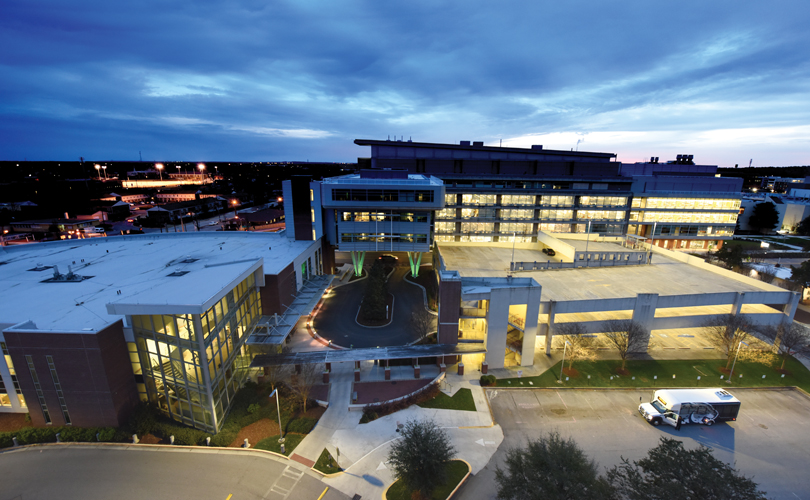 Cancer patient Kim Gauldin, who spoke at both the research building's ribbon cutting as well as an earlier event where local philanthropist Peter Knox IV gifted $1 million to the Georgia Cancer Center, eloquently referenced the hope embodied by the sculpture as well as the opportunity for second chances the investment in joining research to practice yields.
"When Peter Knox made his most generous donation in January, I shared that it gave us hope," Gauldin said at the ribbon cutting. "As I ask myself what the M. Bert Storey Research Building means to me, it means hope now has specific goals and actions."
Just as the connector bridge is symbolic of the literal union of cancer research and cancer treatment, Ribbons of Hope emphatically celebrates the union of hope and treatment — something that's become the everyday hallmark of the care delivered by the Georgia Cancer Center.