One of them can be found on the still of the Savannah River at daybreak, gently rowing as the sun rises over the horizon.
The other can be found at frequent gatherings with some or all of her 11 siblings, laughing and reminiscing, or volunteering at charitable events, giving back to all age groups and promoting good oral health care.
Both women are DCG graduates, and now they have the added commonality of having established endowed DCG scholarship funds. Dr. Nancy Young, an award-winning rower, earned her degree in 2006 while raising her children, Whit and Tara Morgan. Dr. Louvenia Annette Rainge graduated in 1990 after growing up in rural Nahunta, Georgia, as the youngest child in her large, loving family.
Both have also remained fiercely loyal to their alma mater. Young joined the faculty in 2012 after several years of private practice. Rainge, who practices in Augusta, earned DCG's 2016 Distinguished Alumnus Award based on years of service and volunteerism.
Their DCG scholarships are but one more manifestation of their loving hearts and spirit of giving. Because the funds are endowed, with the capital being preserved so the gift can continue perpetually, others are welcome to donate — or of course to establish their own endowed scholarships.
"I love our school and I love our students," says Young, who established the A.D. and Jerlene Elliott Endowed Scholarship in memory of her parents. "We have such a great opportunity to develop the best dentists anywhere, and it's a privilege to help make that happen. I want to be able to ease their financial burden."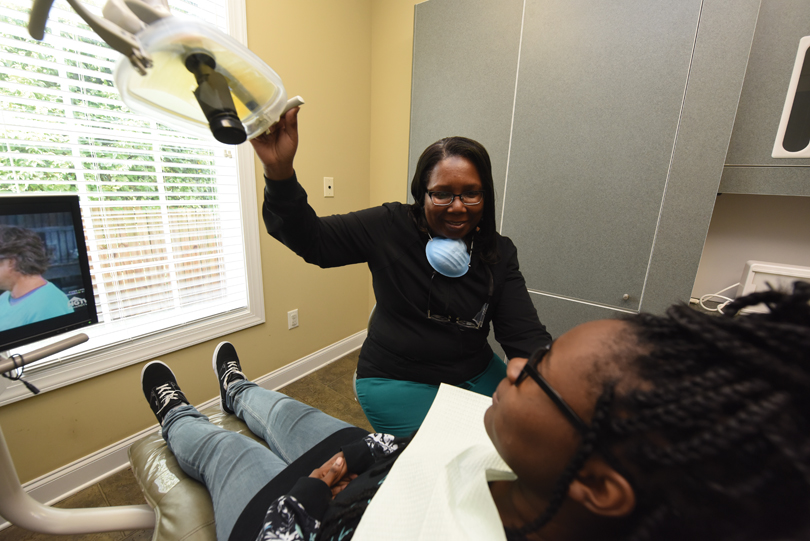 Rainge, who received multiple scholarships, including the Student National Dental Association President's Award, while earning her degree, concurs. "I started my scholarship over 10 years ago when challenged and inspired by the philanthropic efforts of a dedicated supporter of the dental school and am very pleased it is now endowed," she says. "It's all about helping and enabling others to continue the journey when they commit to becoming a part of our great profession. I hope my gift helps open doors to worthy students who otherwise might not have the means to make their dream come true."
Rainge also hopes the recipients will follow in her footsteps, approaching dentistry as more of a calling than a career. "I think of my patients as family," she says. "It's sort of like having a ministry."
Both women are immensely gratified to see their vision actualized. The first recipient of Young's scholarship, for instance, is Billy Brinson, who plans to serve in a dentally underserved community after graduating in the spring. The financial assistance, he says, is invaluable, particularly considering that he and wife Mandi have two special-needs children. Son Bentley was born with a capillary malformation, a condition requiring ongoing surgeries, and daughter Blakely was born with hip dysplasia and a heart defect.
Young, who knows all too well the challenges of raising children while earning a dental degree, is thrilled to help ease the family's burden, particularly since Brinson shares her philosophy of care. Says Brinson, "I feel like I was put here to serve others and make an impact on their lives."
He has maintained side jobs throughout his dental education — selling milk products from a herd of goats, supplying inflatables for parties and other events, and perfecting woodworking skills that enabled him to build his first house by hand. But despite his tireless work ethic, his family's medical bills and the costs of a dental education have made every penny count. "I'm so very grateful for the scholarship assistance and so humbled to have been selected to receive it," he says.
For more information about the scholarships, or to establish one of your own, contact Dale Crail, director of development, at dcrail@augusta.edu or 706-840-0868.