Haiti Mission Work Instills Lifelong Passion for Volunteerism
It was in the evenings that the group turned contemplative.
When Dr. Ken McMillan ('74), a retired dentist from Snellville, Georgia, organized his latest mission trip to Haiti, he warned his fellow volunteers to expect jam-packed days. The dental needs of the impoverished citizens are so great that every daylight minute of the weeklong trip, which coincided with spring break, was sure to be a whirlwind of activity. And it was. But then in the evenings …
"The students would start telling stories, and tears would well up," says McMillan, an adjunct faculty member in The Dental College of Georgia who, along with Dr. Ken Hutchinson ('82), has helped organize Third World mission trips for some 15 years. They've enlisted several others, including fellow alumnus Dr. Phil Koch ('74) and colleague Dr. Bart Whitesell.
The most recent Haitian mission trip, held in May, took place in Hinche, a town about a two-hour bus drive from Port au Prince. McMillan and his fellow volunteers organized the trip through the Society of Our Lady of the Most Holy Trinity (SOLT), a Catholic missionary community. The treatments initially took place at a clinic on the grounds founded by Dr. Jim Whitney, an orthodontist, "but we've since branched out and now work at various clinics sponsored by the Catholic Church," McMillan says.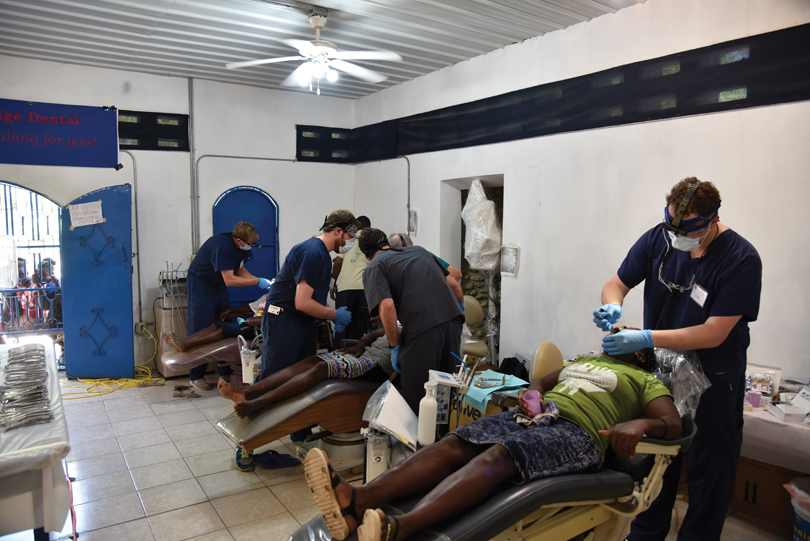 During the Hinche trip, in addition to performing cleanings and fluoride treatments for SOLT's 1,400 schoolchildren, the volunteers provided general and cosmetic dentistry for hundreds of locals, most of whom have no other access to dentistry.
"They don't even have toothbrushes," says McMillan. "They have nothing. There is such a great need for dentistry and such a great need for dental students to learn to be humble and experience the world from a unique perspective."
Says Chas Plaisance, a DCG senior who attended, "It's pretty eye-opening to go into an environment like that, a country that needs so much help."
Other groups have organized mission trips to Haiti as well, but McMillan noted the high-tech component and heavy emphasis on teaching dental students that characterize his groups' trips. "We take lots of seasoned dentists and pair each one with a dental student," McMillan says. "The dentists work one-on-one to elevate the students' skills and help them with their learning curve. This allows them after a couple of days to be extremely comfortable doing dentistry, though their work is always supervised."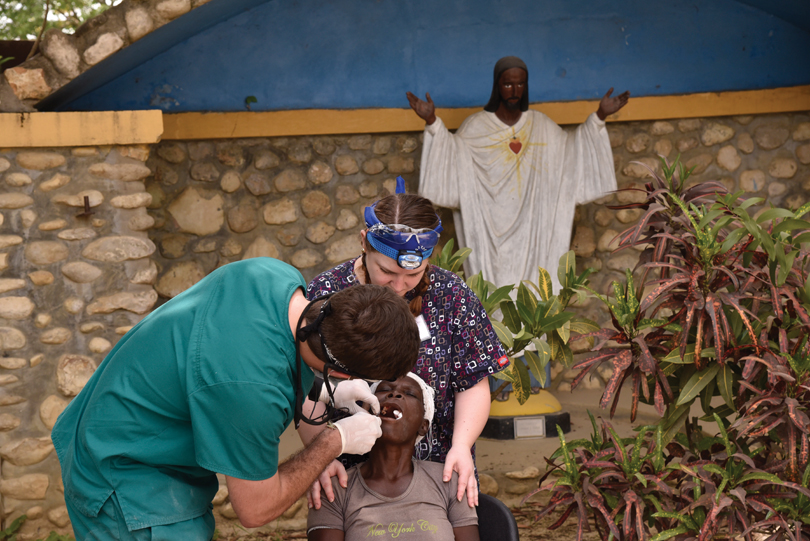 "We did all procedures except for advanced surgeries," says Plaisance. "They ranged from simple extractions to all different kinds of fillings — every kind of restorative procedure we've learned."
Says McMillan, "We bring high-end dental equipment and perform services such as oral surgery and esthetic dentistry, for instance restoring broken-off front teeth. The patients end up feeling so much better about themselves."
Theirs are the stories that would punctuate their evening conversations.
"We had a reflection time at the end of the day, and we'd express gratitude not just for the experience, but for each other," says Plaisance. "Just as a group, we got to know each other really well, seeing each other's strengths and weaknesses. We got to help each other out. It just became a great environment to work in. We were all there for the same goal and trying to get the same thing done: to help the community."
The patients' reactions, of course, were the most indelible. "We got a lot of tears, a lot of high-fives and a lot of smiles," McMillan says. "These people have nothing, but they bring you something to eat. They're incredibly grateful. That's what makes the trip."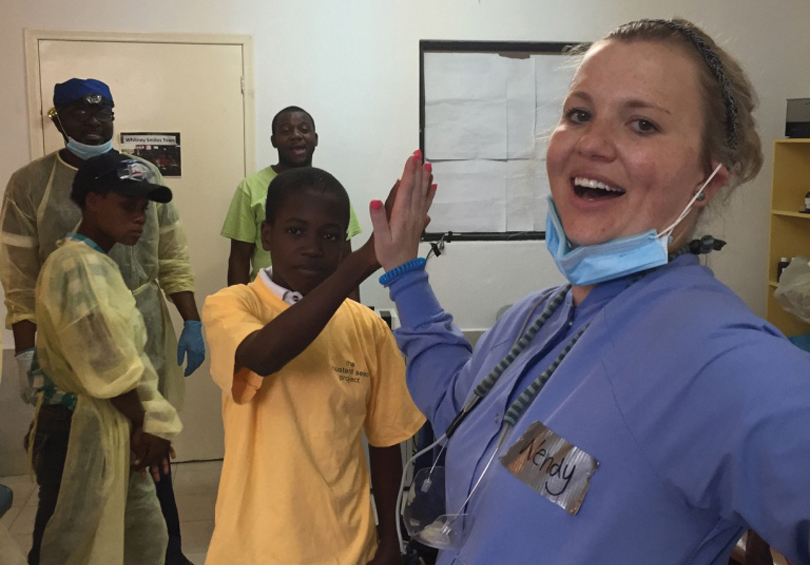 Plaisance notes that he particularly bonded with a little boy whose face was badly swollen from a bee sting. The volunteers provided daily cortisone treatments and formed a lasting bond. "We spent time with him every day," Plaisance says. "A bunch of people would be waiting for us every morning, and I'd always spot him in the crowd.
It was great to see his ear-to-ear smile. That interaction reinforced the whole idea that we were making an impact and the people would remember us."
Says DCG orthodontic resident Haylee Humes ('17), who volunteered for the Hinche trip in 2016, "During one particularly difficult hour on the first day, I balanced a terrified 10-year-old boy preparing to lose his abscessed first molars with an exuberant and thankful teenaged girl whose fractured anterior teeth I was able to restore. We had expert dentists in esthetics, oral surgery and general dentistry ready to provide guidance and help."
Non-dentists pitched in as well. Says McMillan, "I take about 10 ancillary people to help us on these trips, and most of them are very successful businesspeople — CEOs, a private contractor for the Augusta National, a commodities broker . . . They all put their mantles down and become one. Plus, they spend the evenings helping teach the dental students about business."
"We had top executives and CEOs running for instruments, fixing any malfunctioning equipment and generally making it possible for us to provide dental care," says Humes. "Their enthusiasm to serve and be involved was inspiring."
McMillan concurs. "It's great to have such a wide variety of people come together."
Says Humes, "[The experience] changed our lives and our understanding of our role in health care. Our group is beyond thankful for the experience and felt far more prepared than our peers heading into our senior year of dental school."
As was true of most of the student volunteers, the experience whet her appetite to make volunteerism an ongoing component of her career.
Says Plaisance, "When we were finished, we were all on the same page: 'When can we come back?'"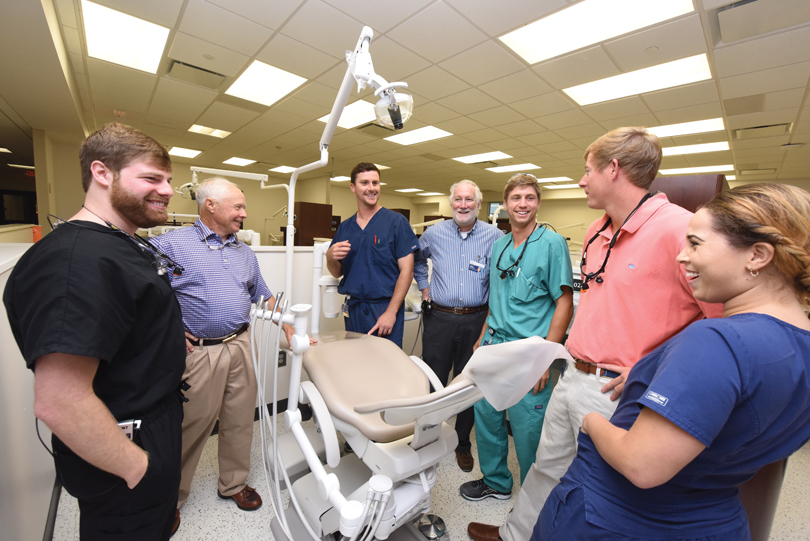 Dr. McMillan's next mission trip to Hinche will take place the first week of May 2018. For more information or to volunteer, contact him at kenbat@mindspring.com.