"A world where everyone has a decent place to live." –Vision of Habitat for Humanity International
Over nine days in April, our team of 11 – six students from the GRU College of Dental Medicine, two Summerville Campus faculty members, and three GRU alumni – traveled to El Salvador to build a home for a family in need. Planning for the trip took the better part of a year, and after finalizing recruiting, logistics, and finances, we were eagerly anticipating our departure for a week of hard work.
Landing at lunchtime on a Saturday, we were immediately immersed in El Salvador's culture. Our guide, Emilio, took us to a local eatery to sample the traditional pupusa, a thickened tortilla filled with beans and cheese. That evening, we attended our in-country orientation, where we learned that over 1 million Salvadoran families are either homeless or living in overcrowded shacks made of plastic or metal. Families have been displaced for decades due to natural disasters and violence. Few can afford to acquire land or finance a home, necessitating the solutions provided by Habitat.
The next day, we ate a traditional Salvadoran breakfast – rice, beans, fruit, and coffee – then toured downtown San Salvador. Sites included the cathedral of the recently beatified Archbishop Oscar Romero and the Monument to Truth and Memory, a landmark depicting the country's history accompanied by a wall etched with the names of those who died in the civil war that crippled much of the country during the 1980s.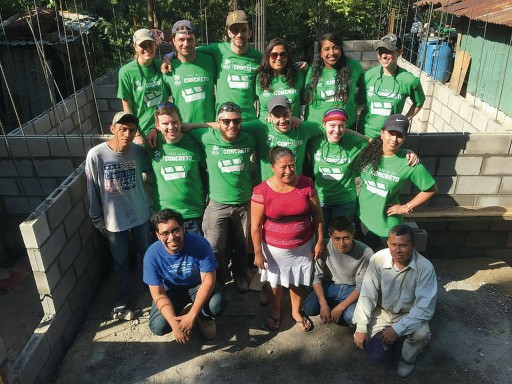 We then traveled to Habitat headquarters to meet our partner family. We met the Habitat staff and anxiously waited for the family, who was taking the long trek by public bus. At long last, they arrived – Doña Ana and her three young-adult children, Jocelyn, Carlos, and Javier. Excitement filled the room as we introduced ourselves, and each of the family members welcomed us and thanked us for coming. We learned that Ana is a single mother whose two sons were forced to drop out of school to support the family.
Monday, our first day at the build site, we arrived to find a bare patch of dirt with the beginnings of a rebar foundation. We got right to work. We spent the week completing the foundation with rebar, transporting piles of gravel and sand, mixing an inconceivable amount of concrete and mortar, pouring the foundation, and laying row after row (after row) of bricks.
On evenings and weekends, we fully enjoyed Salvadoran culture and the dynamics of the group. Among our adventures were visits to markets, hiking to the crater of a volcano, visiting Mayan ruins, touring a coffee plantation, and ziplining in the mountains. While our primary objective was building the home, the balance of work and play made the trip that much more enjoyable.
Friday, our last day on the build site, was bittersweet. We built until lunchtime, and by this point, we had finished roughly half the structure of the house. The remainder would be completed by the site contractor along with Carlos and Javier. In the afternoon, the Habitat staff threw us a farewell celebration filled with dancing, eating, and fellowship. We shed tears of joy for the work we accomplished and the incredible friends we made, along with tears of sadness over our departure. Each member of the family took turns thanking us for coming, but the sincere gratitude they displayed throughout the week meant more than any words could convey.
With sore muscles and distinct tan lines, we journeyed back to Augusta. We were all ready to be home, but none of us wanted to say goodbye to the family or leave the house unfinished. Most people wouldn't dream of spending a summer break doing strenuous manual labor in a tropical climate, but after our experiences, we all considered ourselves blessed to have been given the opportunity to make a concrete difference in the lives of those who needed it most.