Chairman of MCG Foundation offers fresh perspective
It's with a broad sweep of his arm that Dr. J. Ben Deal signals both the figurative and literal scope of his alma mater's plans for the future.
Deal notes that his vantage point, the Medical College of Georgia Foundation office building on 15th Street, is appropriately central to Augusta University's rapid expansion. "I wish I were 10 years younger so I could see some of these long-range plans come to fruition," says Deal, a 1974 graduate of The Dental College of Georgia and the foundation's first non-physician chairman of the board. "This place is getting ready to bust open."
Deal practiced general dentistry in Augusta for 40 years before semi-retiring this year, leaving the practice in the hands of his partner, Walt Green ('14). Today he has no higher mission than helping make that happen — an initiative already well underway.
Consider the university's recent acquisition of riverfront property to launch the Georgia Cyber Innovation and Training Center … or the addition of two gleaming student residence facilities on the Health Sciences Campus … or the extensive interdisciplinary initiatives that link biomedical research to the liberal arts on the Summerville Campus.
The stars have clearly aligned, says Deal, to make it all happen now. For one thing, "[the foundation's] relationship with the current administration is the best it's been since I've been involved. It's extremely positive." AU President Brooks Keel, who earned his undergraduate degree from Augusta College and his doctorate in reproductive endocrinology from the Medical College of Georgia before the two universities consolidated, is pivotally positioned to represent all campus viewpoints, Deal says.
What's more, the university's goals have never been more closely synchronized with those of the community, state and nation. Cybersecurity, for instance, is a national priority with international implications, and its growing local and state footprint is opening new doors for both the university and the city of Augusta.
"Our highest priority is to advance the goals of the school, but we also want to be a good neighbor," says Deal.
Numerous generous gifts through the years have advanced those goals, but a couple in particular virtually transformed the university's potential. Augusta entrepreneur George Weiss bequeathed assets worth $14 million to the university upon his death in 1997, and the late Dr. J. Harold Harrison (MCG, '48) and wife Sue donated $76 million to fund MCG scholarships, faculty endowed chairs and facilities. The J. Harold Harrison, M.D. Education Commons, a learning facility for dental, nursing, allied health and medical students adjacent to the dental school, is named in his honor. A $66 million gift from the Harrisons announced two years ago remains the largest single individual gift ever made to a University System of Georgia institution.
Deal and his fellow board members are currently reimagining the properties bequeathed by Weiss. "Our job is to provide income streams for the Medical College of Georgia, and we're trying to do that as effectively and responsibly as possible, while encouraging philanthropy to make even more goals within reach," says Deal. For instance, "We're trying to establish an identity for a gateway to the campus. We have a master plan for [property donated by Weiss that until recently included a Kroger-anchored shopping center] and envision things like administrative offices, mixed housing, retail shopping and parking. It's an ambitious plan that will be phased in, but it's well underway."
Likewise, the Harrison family's donation is generating investments with exponential returns. "Thank goodness I had the chance to get to know Dr. Harrison," says Deal of the friendship born of their mutual passion for their alma mater and their longtime involvement with the foundation. "He was what true philanthropy is all about. The increase in our endowment has allowed us to compete with much-better-known schools. We can offer full scholarships now for very talented students who could choose any school in the country. People are getting much more discerning about where their education dollars go, and more and more of the best minds in the nation are choosing MCG, often due to the scholarship assistance we can offer."
And once those students enroll, Deal notes, their educational opportunities have never been so dynamic, thanks to assets such as the Harrison Education Commons and the talent attracted by faculty endowments.
But as exuberant as Deal is about the future, he acknowledges that his position is not without challenges. As the foundation's first non-physician chairman, for instance, he straddles the boundaries of a university served by three foundations — the MCG Foundation, which largely serves the medical school's interests; the Georgia Health Sciences Foundation, which serves Augusta University's other health sciences colleges; and the Augusta University Foundation, which serves the liberal arts programs.
But he insists that as MCG prospers, so does the rest of the university. And the foundation has always been generous with all the colleges, he says, noting for instance the Harrison Education Commons's service to both medical and dental students. The foundation's board, which includes area business leaders, philanthropists and other health care professionals in addition to physicians, reflects the broad scope of the board's mission. And Deal, whose grandfather, father and son all graduated from the university, stresses that no one is more passionate about the university than he is.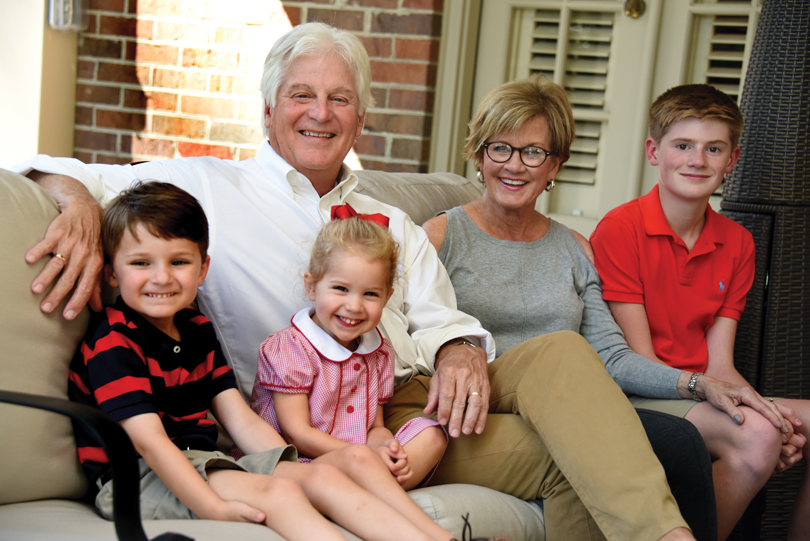 Besides, he's accustomed to challenges. Deal, who grew up in Statesboro, Georgia, notes with a laugh that he's been indirectly practicing health care since childhood. "I remember going on house calls with my dad when I was a kid," he says. "It was kind of an adventure, heading out at 9 p.m. to some house in the country."
He was humbled by the spirit of service exemplified by both his father and grandfather, a legacy he wanted to continue. But he chose dentistry in hopes of spending more time with his family, a goal he is proud to say he accomplished. He enrolled at DCG (then the Medical College of Georgia School of Dentistry) in 1971, an era in which a shortage of dentists spurred legislators to approve a three- rather than four-year course of study. Of course, the coursework itself wasn't truncated, so Deal and his classmates experienced the often-grueling whirlwind of nonstop study. "It was very demanding," he says in his typical genial and understated style. "But my classmates and I became very close; we were kind of in the war together, so to speak. And we had such tremendous mentors. [Founding Dean Judson C.] Hickey was my inspiration to do dentistry well. I tell today's students I feel sorry for them for not knowing him. He was a wonderful man."
After earning his degree, Deal completed a two-year internship in the U.S. Navy, then hung his shingle in Augusta, where he and wife Donna raised sons Tyson (MCG, '01) and Brad, a mortgage banker. Both sons are now raising their own families in the Augusta area. "I'm so fortunate to have all my grandchildren close by," Deal says. "I pick up my youngest grandson from school one day a week. That's my job on Tuesdays."
As passionate as Deal is about his alma mater, it took a bit of arm-twisting for him to consider joining the board. "I felt like I didn't know enough about it to contribute much," he says with characteristic modesty. "But I wanted to help, so I just showed up, listened and tried to learn as much as I could. It was a good fit." Through the years, he has served on committees for causes including stewardship and scholarships.
Deal hopes his tenure as chairman of the board will help forge new partnerships while bolstering existing ones. "Helping to bridge the gap is one of the reasons I took the job."
He has an excellent relationship with the foundation staff, including President and CEO Ian Mercier. "I believe there is value in what Dr. Deal represents as a dental graduate — his perspective is unique while at the same time distinctly MCG," says Mercier. "Knowing that his father and oldest son both graduated from MCG as physicians means that he understands our mission to train great doctors, but he is a reminder to all of us that the university has many more colleges — all of which need support through philanthropy. With that in mind, Dr. Deal has both passion and an energy about him that is infectious, and he really cares about the foundation's and the university's success."
Deal adds that as a fellow Augustan, he also has a logistical advantage. "Ian and I are in contact almost daily, and I'm in the office frequently," he says. "Maybe I can make a difference and add a new voice to an operation that was already in great shape. That's all I can hope for."
About the MCG Foundation
"The MCG Foundation was created in 1954 to serve the philanthropic needs of the school, and as the institution developed into a major academic health center, the foundation now manages significant assets for all of the health sciences colleges: Dentistry, Medicine, Nursing, Allied Health and Graduate Studies. Among the foundation's many commitments to dentistry, which include two endowed faculty chairs, MCGF annually provides $40,000 in scholarship support to deserving students, the funds of which are now perpetually endowed."
– Ian Mercier, president and CEO of the MCG Foundation