The Honors Program, particularly that pesky thesis, puts undergrads on the fast track for success
There comes a moment during every honors student's thesis sequence — and Augusta University has roughly 270 honors students, all of whom must complete a thesis to graduate from the program — when the student realizes that he or she has become the expert.
"That's one of the things I really emphasize with them at the beginning," says Dr. Tim Sadenwasser, director of the Honors Program. "I'll tell them, 'One of the things that's going to surprise you is that you're going to get to a point where you're going to be able to tell your adviser something, and your adviser is going to respond with something like, Oh — I didn't know that.'"
At that point, the tables have turned. The student has become the teacher.
"If we never get to that point," he says, "we're not doing it right."
Doing it right, according to Sadenwasser, means contributing something new, however small, to the existing body of knowledge, advancing our comprehension of the world and providing a shoulder to stand on for the next researcher to come along, incremental gains on a slow road toward understanding.
It's how research is done in an academic setting, and the fact that it's being done so successfully by undergraduates is a real point of distinction, both for the Honors Program as well as the university, which has prioritized undergraduate research.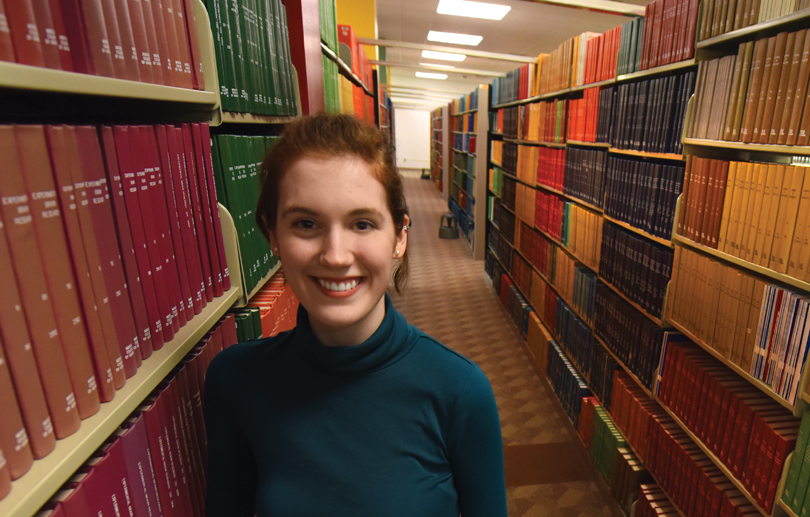 For senior Allyson Smith, the year she spent with her thesis started to bleed outside the lines of the project itself, becoming a vehicle for personal growth as well as an engine for academic success.
"I was able to apply what I was learning in all my classes and really look at everything through the lens of what I was examining," she says. "It started to affect every aspect of my life."
An English major, Smith designed her project to involve not just literature, which you might expect, but also elements of the counseling field she wants to move into. And her mastery of the topic? That was strong enough to take her all the way to Boston.
Starting Off
When Sadenwasser talks to prospective honors students,
those students who have no idea yet the places the Honors Program might help them to go, the biggest apprehension he hears, voiced even by some parents, is the fear that it's going to be difficult — not just college difficult, because these are high-achieving students accustomed to academic challenges, but
off-the-charts difficult.
It's not, Sadenwasser tells them. Honors classes aren't harder, they're just different, and he encourages those who qualify to join the program at the very beginning of their freshman year so they can experience those differences right out of the gate.
"Instead of starting school with 900 or 1,000 new students, you're joining with a group of maybe 90 honors students," he says. "You're part of a smaller group, and you get to make friends more quickly."
A lot of times he'll hear from students that they actually do better in their honors classes than in other classes because they move at a pace the students enjoy. Also, being in smaller classes — most honors classes are capped at around 20 — tends to help students feel more involved. And because their classmates are also high achievers, they're not just learning from the faculty member teaching the course; they're learning from the other 19 students in the class as well.
And while being in the Honors Program comes with other advantages, including priority registration, Sadenwasser is particularly excited about the fact that Honors students now receive priority placement in Augusta University's graduate physical therapy program. Simply put, students who score well enough on the GRE, write a thesis that's related to physical therapy and fulfill a few other requirements will jump to the top of the list of those eligible for entry into the PT program.
Learning by Doing
As the university continues to mature as a combined institution, Sadenwasser expects these types of opportunities to increase, particularly as more and more undergraduates are exposed to the research opportunities presented by the Health Sciences Campus.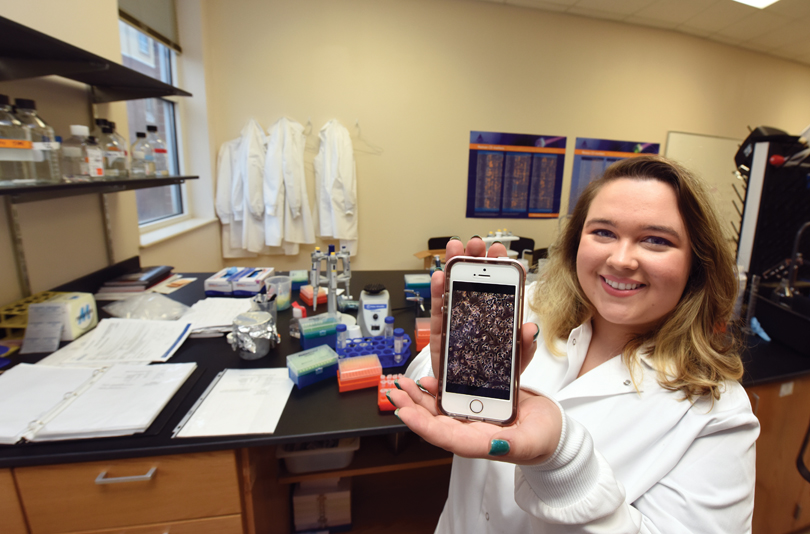 For senior Deanna Doughty, a cell and molecular biology major in the College of Science and Mathematics, that opportunity came through the Center for Undergraduate Research and Scholarship (CURS) by way of a partnership between the college and the Georgia Cancer Center, where her mentor, Dr. Jennifer Bradford, an assistant professor of biology, is a member of the Cancer Immunology, Inflammation and Tolerance Program.
Bradford was working to better understand glioblastoma, the extremely aggressive form of brain cancer that killed U.S. Sen. John McCain in August 2018, and to do it, she needed healthy microglia — difficult-to-study immune cells in the brain. As an assistant in her lab, half of her time funded by the CURS Summer Scholars program, Doughty worked unsuccessfully for two years to grow the cells before finally designing another method. That method, vitally important to Bradford's research, was successful —an achievement relatively unprecedented for an undergraduate. Not only is Doughty currently working to publish her discovery in an academic journal, she joined Smith and eight others in Boston to present her research at the National Collegiate Honors Council Annual Conference.
And now, armed with this new technique, Bradford's lab continues its research, paving the way for future discoveries in brain cancer.
(Editor's Note: For more about Doughty's discovery, read "How one undergrad is taking the fight to cancer" on Jagwire).
These unique opportunities fall under the umbrella of experiential learning, a cornerstone of the university's Quality Enhancement Plan, a proposal to enhance student learning in a specific, measurable way.
Weaving experiential learning into the fabric of the university's education philosophy, Augusta University offers an immersive experience through internships and programs like CURS, Study Abroad and the Honors Program — opportunities that are not simply empowering, encouraging and engaging students, but are also doing the same for their work and the work of their colleagues.
"With experiential learning, we're looking to inspire independent, engaged and remarkable thinking from both students and faculty," says Dr. Zach Kelehear, who as vice president for instruction and innovation works closely with the deans to incorporate high-impact practices into instruction and to develop opportunities to empower students in ways that will positively impact student learning. "Experiential learning in all its forms is essential to who we are."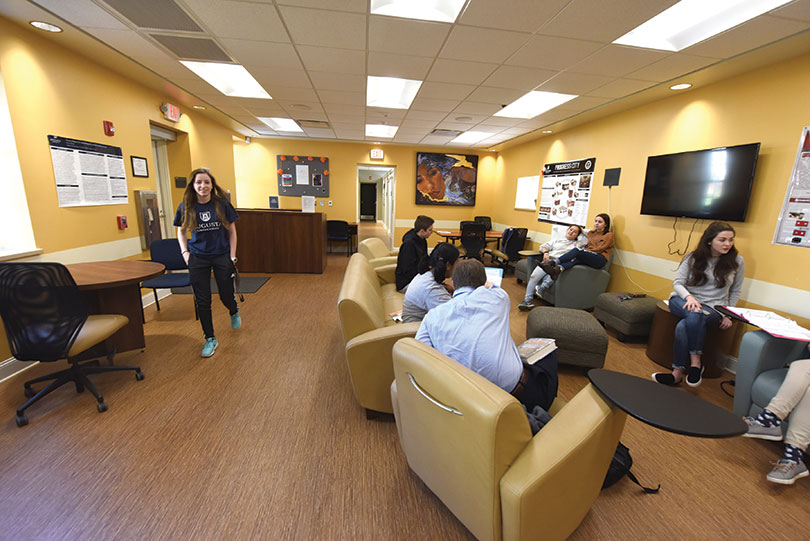 Second Home
Sadenwasser makes sure that when prospective students visit, they don't just meet with student ambassadors; but they also see the building itself, the Quad Wall Building, which has served as a kind of clubhouse for students since moving there from University Hall in 2013.
"When we were in University Hall and students got out of those core classes, they didn't really come back," he says. "They would hang around in their major areas, but now we have a lot of students who come in as freshmen, and I see them just about every day for four years."
The fact that honors students have 24-hour access to the building is another binding factor that helps build a culture in which older students help the younger students navigate academics and college life.
"You have a place to hang out between classes," he says. "And for students leery about the coursework, that's a huge advantage — a family atmosphere that makes it easier to start college."
Seeing the value of this kind of collaboration, Sadenwasser made sure it was structured into the Honors curriculum as well: The capstone course, taken during a student's last or second-to-last semester, requires these outgoing students to help the younger students who will be presenting at conferences, passing on hard-won experience and knowledge.
"It's much more effective than just having me watch them," he says.
Smith agrees.
"It's really up to you how much time you spend in the building, but the group that is there all the time — we all get to know each other really well, and we see each other at the highs and lows."
She takes her role as a senior leader seriously.
"We've really been trying in recent years as older students to accept that role," she says. "We want to tell the younger students that it's going to be OK. You'll be OK. You've got this."
The Thesis and its Rewards
By the time the students start working on their theses, many like Doughty have already been doing undergraduate research through CURS. However, for others, the thesis is an opportunity for them to develop a project they want to do, pick out faculty members they want to work with and learn professional traits that will help as they go on to medical school, law school, graduate school or the workforce.
"It's like a mini master's thesis, where you have your own faculty panel and you have meetings with them," Sadenwasser says. "They really go from a different sort of relationship with the faculty. Instead of sitting in a class and taking notes and learning from them, they sit across the desk from them and report on what they've been doing."
While all honors students are required to present their research — and there are several opportunities, from on-campus events such as the CURS student research seminars and the Phi Kappa Phi Research and Fine Arts Conference to state, regional and national conferences — those dedicated students with the best-developed projects earn their way to the national conference by participating successfully in smaller conferences.
"The students work really hard on developing their projects," Sadenwasser says. "And presenting at the big conferences is an easy thing for them to back out of because it's work on top of what they have to do for graduation. So being able to take them to these sorts of places shows that we're respecting the commitment they're putting in and we'll reward it."
And thanks to grants obtained by the Honors Program as well as CURS, Pamplin College of Arts, Humanities, and Social Sciences and the College of Science and Mathematics, the students who present at the national conference don't have to pay for transportation or lodging.
At the national conference in November, Augusta University's 10 presenters tied for third most presentations of any school in attendance — second if you consider Northeastern University, one of those ranked higher, is located only a couple blocks from the hotel. Also notable is the fact that all Augusta University participants presented on their own instead of on a panel. Besides Smith earning a Portz Interdisciplinary Research Fellowship, two other students, Cynthia Panzella and Kikelomo Ogunsemore, won awards for best posters in their disciplines.
In the end, Smith's project, which looked at religion as a coping method for post-traumatic stress disorder in two works of literature, Victor Hugo's Les Miserables and Tim O'Brien's The Things They Carried, didn't just allow her to blend her undergraduate interests with the counseling education she hopes to pursue in graduate school; it opened the door to opportunities most undergraduates never experience.
"Being able to go to places I never would have gone and speak to people I never would have seen is something the Honors Program gave me that I never could have done on my own," she says.