Dr. Maurice Lewis has always enjoyed music, but it was a television classic that helped him set his sights on a particular genre.
He was a little boy when he saw an episode of the 1960s sitcom, "Car 54, Where Are You," that piqued his interest. "The episode featured a barbershop quartet competition, and I fell in love with the style," he says.
Lewis, an associate professor in the Department of Restorative Sciences who joined the faculty in 2017, has been a lead in barbershop choruses for most of his adult life, a passion that has served as a common denominator as his career took him from the military to private practice to academia.
"I taught at the University of Pittsburgh and the University of West Virginia before moving to Augusta, and before that, I served in the military and in private practice. Through it all, I've always sung with groups," says Lewis.
In addition to singing in church choirs, he has spent decades crooning in barbershop choruses, currently the Augusta-area Garden City Chorus. Barbershop choruses have four parts: lead (Lewis' part, which generally features the melody), tenor, baritone and bass. The group practices weekly and performs at events throughout the community. It has approximately 30 members and will also break into four-part quartets for smaller gigs, such as Singing Valentines.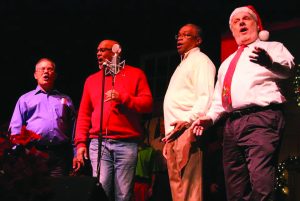 What Lewis enjoys most is "the ringing of chords," he says. "If you're in a room with good acoustics, you hear this incredible richness of sound. There might be only four guys in that room, but it sounds like many more because of all the tones being created."
The Garden City Chorus also features other DCG faculty, including Drs. Ed Joy, Bob Kaltenbach and Bob Reichl. All revel in the positive vibes that come from making music together.
"I love hanging out with the guys," says Lewis. "Barbershoppers come together for the music. We leave politics and all the troubles of the world at the door."
His favorite tunes include Beatles hits and songs from musicals. 
The music, he notes, is a family affair. "My wife, Amy, is the real singer in the family," he says. "She's recorded gospel music with our church." Their three children enjoy music as well, and son Sean is a fellow Barbershopper. "He's a freak of nature: a percussionist with perfect pitch," says his proud dad.
Lewis, an ordained minister, also stays busy with his church, First Christian Church in Augusta. "I lead a small group and serve in whatever capacity is asked of me," he says. "I walk with people having challenges in life who need an accountability partner. I've had my share of difficulties and can empathize with people going through a rough time. But I can't claim to be self-made. I am what God made me to be. I like being useful and busy. I enjoy being alive."