Drs. Drew and Kaylar Howard, '92, had already established a scholarship to attract the best and brightest students to the Medical College of Georgia.
Dr. Anil Puri, '05, had named a learning community, a quiet place for medical students to study and gather with classmates, in the J. Harold Harrison, M.D., Education Commons.
The Howards, Tifton, Georgia OB/GYNs, and Puri, a Milledgeville, Georgia, internist who specializes in sleep and pulmonary medicine, also both teach MCG students in their respective practices.
Now these MCG alums are finding a new way to give back to their alma mater — through the next generation.
The Howards and Puri are part of a group of alums who have been participating in virtual career advisory panel discussions with first- and second-year MCG students.
"Choosing a career is one of the single most important decisions that an individual will make, short of choosing a life partner," says Dr. Jennifer Tucker, '97, a pediatric emergency medicine physician who serves as MCG's assistant dean for career advising and fourth-year class dean. "In our traditional four-year curriculum, students have to choose what they will do for the rest of their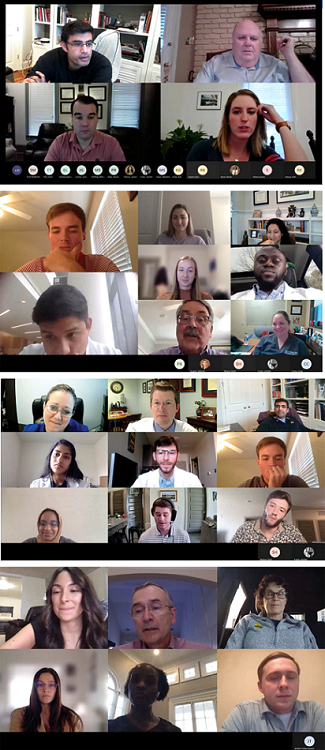 careers after only 2-and-a-half years of medical school — that's even earlier now for students in our 3+ (Primary Care) pathway. That choice often comes without direct exposure to the wide range of specialties available to them or the breadth of practice options — in an academic versus community setting; or inpatient versus outpatient, for example."
While students do have access to "high touch" career advising, early and often, and an advisor assigned to them throughout their four years at MCG, the panel discussions are designed to be another way to allow students to sort of "pick the brains" of those that have gone before them.
"We're looking for any contact we can get with physicians, so we really appreciate this. It's really helpful," explained MCG Class of 2024 student Natalie Zink, who served as moderator for several panels, including the late March Panel featuring Drs. Howard and Puri and others.
The discussions have given students a space to ask questions about anything and everything — from how they chose their career to what they love and hate about it; from questions about work/life balance to examples of how their career has changed over the years.
Examples like the one Dr. Kaylar Howard gave them about how OB/GYN has changed from when she was a resident — when she was one of three first-year residents and it seemed she was on shift or on call 24/7, leaving her deliriously questioning whether she'd made the right career choice after all.
These days, the Howards — owners of the Howard Center in Tifton and a new office in Covington — have been just one of many practices who have instead developed a system that divides obstetrical care from gynecological care, and allows physicians to choose how they want to practice. Some people in their practice work 48 hours straight delivering babies and then they're off.
Others work a more 8-5 shift, taking care of gynecological needs.
"I think that's the way the field is shifting," she told students. "We have a system here where you can do one or the other or both, just on different days. You can still have a life. In the old days you worked until you were nearly dead and then quit OB, and it's just not like that anymore."
Puri says it's that real-world seasoned perspective that he hopes he can offer as well.
"When I was a student we didn't get a lot of career advice, unfortunately," he says. Although the regional campus model that sees MCG students learning in private practices and community hospitals across the state has changed things, back then "If you were in an academic setting, like MCG, from start to finish, your mentors were (mostly) in academics. I want to be able to help provide that private practice perspective. I see this as an opportunity. I think it's just another really cool way to be able to give back."