Community supporter Emily Baumann is helping to bring psychotherapy to the children who need it most.
Emily Baumann's generosity has provided psychotherapy for children who otherwise couldn't get the help they need, and it's helping ensure the same for generations to come.
"Mental health has always been a passion for me," the retired music therapist says. "I've received therapy at intermittent times throughout my life, and I recognize the importance of being able to talk with someone about your feelings."
A meeting in 2016 with Dr. Vaughn McCall, chair of the MCG Department of Psychiatry and Health Behavior, helped shed light on a vicious cycle that he hoped she could help break.
McCall told her about a double-sided problem that he saw playing out over and over in his department and, frankly, across the nation. On one side were children with mental health problems who needed psychotherapy, but whose parents couldn't afford it and whose insurance wouldn't pay for it. On the other were the child and adolescent psychiatry fellows who need to be trained to provide that therapy, but who couldn't do so with these children because of Medicaid rules.
In Georgia, Medicaid insurance does not pay for psychotherapy provided by trainees. Without that option, these children could linger on a waiting list for an appointment with one of only a handful of child and adolescent psychiatrists at MCG and in the surrounding area.
"It concerns me that some people don't have access," Baumann says. "I see all of these horrible things that our young people are facing today. It seems there is stress everywhere they turn."
"There is no place in Georgia where there isn't a shortage of child psychiatrists. In fact, there aren't a lot of places in the nation," explains Dr. Sandra Sexson, chief of the MCG Division of Child and Adolescent Psychiatry and director of the fellowship program. "There are simply not enough of us to provide it."
To help provide more access and more training, Baumann established a fund that would pay for trainees to provide the therapy.
The fund has garnered nearly $150,000 in donations as Baumann has recruited friends and family to join her in giving, and it has provided more than 1,300 hours of therapy sessions to date.
Those sessions have helped children like the girl who has experienced recurrent rejection from her mother and the boy who struggles with parents who don't demonstrate loving behavior. There's also "the girl who struggles with wanting to die. She is beautiful and talented, but she doesn't believe it," as former MCG child and adolescent psychiatry fellow, Dr. Danielle Shaw, wrote to Baumann, to thank her for her gift and to demonstrate the impact she's made.
  "The kids get treatment and the trainees get the opportunity to do more psychotherapy, which hopefully they will do in the future," Sexson says. "These children – we [faculty] could see them for medication management, but most of us in the field of child psychiatry want to help with psychotherapy, not just medication management."
"The best evidence for the treatment of mental illness in children and adolescents is medication plus psychotherapy," Shaw wrote. "I truly believe that, in the long run, money will be saved and lives will be more productive and meaningful when patients receive adequate mental health services, when parents are taught the skills to help them parent their children, and when mental health providers can spend the time needed to help patients thrive to the best of their ability."
Growing up in Augusta, Georgia, Baumann – the daughter of a department store manager father and a mother who was a nurse – spent her summers volunteering at the Gracewood Campus of East Central Regional Hospital. After graduating from the Academy of Richmond County, she became a music therapy major at Florida State University. She would come back home over summer breaks and develop music programs for psychiatry patients at the 54-bed Cleckley Building, named after famed MCG psychiatrist Hervey M. Cleckley, where University Hospital provided inpatient psychiatric services.
After graduating from The University of Kansas with her master's degree in music therapy, Baumann served as director of the Music Therapy Department at the Atlanta-based Georgia Mental Health Institute and as a clinical psychiatry instructor at Emory University. She's also been a co-owner and therapist at Activities for the Development of Human Potential, Inc., a private clinic in Atlanta that offered treatment, consultant and training services.
The Augusta native moved back to Thomson, Georgia, after teaching music therapy in New Jersey and Texas, where she met and married her late husband Waylan. The two lived in "a house in the country on five acres – a cow pasture on one side and a deer lease on the other."
She was content to work as a private music teacher, consultant and performer in Thomson, where she also conducted music classes at two local daycares. "I've always been drawn to children," Baumann says.  For several years, she volunteered in the special education music class of a Columbia County school.
Baumann moved to Brandon Wilde senior living community in 2008, but not to slow down. Quite the opposite, in fact.
She has served as chair of the Wellness Committee and as a Resident Council Representative; appeared in promotional videos for the community; plays the piano for holiday programs, vespers and music therapy sessions; and helps hire music therapists for the facility. That's just the short list.
Among her favorite work at Brandon Wilde is the time she spends volunteering on the Alzheimer's unit, where she continues to utilize her music therapy skills.
"There's a lady there who used to play the piano, but she hasn't played in many years. When I brought her to the piano, I realized she could play many melodies, but only with her right hand," Baumann remembers. "When I joined her in adding the bass notes, a well-known duet of Amazing Grace resounded. Is there anyone who doesn't respond to music, or rhythm? It's very communicative, at all levels."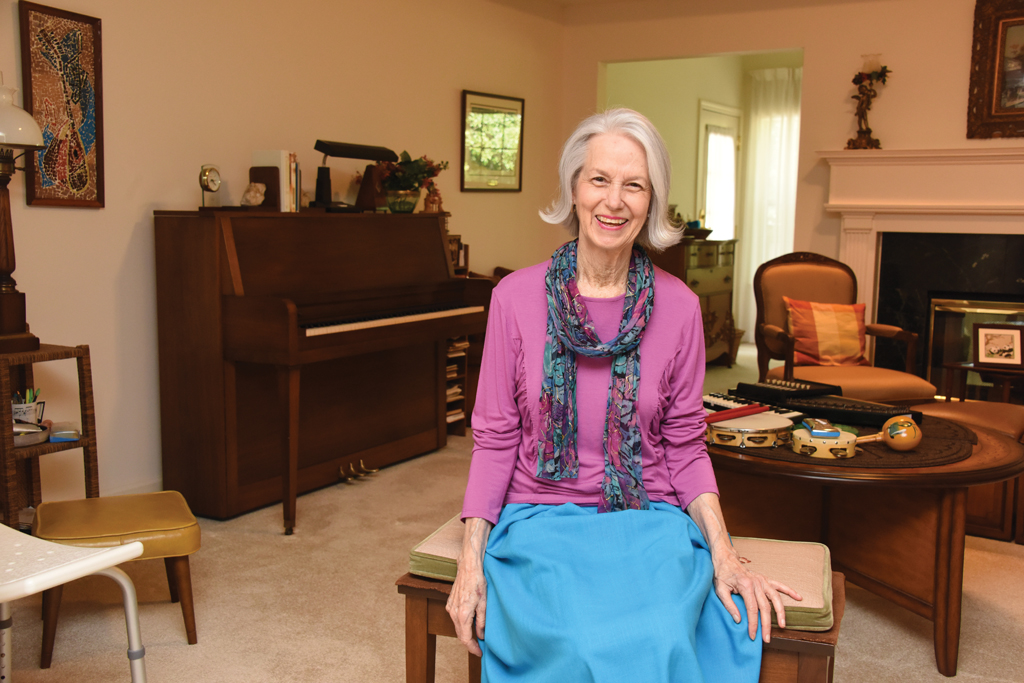 Baumann established the Emily Stevens Baumann Education Endowment with the Symphony Orchestra Augusta to provide music programs in McDuffie County Schools
She also established the Emily Stevens Baumann Endowment with the Augusta University Foundation to fund scholarships for music education majors.
At Brandon Wilde, Baumann continues to sponsor two American Music Therapy Association board-certified music therapists to conduct weekly sessions in the Alzheimer's unit.
The MCG Department of Psychiatry and Health Behavior recently awarded Baumann with its 2018 Community Partner Award.
To donate to the Emily S. Baumann Child and Adolescent Psychotherapy fund, visit mcgfoundation.org/emilybaumann or contact Eileen Brandon at ebrandon@augusta.edu,
706-721-2515.