Surgeon, innovator, radio host — Dr. Todd Berland is always looking for the next opportunity.
Once upon a time, Dr. Todd Berland, '03, was that kid.
The one who chose to attend summer school and knock out classes so he could take other subjects like Latin or German.
The one who worked a 70-hour-a-week job as an anesthesia technician all during his time at the Medical College of Georgia.
"If I wasn't doing something, I was bored," said Berland, an endovascular surgeon at NYU Langone.
Today, Berland is definitely not bored. He not only performs a full load of surgeries, but also hosts the Vascular Surgery Show on Sirius XM's Doctor Radio Channel 110. He regularly presents on new techniques developed by him at conferences such as the VEITHsymposium and meetings of the Vascular & Endovascular Surgery Society and the Association of International Vascular Surgeons (AVIS). He teaches medical students, residents and fellows. He travels twice a year to teach his techniques in countries as wide-ranging as Vietnam and Turkey. He's a father of two, Kai, 7, and Ace, 4. And he's always looking for the next thing.
A perfect fit
Berland grew up in Atlanta, the son of a salesman, and he credits his dad for his "don't stop" personality and drive. "He owned his own business and always worked very hard and had this shoulder to the grindstone mentality," he said. "Anything worth having, you have to work for."
The family pediatrician sparked his early curiosity about medicine, so Berland worked hard at that, applying early decision to MCG. But in Augusta, he discovered surgery. For a guy who sleeps only about four hours a night and likes taking on a challenge, the field was — and is — a perfect fit. "I liked the instant and immediate gratification too," he said. "In the medical field, you're following someone long term. But in surgery, you have a problem, and you fix it."
His aim was cardiothoracic surgery until an attending changed his mind during his surgical residency at the Mayo Clinic in Jacksonville. "He said, 'Look at vascular. It has all the technology, and there's an increasing baby boomer population and essentially a huge need for vascular surgery,'" said Berland. "And I thought, 'That's perfect, that's right up my alley."
A new way
After residency, Berland moved to New York City for a vascular surgery fellowship at NYU — and to follow Heather, a NYC native whom he'd met via a friend and who would become his wife. After his fellowship, he joined the staff at NYU Langone Medical Center.
Fixing vascular problems is one thing. Finding a way to fix them — a way just as safe and maybe even better for patients — is another. That's what Berland wanted to do next. "The more you dive into something and are dealing with it every day, you can really quickly understand the unmet need," he said. "It's all about doing a procedure or being involved with a treatment process or pathology and finding the shortcomings and trying to address them. And often it's a very simple solution."
Berland has taken procedures that may have required two hours during his residency or fellowship and shortened them to minutes, "by combining steps and doing things more efficiently from a process standpoint."
For example, there's his new take on four French SFA antegrade access, an approach that traditionally treats blockages below the knee by accessing them through an artery in the opposite upper thigh, going over the hip and through the pelvis. Berland's approach is direct and to the point: He enters the artery right above the blockage.
Berland carefully discusses the option with potential candidates, and to date, more than 1,000 patients have undergone the procedure, with good results and nearly zero complications.
Berland has been criticized for not publishing his techniques. "I should," he said. But he is commonly invited to speak about them at regional, national and international conferences. Those opportunities have arisen organically.
"It's the 3 A's of surgery: available, affable and able. That's really what you have to be," he said. "Even in our local meetings, when we're just talking amongst colleagues, I'm telling them about my experiences and I'm asked, "Why don't you come talk about that at our meeting?' or 'Why don't you come to our grand rounds?' So as you start talking about it, it becomes a self-perpetuating wheel, where the more you talk, the more you talk."
He also travels twice a year to various countries to give lectures and work with surgeons on those techniques thanks to a grant provided by a grateful patient.
As a result, Berland was recently approached by a team in Paraguay to take part in performing a nonsurgical approach for creating a fistula between an artery and a vein in patients with kidney problems needing dialysis. The approach was designed by a cardiothoracic surgeon, but required the skill of an endovascular surgeon with a penchant for innovation.
For more than 60 years, dialysis patients have needed an hour-long procedure in which surgeons cut a vein and sew it onto the side of an artery. The resulting AV fistula lets arterial pressure make the vein larger over time, which can help the body more easily receive the volume of blood returning to it during the dialysis process. But the procedure to create the AV fistula has known high failure rates.
The new technique involves threading a wire into an artery and vein from the wrist. Magnets on the end of the wires connect in the forearm, then at the push of a button, radiofrequency energy burns a hole into the two blood vessels, quickly connecting them. The fistula is formed.
"I was the first vascular surgeon in the world to do that procedure from the wrist," said Berland, who wrote a paper about the experience and anticipates its publication in early 2019. "It's recently been FDA approved, and NYU will be one of the main training sites to teach other physicians on how to do this procedure."
Opportunities
Doctor Radio has a soundproof studio in the lobby of NYU Langone, and a number of physicians there host shows. Berland was a guest expert several times, then producers invited him to take the lead on his own program.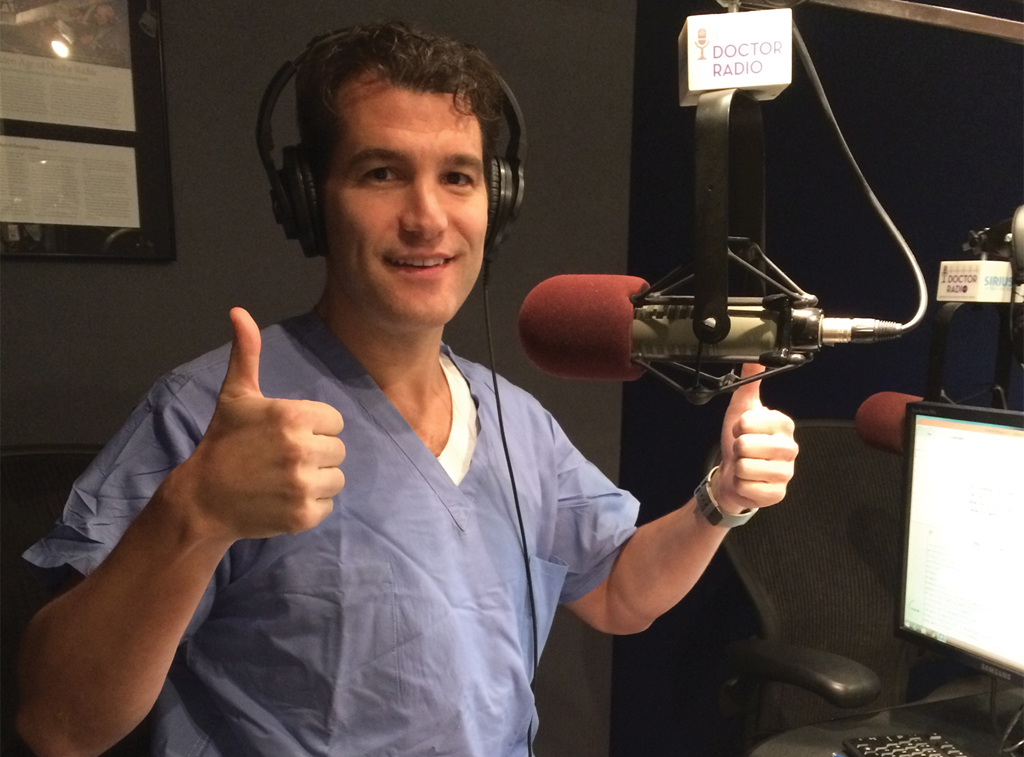 "I asked best friends, parents, colleagues and everyone said, 'Do it.' So I did it. And it ended up being a great thing. I get to really connect with tens of thousands or hundreds of thousands of patients at a time, and it opens up new opportunities for me and allows me have a little bit of fun on the radio."
He hates hearing his own voice on air. But he loves the opportunities he's enjoyed in his career. "I have no idea [what's next]," he said. "I'm up for all things…I honestly don't know where it's going to go, but I certainly don't want any opportunities to be lost due to lack of skill or because of not being prepared. I always say chance favors the prepared. So I just want to have my fingers in as much as possible."