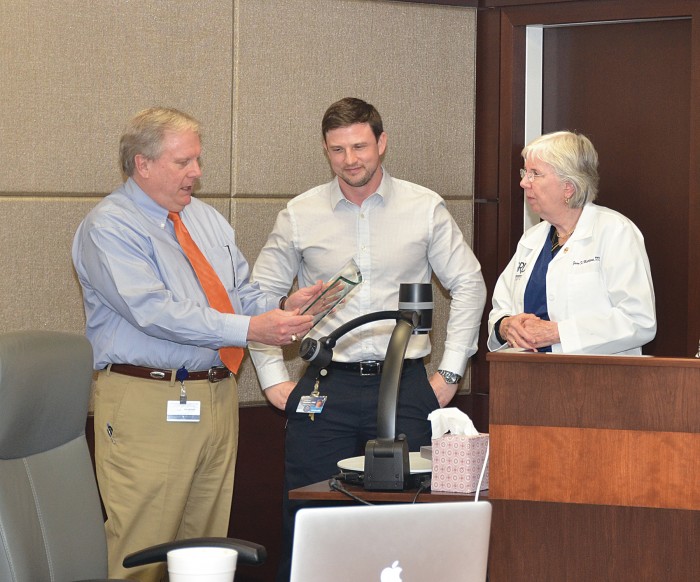 Massachusetts Volunteer Lauded for 15 Years of Service
Dr. Jane Martone thought she was attending a routine lecture March 15. But the College of Dental Medicine had surreptitiously arranged a gathering in her honor.
Martone, who has volunteered her dental services one week a month for 15 years in the dental school's Advanced Education in General Dentistry and General Practice Residency programs, had the AEGD/GPR Resident Office named in her honor, thanks to approximately $30,000 in donations. The office is the first in the new dental building donated for a volunteer faculty member.
Martone maintains a full-time practice in Westfield, Massachusetts, but flies to Augusta monthly on her own dime to roll up her sleeves as a volunteer. "It is certainly fitting that the resident office for the AEGD and GPR programs be dedicated to Dr. Martone, as she is certainly dedicated to them," said Dean Carol Lefebvre. "It is even more appropriate that the celebration took place on National Dentists Day."
Said Lefebvre, "If I could clone an adjunct clinical faculty member, it would have to be Jane. With no prior connection to GRU, she came to a continuing education course here and fell in love with the dental school, working with the residents for the past 15 years and traveling to the Augusta area as a volunteer."
The experience morphed immediately into a regular habit. "She stayed," Lefebvre said, "at least one week a month, that is. And we're glad she did. We are so grateful for all her years of service and look forward to 15 more!"
Rewarding Retreats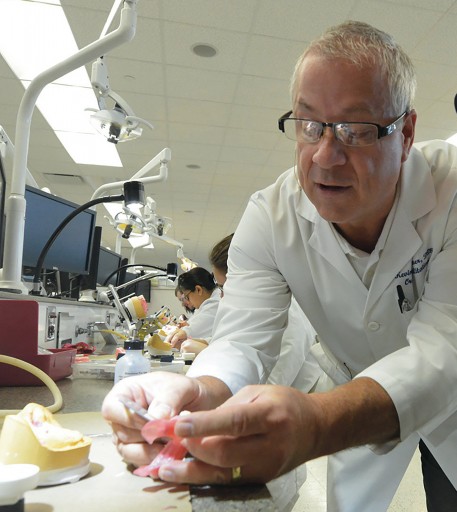 Dr. Kevin Plummer, Interim Chairman of the Department of Oral Rehabilitation, received the 2014 Teaching Excellence Award at a daylong leadership retreat for College of Dental Medicine Associate Deans and Chairmen on Dec. 5. Faculty and staff retreats followed on Dec. 15 in the Harrison Commons.
Other faculty recognized for outstanding contributions were Drs. Phil Baker, Drew Kious, Regina Messer, Jan Mitchell, Mark Peacock, and Fred Rueggeberg.
At the staff retreat, Debra Richards, Operations Scheduling Coordinator supporting the Department of Oral Health and Diagnostic Sciences, received the Sherry Barnett Award in recognition of outstanding customer service to patients and colleagues.
In the Bag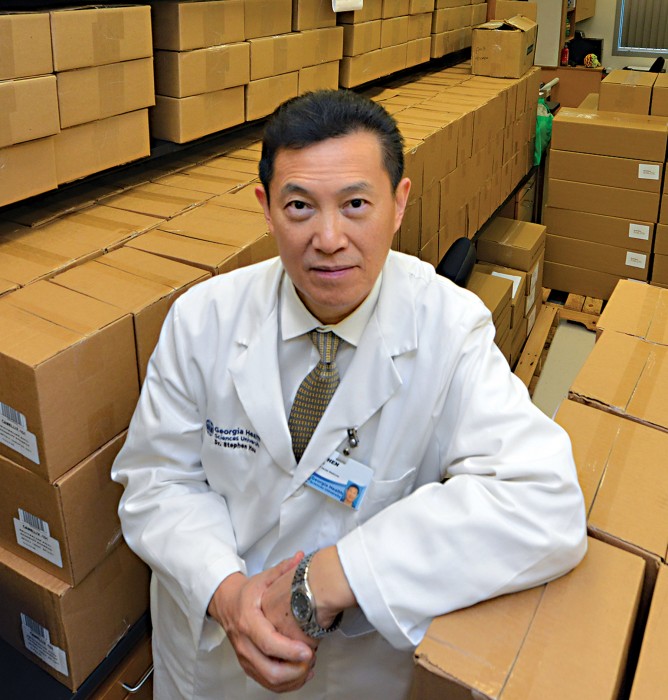 Dr. Stephen Hsu, Professor of Oral Biology, has received an Innovation Award for his green tea research from Georgia Bio. Georgia Bio, founded in 1989, is a nonprofit organization promoting the interests and growth of the life sciences industry. Hsu's research has uncovered multiple healing properties of the polyphenols in green tea, leading to his development of several green tea products for Camellix, LLC.
New Chairman Named
Dr. William "Andrew" Yeudall has been named Professor and Chairman of the Department of Oral Biology.
     Yeudall, who joined the faculty in July, previously served as Director of Basic Dental Science Education, Associate Professor of the Philip Institute of Oral & Craniofacial Molecular Biology, and Associate Professor of Biochemistry and Molecular Biology at Virginia Commonwealth University. He was Interim Director of the VCU Philips Institute and Interim Chairman of the Department of Oral & Craniofacial Molecular Biology from 2005-13.
He earned bachelor's degrees in biochemistry and dental surgery from the University of Glasgow and a PhD in molecular pathology from the Beatson Institute for Cancer Research in Glasgow. He completed a Fellowship in Oral Pathology from the Royal College of Pathologists.
Yeudall has secured multiple grants and has several National Institutes of Health-funded grants. He has written numerous research publications and helped develop Epidermal Growth Factor Receptor-expressing cancer cells and a cell-nanoparticle hybrid vehicle for drug delivery at VCU.
He taught at the University of Glasgow, University of Bristol, University of London, and King's College in London before joining VCU in 2003.
Yeudall is a member of Omicron Kappa Upsilon, the International Association for Dental Research, and the American Society for Microbiology. He is a founding Fellow of the International Academy of Oral Oncology and an Editor for Oral Oncology, PLoS One, World Journal of Clinical Oncology, Journal of Carcinogenesis and Mutagenesis, Scientifica, Frontiers in Craniofacial Biology, and the International Journal of Chronic Diseases.