Dr. Michael Pruett fondly recalls his early immersion in continuing education. In 2014, he and Dr. Douglas P. Clepper, a DCG alumnus and Augusta dentist, became the directors of an oral implantology course for the American Academy of Implant Dentistry. They moved the course, originally developed in 1987, from Atlanta to the DCG and added hands-on surgical components, making Augusta a continuing-education destination for dentists nationwide seeking comprehensive implant training. The AAID Comprehensive Training Program in Implant Dentistry Maxi-Course has significantly bolstered the expertise of almost 1,500 dentists and counting, enabling them to expand access and value to patients throughout the country. The CE bug had bitten Pruett, and it bit him hard.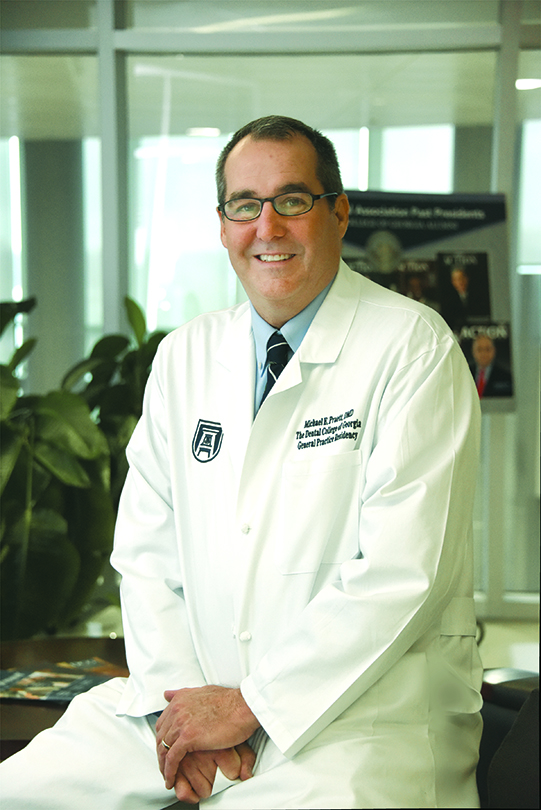 "The course became hugely popular and the DCG's biggest revenue producer," he says.
The feedback has been tremendous. For instance, Dr. Craig S. Wix, a recent attendee, noted, "The Georgia Maxi Course [enables attendees to treat actual patients] from surgical placement of implants to the final restoration. This clinical addition gives you the confidence to take your practice to the next level."

Buoyed by the success of this course and others like them, Pruett jumped at the chance to oversee continuing education for the DCG when Augusta University decentralized its campus-wide CE department earlier this year. "I felt that, if given the chance, I might have some insight in fine-tuning the school's CE program and improving the process."

Augusta University has a long and proud history of continuing education, a means of ensuring that professionals stay on the cutting edge of their knowledge base throughout their careers. The initiative was decentralized to enable individual colleges, particularly those whose graduates require ongoing continuing education for licensure and credentialing purposes, to tailor their CE programs specifically to the needs of their alumni, faculty and fellow professionals.

"It's much more efficient and effective to shape our course offerings without having to go through a campus-wide process," says Pruett, who was named DCG Director of Continuing Education in January.

Yet the advantages of that broad-lens perspective remain, with two employees from the former campus-wide CE department, Jennifer Ellison and Lynn Thigpen, moving to the DCG to assist Pruett. He plans to add more staff soon.

"Our goals are to involve more faculty in continuing education, to provide more courses and to maximize the diversity of courses we offer in all areas of dentistry to practicing dentists in Georgia," says Pruett. "We want to be second to none."
The DCG is particularly well-positioned to fulfill these goals, he says, noting existing collaborations with the Georgia Dental Association, the Thomas P. Hinman Dental Society and other highly esteemed organizations.

Working with the AAID Maxi-Course, he says, has given him a substantial head start. "We want to provide more hands-on courses like that one," Pruett says, "giving attendees the opportunity not only to learn about new procedures and techniques, but to actually do them."

The DCG also has a running start on adding destination courses to its CE lineup. For instance, Dr. Jan Mitchell, a faculty member in the Department of Restorative Sciences, has melded her love of art history with a series of CE offerings in Europe, where she has combined outstanding dental courses with excursions to museums and historical sites in cities such as London, Paris and Florence. She immersed attendees in all of the typical tourist attractions as well as under-the-radar eateries, concerts and other activities that created a more authentic experience. What's more, she hoped to inspire others to share the ongoing wanderlust that has so enriched her life.

Wrote one participant in a follow-up survey, "Dr. Mitchell did a superb job of integrating a continuing education course with travel; it was well-organized and well-executed — a real asset to the university!"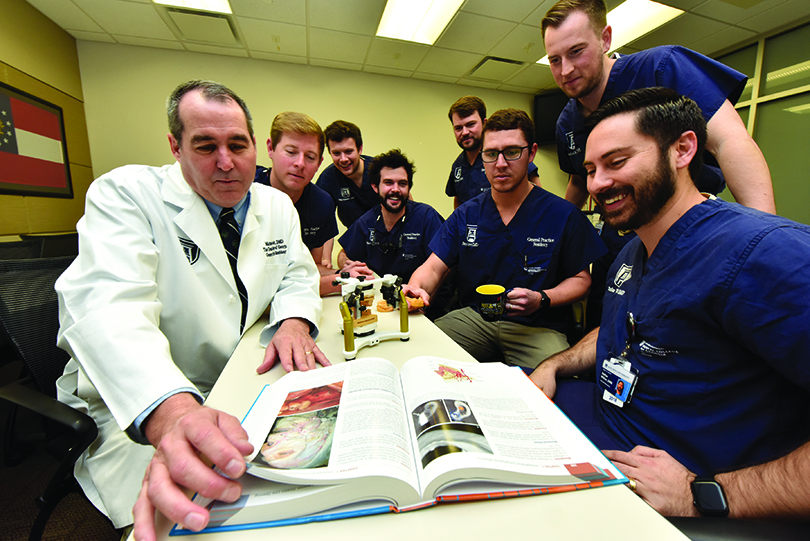 Another wrote, "I really enjoyed Dr. Mitchell's knowledge of historical sites. It was like having a personal tour guide!"

Pruett hopes that examples such as Mitchell's will inspire other faculty, helping them envision the full potential of continuing education.

"The faculty are very excited," he says. "With the new decentralized CE system in place, we plan to have more revenue to distribute to providers. There will be more reward for the effort. We hope to get many people on board, either as directors or lecturers. There will be lots of opportunities for our faculty to participate."

Pruett notes that his plans dovetail beautifully with those of another of his roles: president of the DCG Alumni Association. "I've really enjoyed my tenure as president, and I have one year left," he says. "I love trying to get alumni more involved in the school and helping students prepare for their roles as future alumni. That makes CE a perfect fit, because involving alumni in continuing education is an excellent way of reconnecting them with the school, and the courses illustrate to students that we will be dedicated to supporting them throughout their careers."

Some of his favorite memories, he says, involve the intersection of his various roles. For instance, Pruett recalls his childhood dentist, Dr. Griffin Mizell Sr., heavily influencing his decision to pursue dentistry. "I thought he was amazing," says Pruett, a native of Brunswick, Georgia, "and I wrote a paper in third grade saying I planned to be a dentist when I grew up."

Fast-forward several decades, and Pruett noticed Mizell sitting in the back row of a CE lecture he was delivering in St. Simons Island, Georgia. He seized the opportunity to publicly recognize his mentor and thank him for setting his career in motion. Shortly after Mizell's death in 2011, his son told Pruett that recognition was one of the proudest moments of his father's life.

Those kinds of connections, Pruett says, are among the most meaningful aspects of continuing education.

"I'm all about a legacy," he says. "I take great pride in what we have right here in Georgia, and I want to be a part of that in every way I can."