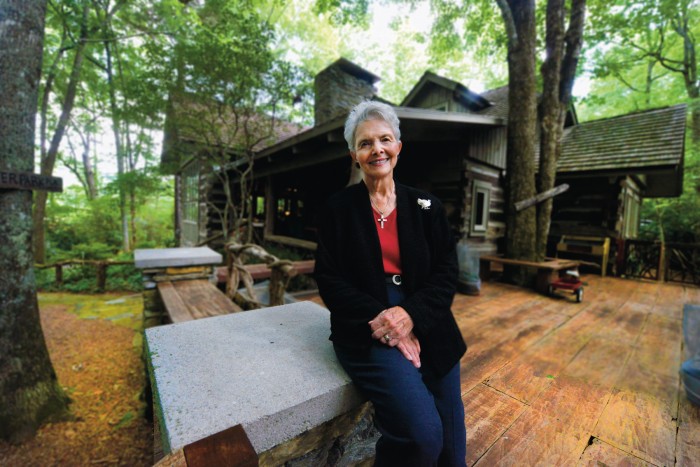 Ask Barbara Castleberry Carlton about her most memorable time in medical school, and she doesn't hesitate.
"I remember the first time I saw my cadaver; it was being hoisted up an elevator shaft in the medical school building (now the G. Lombard Kelly Administration Building) with several others," she says. "I remember looking down and thinking, 'What have I gotten myself into?'"
Through Dr. Carlton's generosity, generations of future Medical College of Georgia students will get their first look at their first patients, or cadavers, in a newly renovated gross anatomy lab that bears her name.
What she had "gotten herself into" back in 1953 was the state's public medical school – and at a time when many women were discouraged from entering what was then largely considered a man's world.
"The freshman year in medical school was just eye-opening, scary at times. It was like being on a different planet," Carlton ('57) writes in her memoir, "This Nearly Was Mine: A Journey Through Carlton Country" (Great Outdoors Publishing, 2009).
Carlton grew up among the cotton and peanut fields of Lumpkin, Georgia, and aspired to be a medical missionary. "There was one in our town, and I wanted to be just like her," she says. Her father was a rural mail carrier who instilled a strong work ethic and love of academe. She enrolled in Mercer University in 1949, graduating magna cum laude.
It was during her junior year that she'd decided to pursue medical school, despite her father's hesitations about a "man's profession."
Medical school didn't come without its challenges. As one of only four women in her class, she found herself the butt of many pranks, like being volunteered to have her blood drawn when her male classmates needed practice. It was nothing that the tough "bumpkin from Lumpkin" couldn't handle. After all, she had her studies to concentrate on.
"In my second year, I was doing terribly in physiology," she remembers. "It was the hardest class I had ever taken. I was flunking my quizzes every week, so a group of us formed what we called the Goon Squad, and we met every night to study."
They all passed. "Medical school really was just joy for me, pure joy," she says.
"I can remember my daddy coming to my graduation . . . the pride on his face when he came to see this little country bumpkin from Lumpkin receive her medical degree . . . It was just about more than I could take," Carlton writes.
In 1958, during her second year of work at Eugene Talmadge Memorial Hospital, Carlton was sent to rural Wauchula, Florida, to replace a small community hospital physician who had taken ill. The MCG Internal Medicine Program had a partnership with the hospital, where Dr. Miles Collier did everything from major surgeries like hysterectomies and gall bladder removals to delivering babies.
On Carlton's second night there, Dr. Collier's longtime assistant, Jeanne Archambault, had arranged a blind date. Her first inclination was to decline, but Archambault was persistent and called the man the "most eligible bachelor in Florida."
Carlton relented and they agreed to go for burgers at a local hotel. The man was Albert Carlton, whose family had carried on a legacy of raising cattle and citrus that dated back to the late 1800s. She was so tired from covering the emergency room all night that she fell asleep on his shoulder. He was smitten.
They began a long-distance courtship when she returned to Augusta. He visited often and wrote love letters when he couldn't. The two were married on June 24, 1959, and she permanently relocated to Wauchula. Three sons and a daughter followed shortly after their marriage.
Then in 1960, tragedy struck. Hurricane Donna devastated their small Florida town, and she and Albert fled their home with no electricity or running water.
"We just started driving and ended up in Cashiers, North Carolina," Carlton says. "We just fell in love with the town." They stayed a week and returned to buy a vacation home there in 1965.
Once back home in Wauchula, Carlton opened her first practice in their home and began seeing patients from 8 a.m. to noon each week day. Her waiting room was her front porch, where her four small children would often end up on the laps of patients. Penniless patients paid with chickens and cane syrup. Carlton often made house calls.
"I said when I married Albert, I married the people of Wauchula too. I had a country practice, mainly using my eyes and ears, my hands in trying to decide what was wrong with the patient . . . listening to them. No MRIs. No CAT scans. No sonograms. Patients know what's wrong with them if you listen to them," she writes in her memoir.
Carlton practiced out of her home for nearly a decade, then moved her practice across the street from the new community hospital in 1971. Six years later, when her children were teenagers, she decided it was time for a career change.
"I decided I'd better get a degree in homemaking," she says, laughing. "I wanted to raise my children and be able to be as involved in their lives as I wanted to be." Tragedy struck the Carlton family again when Albert had his second major heart attack at the age of 50, only reinforcing Carlton's decision to retire.
Just the year before, the Carltons had begun another "career" together – one that would become their legacy in both Wauchula and Cashiers. Through a land exchange, they traded a produce orange grove in Florida for 2,000 acres of native mountain land, 700 of which they later designated as environmentally protected.
Over the next several years, they designated approximately half of their 20,000 acres of Florida ranchland in a similar way. The land is now part of the state's perpetually protected inventory. "I think it's important to give back to the land what we take from the land," Carlton says. "It's all about preserving, protecting and enhancing, rather than the greed of the bottom line and taking and leaving us with a mess."
Protecting the land and natural environments is something that's paramount to Carlton, who is still an avid turkey hunter – a skill she has taught to all 11 of her grandchildren and already has plans to teach her first great-granddaughter, Eleanor Claire ("Ellie").
These days, Carlton spends half the year in Cashiers, where the land they purchased decades ago has become Chinquapin, a private and gated community, focused on nature with large, ecologically friendly home lots. The other half of the year, she spends in Wauchula.
Albert passed away in 1992, but his wife has worked hard to retain the family's legacy, both in Florida and in Cashiers, where the first public library built there now bears Albert's name. She shows no signs of slowing down, even at age 83.
"I wake up, and my first thought is, 'Why am I wasting time?'" she says.  "Every day, I look at my life and I say, 'How can I give back? How can I make a difference?'"