Challenges Inspire Student to Dig Deep
Michael Hall didn't exactly have a stereotypical reaction to the news that he needed a root canal.
Forging a New Path
It was during a football game playing linebacker as a scholarship recipient at Georgia State University that Hall cracked a tooth. The injury compounded already-existing dental problems. Growing up in a single-parent home, the native of Dublin, Georgia, was determined to forge his own path after high school without further burdening his hard-working mother.
But even with his scholarship, he found himself frequently unable to make ends meet. "Periodically, I was just out there floating around, at one point for five or six months," he says of his living arrangements. "I bounced around from couch to floor to car to wherever. I struggled so hard while I was trying to figure out who I was and what I was going to become."
He certainly didn't have the resources to pay for extensive dental care. "Once you cap out of your insurance, everything is out of pocket," Hall says. "I didn't have the money to pay for it, and I didn't want to bother my mother. She'd already sacrificed enough for me. I knew I'd never succeed if I let someone else take care of me. I didn't want to make my life someone else's responsibility; I wanted to make it on my own."
But Hall's cracked tooth clued in his coaches that he had multiple oral-health issues. "The injury made a bad problem worse," says Hall. "I was in so much pain, I didn't think I could play anymore."
He was exceedingly grateful to his coaches for arranging dental treatment – and extremely impressed with his care.
"A generalist oversaw the treatment, and I saw several specialists," he says. "They came in on Sundays to help me out and work around my schedule."
Dr. Alan T. Goodman, an Atlanta endodontist, performed the root canal. He was happy to comply when Hall, rather than expressing dread for the procedure, enthusiastically asked if he could watch. "Dr. Goodman handed me a mirror and explained everything as he went along," says Hall.
'Right Up My Alley'
The young football player was fascinated. His experiences during those few weeks had already sold him on the kindness and integrity of everyone he encountered in dental offices. But it was the root canal – the precision, delicacy, deftness and dexterity – that sealed the deal: Hall wanted to be a dentist.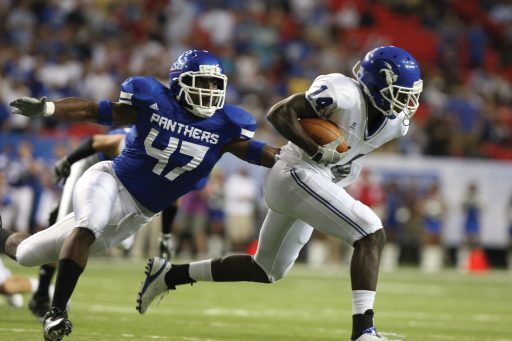 "That's when I thought, 'This is cool,'" Hall says. "My whole life, I'd heard such terrible things about root canals, but Dr. Goodman was explaining it to me and I wasn't in pain. He was extremely interesting and detail-oriented. It was life-altering. My perception of dental care was so far from my experience at that exact moment. It seemed fun, interesting and right up my alley. That's the day I decided to truly take it seriously."
A dental assistant who had participated in his care was cheering him on every step of the way. "I was studying exercise physiology at the time, and she'd kept telling me, 'You should look into dentistry,'" Hall says. "I thought, 'Thank you, but I'm fine.' I'd never considered dentistry as a career; it seemed beyond me. But she kept bringing it up, and after the root canal, I thought, 'Why haven't I considered it?' That's when it actually took root."
Focused on the Future
Still, Hall wondered if he should take a more secure path. Dental school was hugely competitive and arduously difficult. Would he get in, and if so, could he handle the coursework? Plus, "I was being scouted by lots of different [National Football League] teams and had practiced with a couple of them," Hall says. "I wasn't sure what to do."
But the fascination of science he had cultivated in those dental chairs now outweighed all other considerations. "I definitely love football and knew I had a very useful skill that people would pay me to use," he says. "But I was ready to focus more on school."
He applied to The Dental College of Georgia, still struggling to get by. "I'd take an extra job whenever I could, but things were tight," he says. "Basically everything I owned was in my car."
But once he was accepted to dental school, he knew he had succeeded in forging his own destiny.
And whatever concerns Hall had about falling short in dental school have proved utterly unfounded. As he completed his second year of dental school this spring, he was not only excelling, he had been named national president of the Student Professionalism and Ethics Association.
"I served as chapter president, then was elected the national president," says Hall.
The association sponsors lectures, workshops, discussions and other activities to impress upon dental students the importance of an ethical practice and increase the culture of ethics and professionalism in dentistry overall.
Hall grants that it's no small task to squeeze in such a weighty task amid the rigors of dental school, but he's determined not to let a single opportunity pass him by. "Dental school is like nothing anyone can anticipate," he says. "It's more work than I ever imagined, but it's a very rewarding experience. It requires an extreme amount of commitment because what we're learning matters. It's a privilege to be a part of it."
His financial worries were largely alleviated as well, thanks to the scholarships that have largely funded his dental education.
Teeming To-Do List
As for finding the time to fit it all in, he says with a laugh, "I just don't sleep a lot. Some of my best work comes at 2 or 3 in the morning, when I'll find myself jotting down ideas. I'm very much a pen-and-paper kind of guy. My to-do list has five or six different headings, each with 40 or so different items."
He acknowledges that some parts of his life are on hold but insists he's happy to make the sacrifices. "My social life is almost nonexistent," he concedes. "I'm very, very focused on the future right now."
He's proud to say that his mother and sister are on the same page. "My mom and I actually went through school at the same time," he says. "She was always taking a class here and class there, but she finally moved to Athens to finish her degree and now has a master's in occupational therapy."
His sister is now a full-time student as well, having enrolled in the University of South Carolina after completing 10 years in the military.
Hall is eminently proud of his family and says the feelings are mutual. "They pretty much support anything I do," he says. "They trust me to make good choices."
And Michael never loses sight of the struggles that got him to this point. For instance, that car that contained his life possessions when he applied for dental school? "I still have it," he says. "It keeps me humble."
'The Reflection is Real'
After graduation, Hall hopes to specialize in oral and maxillofacial surgery, noting that his goal is "to provide more pro bono care than anyone else." He'll never forget dentists reaching out to him at one of the most vulnerable points in his life, and he's eager to pay it forward.
"I know what it's like when ends don't meet or the timing is bad for one reason or another," he says. "I've found myself in those circumstances, and I want to help others in the same situation."
But as difficult as his path has been, Hall insists he wouldn't change a thing. "The challenges in life are what taught me what I was really made of. They build character and help you understand what's important. In those moments, the reflection is very real. It's weird to say, but the hard times have been very motivating. They were just as much a part of the journey as the rest of it." n