An MCG Foundation gift means new scholarships to attract and keep diverse Georgia medical students.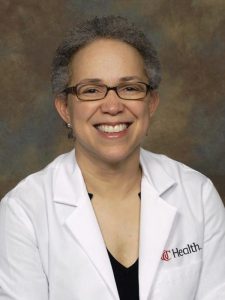 A $1 million gift from the MCG Foundation will establish new scholarships and further diversify the state's public medical school.
Announced at the Feb. 7 event celebrating the 50th anniversary of the desegregation of MCG, the gift establishes an endowment whose interest will create scholarship funding for students entering MCG as early as this fall. Those students would graduate exactly 50 years after the medical school's first two black students – Dr. Frank Rumph and the late Dr. John T. Harper Sr., who graduated in '71.
The hope is that the initial endowment will grow over time and help attract a more diverse student body at MCG that reflects the state it serves, said Ian Mercier, president and CEO of the MCG Foundation.
"The idea is to keep more and more of the best and brightest students in Georgia and at MCG," he said. "The school does a terrific job at recruiting applicants, and this scholarship, we hope, will make choosing MCG an easier decision."
That's a sentiment that's echoed by the scholarship's first donor, Dr. Nita Walker, an internist and 1988 graduate of MCG, who now serves as senior vice president for ambulatory services at UC Health in Cincinnati.
Even though she was admitted more than a decade after Rumph and Harper broke historic ground, the environment she found at the state's public medical school wasn't always the most hospitable.
"I would love to say that it was, but it was not, whether it was interactions with professors, other students or even patients," Walker said. "One of my memories as a student was a young woman – 12 years old – with leukemia, who commented to my resident team that she didn't want the colored girl, me, coming into her room on a daily basis. We had come far in the 1980s, but we hadn't come far enough."
When considering donating to a scholarship, it was important to Walker that her gift has an impact on further diversifying her alma mater.
"I hope that by having this scholarship, number one, you will be able to attract students who will stay in the state of Georgia," the native Augustan said. "I actually attended MCG on a Regents' Scholarship. I probably would have gone to Cornell had I not received a scholarship from MCG. That's why I returned home. Scholarships matter. They make a real difference in decisions for students to return to a place, come to a place or stay in a place where they otherwise would not."
It's also an important step in ensuring the best possible health care workforce, she said. "I think that the important thing is that in a state where African-Americans comprise 30 percent of the population, patients should have the option of finding providers that look like them," she said.
"It's very important that we have providers from a variety of backgrounds at the table where decisions are being made about patients. And that patients have the option to choose providers that are a better fit for them in terms of understanding where they are in their lives."