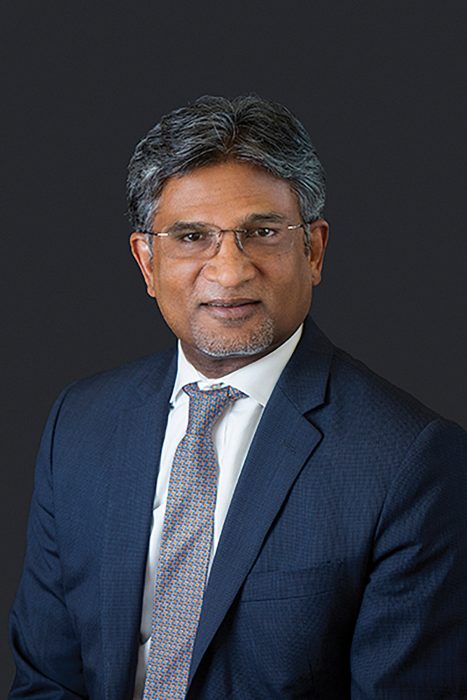 Jillella returns as J. Harold Harrison, MD, Chair for Medical Oncology
Dr. Anand P. Jillella returns to the Medical College of Georgia at Augusta University July 1 as the J. Harold Harrison, MD, Distinguished University Chair in Medical Oncology.
Jillella also has been named chief of the MCG Division of Hematology/Oncology and associate director of Medical Oncology Services at the Georgia Cancer Center. He will also direct ambulatory services for the cancer center.
Jillella is the founding director of the Georgia Cancer Center's adult stem cell and bone marrow transplant program and served as chief of the MCG Section of Hematology/Oncology from 2005-13, when he was named associate director for Community Affairs and Outreach at Winship Cancer Institute at Emory University. He also has served as medical director of the Winship Cancer Network, which brings clinical and population- based trials to communities throughout Georgia and the region.
"Dr. Jillella is a superb clinician and clinical researcher who is outstanding at outreach and networking with community oncologists," said Dr. David C. Hess, MCG dean and executive vice president for medical affairs and integration at Augusta University. "His patients love him, and he is widely respected by his colleagues."
Jillella is a member of the Eastern Cooperative Oncology Group Myeloma and Leukemia committees and the ECOG/ACRIN Advisory Board for National Cancer Institute Community Oncology Research Program centers. ECOG/ACRIN is a scientific organization that designs and conducts cancer research involving adults who have or are at risk of developing cancer. Jillella is a board member for the Georgia Center for Oncology Research and Education and an editorial board member of the Journal of Hematology and Thromboembolic Diseases.
"The MCG Foundation and Harrison family are proud to be a part of the recruitment of Dr. Jillella, and join Dr. [Brooks] Keel and Dr. Hess in supporting his appointment as a Harrison Chair," said Ian Mercier, president and CEO of the MCG Foundation. "This chair is meant to encourage the recipient to exhibit leadership and mentorship, two traits we believe Dr. Jillella consistently demonstrates."
Jillella's current research, funded by the Leukemia & Lymphoma Society, is a novel induction therapy for acute promyelocytic leukemia, a cancer of the white blood cells, which dramatically reduces mortality rates and starts as a national ECOG/ACRIN clinical trial July 1. His clinical focus is bone marrow transplantation for leukemia, multiple myeloma and other blood-related malignancies.
Jillella is a graduate of Government Medical College in Kurnool, India, completed an internal medicine residency at MCG and AU Health, including a year as chief resident, followed by a hematology-oncology fellowship at Yale University School of Medicine and bone marrow transplant training at Johns Hopkins Oncology Center.
The Harrison Distinguished University Chair in Medical Oncology is one of 10 endowed chairs being established at Georgia's public medical school through a $66 million gift by the late, renowned vascular surgeon and 1948 MCG graduate and his wife, Sue.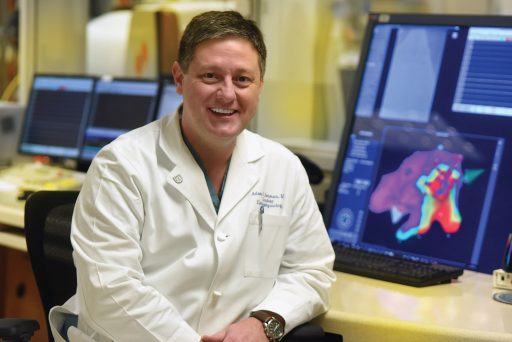 Berman selected chief of cardiology
Dr. Adam E. Berman, director of Cardiac Arrhythmia Services at the Medical College of Georgia and Augusta University Health, is the new chief of the Division of Cardiology in the MCG Department of Medicine.
Berman, an electrophysiologist and researcher investigating better ways to treat debilitating and potentially deadly heart rhythms, also is associate program director of the Clinical Cardiac Electrophysiology Fellowship at MCG and AU Health. He joined the MCG faculty a decade ago.
Berman, a 1998 graduate of the University of Mississippi School of Medicine, completed an internal medicine residency at Georgetown University Medical Center in Washington, D.C., and a cardiology fellowship in adult cardiovascular diseases at the Ochsner Clinic Foundation in New Orleans, including a year as chief cardiology fellow, and an advanced fellowship in clinical cardiac electrophysiology at Duke University Medical Center.
Last year he earned a master of public health degree with a health management concentration from AU and is currently pursuing a master of science degree in health economics, outcomes and management in cardiovascular sciences from the London School of Economics and Political Science.
At MCG and AU Health, Berman helped develop and launch a comprehensive cardiac arrhythmia catheter ablation program and Georgia's first multidisciplinary atrial fibrillation ablation program in concert with cardiothoracic surgery. He serves as a clinical proctor for physician training in stereotactic catheter ablation throughout the United States and Asia.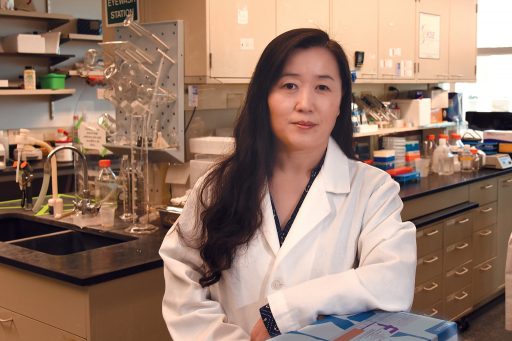 Neuroscientist exploring the therapeutic potential of fat-derived hormones in depression, PTSD is new GRA Eminent Scholar
Dr. Xin-Yun Lu, an established investigator pursuing the potential of two fat-cell derived hormones as novel therapies for depression and PTSD, has been named professor in the Department of Neuroscience and Regenerative Medicine at the Medical College of Georgia at Augusta University and Georgia Research Alliance Eminent Scholar in Translational Neuroscience.
Lu, a pharmacologist, molecular behavioral neuroscientist and professor at the School of Medicine of the University of Texas Health Science Center at San Antonio, started at MCG June 1.
"Dr. Lu brings to MCG and AU not only her exciting studies on novel therapeutic approaches for common and potentially disabling mental disorders, but new directions for a variety of major disease states – from diabetes to cancer – in which leptin and adiponectin appear to be a common denominator," said Dr. Lin Mei, chairman of the MCG Department of Neuroscience and Regenerative Medicine and Georgia Research Alliance Eminent Scholar in Neuroscience.
"There is no doubt Dr. Lu will be a great collaborator in MCG's fight on many fronts against diseases that impact the well-being of our state and nation," said Dr. David C. Hess, dean of MCG and executive vice president for medical affairs and integration at AU. "We very much appreciate the partnership of the GRA in bringing her to MCG and to the GRA Eminent Scholar Academy."
For 26 years, the Georgia Research Alliance has built greater collaboration among the state's research-intensive universities to expand scientific discovery and launch new companies in Georgia. In fiscal year 2016, the GRA Eminent Scholar Academy was responsible for bringing in $527 million in competitive research grants and the scholars employed more than 1,250 in their labs.
"GRA is proud to welcome Dr. Lu to the GRA Academy and believe she will be an excellent addition to our Neuroscience and Regenerative Medicine communities," said Michael Cassidy, president and chief executive officer of the Georgia Research Alliance. "Her innovative research has the potential to pave the way for new treatments for mood disorders, depression and PTSD."
Lu's research focus includes adiponectin, a signaling hormone made by fat cells and secreted into the bloodstream that helps regulate glucose levels by increasing the breakdown of fatty acids, which reduces insulin resistance. Low adiponectin levels are associated with diabetes, obesity, cardiovascular disease and cancer.
Lu has established connections between low levels of the hormone and depression as well as PTSD, and identified adiponectin as a therapeutic target for both. Additionally, Lu studies the satiety hormone leptin, also secreted by fat cells, that appears to also impact emotion. Her scientific team has evidence in an animal model that chronic stress raises levels of stress hormones and decreases leptin levels. Her research suggests that giving leptin has a similar effect as an antidepressant.
Lu's work is currently supported by three grants from the National Institutes of Health; she has been consistently funded by the NIH for more than a decade and is corresponding or first author on nearly 40 peer-reviewed journal articles. She is a regular member of the NIH Neuroendocrinology, Neuroimmunology, Rhythms and Sleep Study section. She is founder and visiting professor of the Institute for Metabolic & Neuropsychiatric Disorders at her medical school alma mater in China.
Lu is guest associate editor of PLOS Genetics, academic editor of PLOS ONE and guest field editor for the International Journal of Neuropsychopharmacology. Lu's honors include an Independent Investigator Award from the National Alliance for Research on Schizophrenia and Depression. She is an avid educator and mentor for graduate students and postdoctoral fellows.
She earned a medical degree from Binzhou Medical College in China; a doctorate in pharmacology from Washington State University and completed a postdoctoral fellowship at the Mental Health Research Institute of the University of Michigan Medical School in Ann Arbor. She joined the University of Texas faculty and moved to San Antonio in 2003.