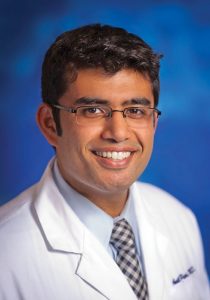 Dr. Anil Puri ('05) says the Medical College of Georgia made him who he is today.
"Who else would I be without my [medical] degree?" Puri, a Milledgeville internist, says. "What would I be without my education? It helps me serve the purpose of what I think I've been put on this earth to do, which is to try to help people."
Puri came to MCG in 2001 after completing his undergraduate degree at Emory University. He says, like many of his former classmates do, that the first two years of medical school were intense. Comprised then of mostly basic science curriculum and little exposure to any sort of clinical environment or training – outside of a course in the essentials of clinical medicine – long days in the classroom were followed by what seemed like an endless search for somewhere to study.
"When we were in school, we were hunting around for some place to go study that wasn't the library," he says, laughing.
Puri always knew he wanted to give back to his alma mater and to generations of medical students to come. His resolve to give back was solidified after a tour of MCG's new academic home during Alumni Weekend. He says the building is brick-and-mortar proof of the investment MCG is continuing to make in state-of-the-art medical education, which now includes early exposure to clinical environments through the building's simulation lab and standardized patient training areas.
"The building is incredible. That's the kind of thing that makes me want to give," he says. "Even though I graduated in 2005, it was just a different time. When I saw the new building, I was envious. I wanted to put [my donation] into something for students."
Puri, who is board-certified in pulmonary, critical care and sleep medicine and practices with his father Dr. Ram Puri, has donated $100,000 to name a learning community in the J. Harold Harrison, M.D. Education Commons. The communities are small apartment-style study areas that are assigned to a group of students and serve as a place to study and, often, to simply relax.
"Anything that boosts a student's morale during the tough days of medical school is something I'm happy to support," he says.