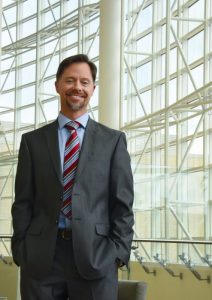 Like so many of you, an innate desire to serve others is what drove me to practice medicine. The ability to interact with people on a daily basis and make them feel better – sometimes by just simply sitting down and talking with and listening to them – is something I have been privileged to do since my graduation from the Medical College of Georgia in 1999.
I am grateful to be able to practice internal medicine in Hiram, Georgia, a growing bedroom community of Atlanta that was once largely rural and still has a large underserved population. In this community, there is a significant shortage of primary care physicians, and diseases like chronic obstructive pulmonary disease, lung cancer, coronary disease and diabetes are rampant. Because the need is so great, many of my patients are happy just to be able to see a physician. I consider it an honor to be able to care for them.
I owe that ability to MCG, and that is why I consider it my duty to give back to my alma mater. It is a true privilege to represent MCG and you, my fellow graduates of MCG, as alumni association president. My paramount goal is to help maintain the traditions and legacy of our alma mater.
So much of that legacy is tied to you, our many distinguished alumni, and your amazing accomplishments, some of which you can read about in the pages of this magazine. They are people like Dr. Ronald Stephens ('90) who was recently promoted to brigadier general and top Army medical officer at Joint Base Lewis-McChord in Washington. Like Dr. Allen Coffman ('99) who was named Pediatrician of the Year by the Tennessee chapter of the American Academy of Pediatrics. And like Dr. Steven Walsh ('82) who was recently sworn into office as president of the Medical Association of Georgia.
Of course, maintaining the legacy of MCG also means investing in the next generation of physicians, which is why, each year, we proudly sponsor a reception to welcome first-year students and the annual Hooding Ceremony to celebrate our newest fellow alumni, among other events.
Like you, the amazing education I received from MCG has afforded me the opportunity to do what I love every single day. Please join me in returning the favor by giving back to the medical school that gave us that opportunity.
And if you haven't already made plans to, I hope you'll join me in Augusta for Alumni Weekend 2017 on April 28-30 to reconnect with your classmates and your medical school.
Dr. David Gose ('99)