From Summerville to the medical college to the medical center, Dr. Philip Coule knows the place inside and out
You don't have to know much about Augusta to know that accidents on I-20 are almost always bad, and this one — the one young Philip Coule encountered on the way home from church — was certainly no exception.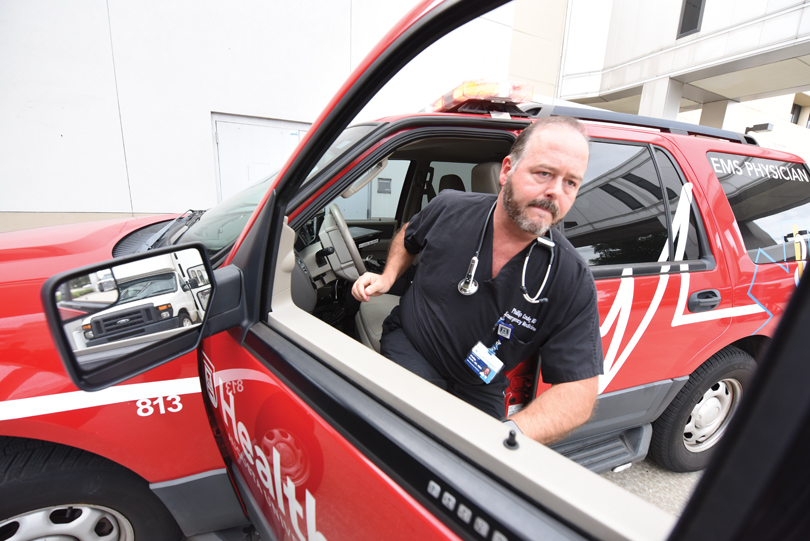 The thing about it was, he'd kind of felt prepared for such a thing. Not that he wanted to come across a wrecked car on the side of the road, but as a Boy Scout, he lived the "be prepared" motto and he'd done the first aid training, so when he saw the wreck and jumped out of the car to help, he knew that he at least had that in his back pocket. How to stop the bleeding. How to perform CPR. How to immobilize a fracture.
What he didn't know how to do was get into the car.
Peering inside, he could tell the man behind the wheel was unconscious, but the doors were locked, the windows were up and right then all that training meant nothing. Right then, the confidence that comes from preparedness simply dissolved.
These were pre-cellphone days, so the sense of isolation was more acute, as was the sense of responsibility. That's one of the things you forget about nowadays. Now, when help is just about always an immediate cellphone call away, there's a feeling that the problems we encounter don't necessarily stop with us, that our obligation only really exists until we can pass it on to the next person in the bucket brigade of problem solvers. But back then? There on the side of the road, there was no shared responsibility. The problem — and it was definitely a problem — was his until someone could drive off, find a phone and dial 911.
Fortunately for all involved, he didn't have to wait that long. Help arrived in the form of a McDuffie County EMS unit on its way back from dropping off a patient in Augusta. Seeing the accident and the commotion on the side of the road, it flipped on its lights and pulled over to help.
Flooded with relief, Philip ran up to the truck and met the driver before she had a chance to step down, and it all came rushing out — what was in the car, what he couldn't do.
"It's OK, honey," she said, calmly heading to the car. "We're here now. We're going to take care of it."
He was awed. How could she be so calm in the midst of all the chaos and uncertainty? How could she be so confident, so self-assured, when so much was on the line?
Calmed and relieved of responsibility, he followed along and watched. Watched as she pulled out a center punch and took the window down. Watched as she calmly opened the door. Watched as she started taking care of the unconscious man who had just a moment ago seemed so far away.
"I watched that and I thought, 'Dang — I want to do that,'" Dr. Philip Coule (BS '92, MD '96) said.
And so he did.
• • •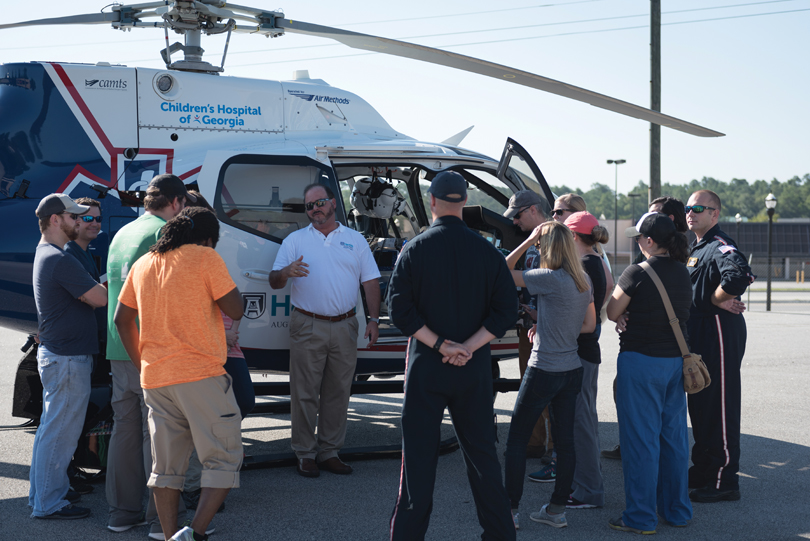 The son of a civilian medical photographer at Fort Gordon, Coule had always been around medicine in some form or another. During the summer when the rest of his friends were playing ball or angling for a trip to the lake, Coule was volunteering at Eisenhower Army Medical Center, something he took so seriously, so much like a job, that people thought he was an adult with a medical condition that had stunted his growth, sort of a Doogie Howser in reverse.
He saw his first autopsy at 13.
So with the life-changing accident behind him, it only made sense that he'd go to EMT school while we was in high school, just as it only made sense for him to start working as an EMT just days after his high school graduation.
It wasn't just part of his innate interest and drive. These were the days before the HOPE scholarship, and while his dad was always employed, his family's heart was often bigger than its pocketbook. If he was going to go to college, it would be up to him to pay for it.
So the plan — the first plan — was to work as an EMT to help pay for school, and with the aid of a scholarship, he was able to start off doing exactly that, spending his freshman year at Mercer University. But the next year, when his tuition went up and his scholarship didn't, he found himself back in Augusta as a full time student at Augusta College. And to make that work, he began working full-time as an EMT.
Back then, working full time as an EMT meant putting in 60-hour workweeks.
"We did two 24s and a 12 in a week," he says. "But because of the way my school schedule worked out, I was literally working seven days a week."
Sixty hours a week didn't mean he was earning 60 hours of pay, however. While he was required to be at the station for the full time, unless he was on a call, he was off the clock after 11 p.m.
And if that schedule weren't grueling enough, he decided to start a business as well. Though it seems crazy looking back on it, he says it just made sense at the time — another example of what can happen at the intersection of drive and practicality. He was already doing CPR training and first aid training, after all, so he figured he might as well get paid for it.
That led to selling medical supplies, something that also seemed to make sense.
"I would be training people to use these CPR masks, and they would always ask me where they could buy them, so I was like, 'Why don't I sell them to you while I'm doing it?'"
Eventually, what also made sense was to sell equipment to the ambulance services. As an EMT, he had instant credibility in spite of his youth, and soon he was supplying the Atlanta Fire Department, the Georgia Dome and even the Medical College of Georgia.
Businessman, student, EMT. You'd think that would be enough for anyone, let alone a twentysomething, but Coule had been holding tight to a secret that would soon make his life even busier.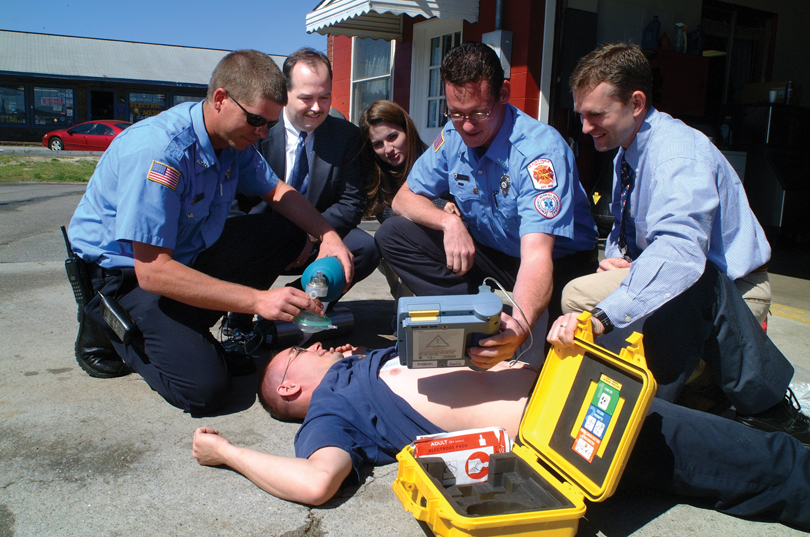 • • •
Sitting in his office now, as the interim chief medical officer of Augusta University Health and the associate dean for clinical affairs at the Medical College of Georgia, Coule is relaxed and patient, which stands in stark contrast to his busy schedule. As he talks, his smartwatch keeps flashing to the point where you think — now here's a guy who might actually need a smartwatch — yet he remains upbeat and personable. If the past has taught us anything, it's that he knows how to juggle multiple obligations.
As interim chief medical officer, he is responsible for ensuring patients system-wide receive the best care possible. That means every encounter in the ambulatory system, which is about 1,600 a day.
"Despite the fact that we have an excellent leadership team, I still feel the weight of the whole health system on my shoulders — every patient, every encounter, every time trying to make sure we get it right," he says. "And I love the fact that it looks like everything is moving in the right direction. We've got AU Health-branded helicopter service, we've got AU Health-branded ambulances. AU Health EMS system is starting up in the fall. It just feels like everything is moving in the right direction."
But how did he get here? How did he go from an ambitious EMT to the big office at the medical center where he used to deliver patients?
It comes down to that secret.
Back when he was an EMT and running his company and going to school full time — actually going as far back as when he first began bringing patients to the Emergency Department — Coule knew he wanted to go to medical school. That certain something that had impressed him on the side of the road lived there in the Emergency Department, too. He'd bring in a patient, and he'd be sweating and frazzled — more in control than young Philip on the side of the road, but still keenly feeling the urgency of having a problem larger than himself — and he'd encounter the same confidence with the Emergency Department doctors that he'd met with that first EMT.
"It's OK," they'd say, taking over. "I've got this."
He kept the secret close to the vest, however, because in the EMT world, going to medical school is a little like going to the dark side. But quietly he planned and prepared, applied and was accepted. Then one day, before he'd told anyone other than the girl he would eventually marry about being accepted, he was dropping off a trauma patient at what would become Augusta University Medical Center's Emergency Department when the attending physician stopped him.
"Hey Phil," he said. "Congratulations."
"On?"
"You know — getting into medical school."
"What?" said the partner.
As it turns out, a patient he'd picked up a few months earlier — a particularly complex case where Coule did some extra work that ended up providing key information helping the eventual diagnosis — just happened to be the physician's father-in-law. The physician had been so impressed that an EMT had gone the extra mile and provided that information that he'd pulled the chart to write him a thank-you note … at the same time Coule's medical school application came across his desk. So he matched up the two, and as you might expect, Coule got his acceptance.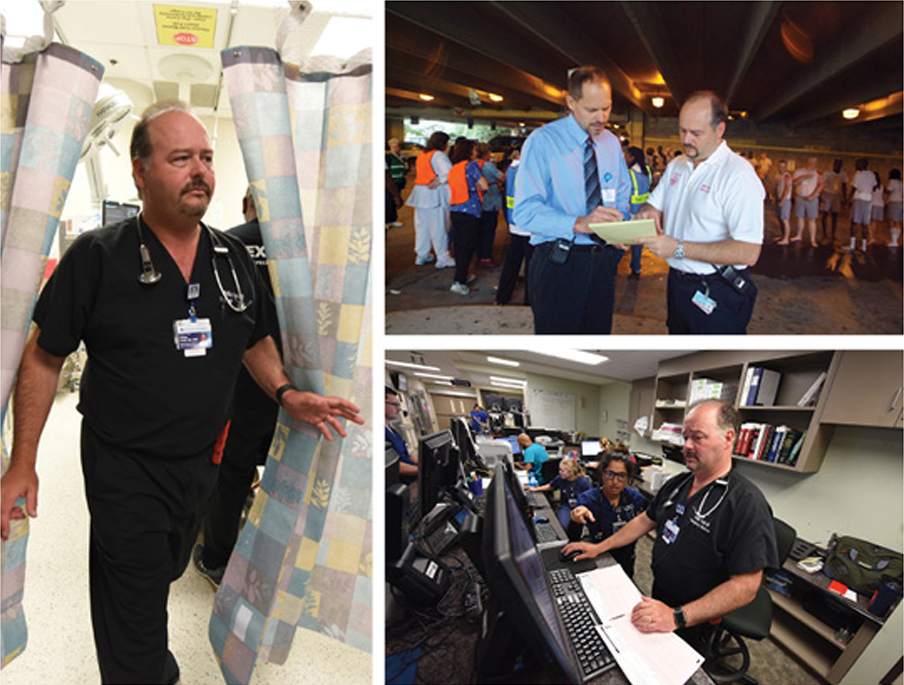 Although he now oversees all aspects of patient care for AU Health, he's never far from his EMT roots.
"You can take the dog out of the firehouse," he says, "but you can't take the firehouse out of the dog."
He stayed here for his residency in emergency medicine and started developing the EMS program, which was almost nonexistent at the time. Along the way, he became associate director of the Center for Operational Medicine, vice chairman in Emergency Medicine and, until recently, medical director for the fire department.
And that girl he married? The one he told about getting into medical school when no one else knew? She ended up being Dr. Lynne Coule (MD '90), an assistant professor in the Department of Emergency Medicine and Hospitalist Services and an emergency medicine physician in Pediatrics. They met in the Emergency Department when he was still an EMT, and just like Coule, she's made Augusta University her home.
And now, when things get tough, he's often the public face of the medical center. Like during Masters Week 2018, when a bus loaded with golf patrons overturned on I-20, sending the injured to the Emergency Department. There was Coule out on Harper Street talking to the media. He didn't put it in so many words, but he didn't have to. We've got this, is what he was saying.
"Seven trauma patients, 10 trauma patients — that's just a bad morning," he says. "Sometimes, that's what happens before your first cup of coffee."
He is in the rare position of having spent his entire career at one system — moving from Summerville to the medical college to the medical center — and has never looked back.
"There are two ways of looking at that," he says. "One is that this is a great place and I don't want to leave it. And though some would say I'm inbred, I prefer to look at it from the perspective that the people who knew me were willing to keep me on."
With such a deep connection, Coule is excited for the future, not just for the hospital and health system, but for the school that created him, particularly the growth in cyber that's so tangibly intertwined with the Health Sciences.
"I'm incredibly proud of the university and where it's going," he says. "The energy and the synergy between the undergraduate campus and the Health Sciences Campus is particularly exciting, and I'm proud to be a part of it in whatever role I have."