Outgoing Hinman president prevails through challenges
Dr. Kathleen (Kate) Robinson has logged countless hours treating dental patients in her office at Vassey Dental Partners in Peachtree City, Georgia, all of which she has thoroughly enjoyed.
But it's her hundreds of volunteer hours in the community that epitomize what dentistry is all about, in her estimation. "Everybody has a responsibility to take care of people who are less fortunate," says Robinson, who earned her DCG degree in 1990. "It's so heartening to volunteer alongside colleagues who are doing the right thing, and are happy and enthusiastic to do it. I don't think there are many professions that have such a strong sense of giving."
Robinson, who recently completed her tenure as president of the Thomas P. Hinman Dental Society, has immersed herself so thoroughly in dentistry — as a family practitioner, a tireless volunteer and an active participant in organized dentistry — that it seems she was practically born to the role.
And by all appearances, she was. Robinson grew up in Bismarck, North Dakota, where her father, grandfather and uncle all practiced dentistry. But she never felt any pressure to follow in their footsteps. Her dad wanted her to chart her own path. All she knew for sure was that she wanted to serve others.
She was 10 when her father moved the family to the Atlanta area so he could serve on the Emory University faculty, and she'd already begun warming to the idea of a dental career — but as a hygienist, not a dentist. She liked the thought of spending lots of time with people, meeting their needs, easing their anxieties and forming rich relationships. She continued to excel in academics, though she acknowledges with a chuckle that her fifth-grade teacher's Southern accent, which sounded like a foreign language to the transplanted Northerner, caused her grades to momentarily slip. Robinson laughs that the culture shock was a two-way street. "A classmate I met my first day in the new school went home that day telling her mom, 'I met the nicest girl! I think she's from Germany.'"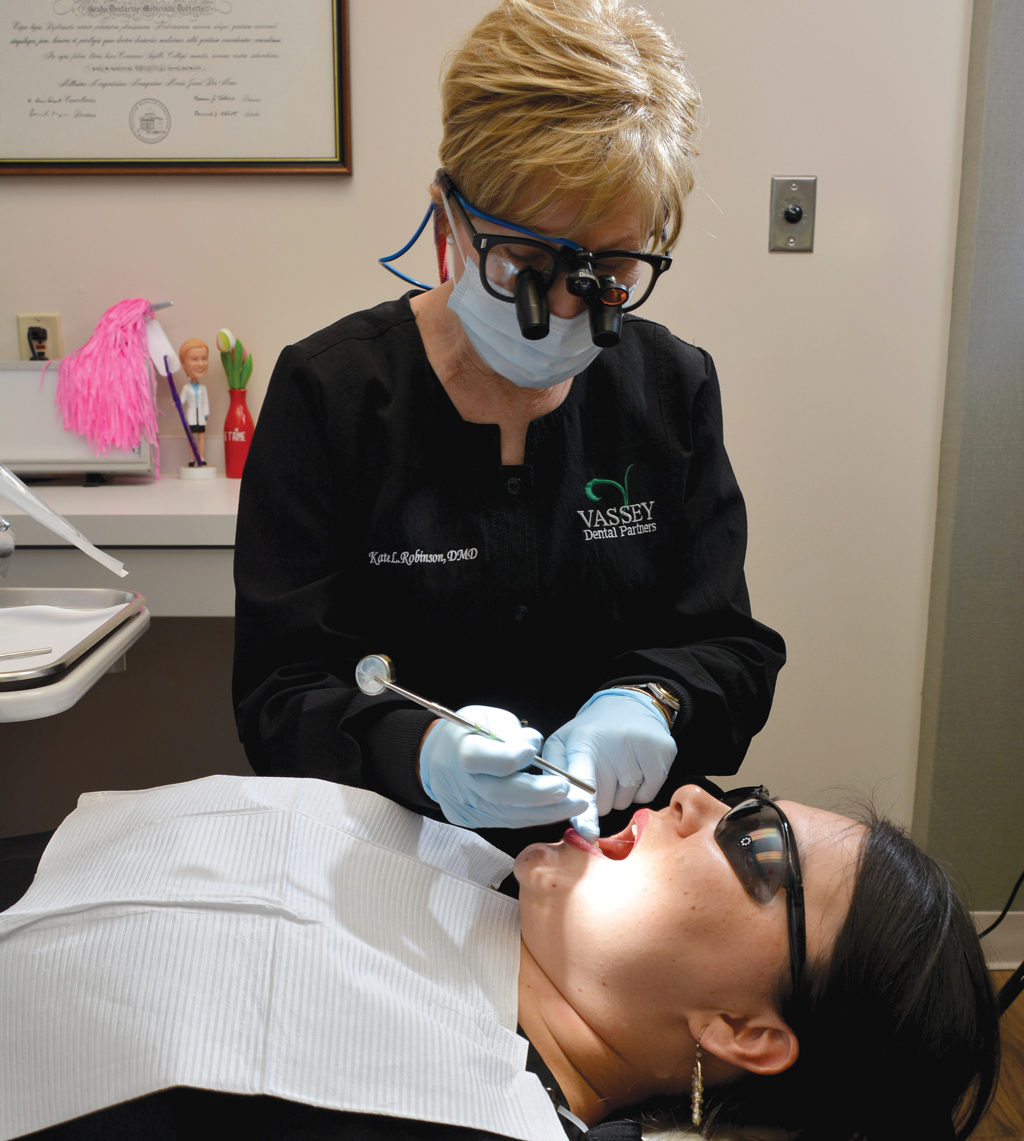 The "language" barrier notwithstanding, it wasn't long before Robinson made herself at home and resumed mapping out her future. The older she got, the more comfortable she became with her initial instinct: She wanted to be a dental hygienist.
In 1981, she she earned her dental hygiene degree from the Medical College of Georgia School of Allied Health Sciences (now the Augusta University College of Allied Health Sciences), then returned to Atlanta. She joined the practice of Dr. Marian Sprinkle Graves, a 1942 graduate of the Emory University School of Dentistry who went on to become one of the first female dentists to practice in Atlanta.
Robinson worked there for five years and loved it just as she expected to, but her mentor saw early on that her hygienist had much more to offer.
"Dr. Sprinkle kept saying over and over again, 'Kate, you should go to dental school. You'd be a great dentist,'" Robinson recalls. "Patients were like family to her, and she took her time and enjoyed them. It wasn't this ginormous business. I finally listened to her. She's the role model who convinced me I would be happy as a dentist."
Robinson, who by this point had married her college sweetheart (Dr. Robert Robinson, a 1981 DCG alumnus), applied to the DCG. She was accepted, then spent the next four years commuting from Atlanta, making the trek home every weekend. "We didn't have kids yet, so it worked out fine," she says. "Dental school was hard, but with my experience as a dental hygienist, the terminology was familiar to me and I knew I was good with my hands. The clinical part came very easily to me."
Luckily, she was also accustomed to a demanding daily routine. "I look back on it, and it was like a job — classes all morning, then labs or clinics all afternoon — but I loved the camaraderie with my classmates," Robinson says. "And I really appreciated the faculty. Having been in the work force for several years, I saw that they were just doing their jobs and helping make sure I was well-prepared when I started my career."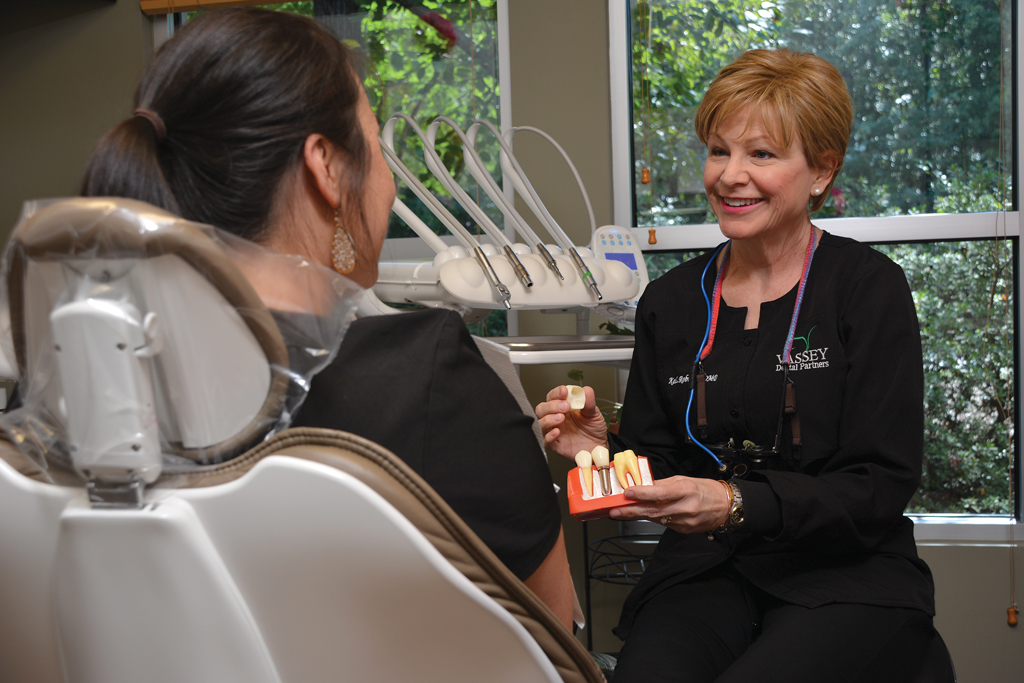 And well-prepared she was. After earning her dental degree, she joined Vassey Dental Partners and has been there ever since. "I always wanted to strive to be the best I could be," she says. "I knew right off the bat that wanted to take care of my patients from every aspect, not just giving them a filling or a crown, but taking care of their emotional well-being and being as caring as I could be. I wasn't super-confident at first. But the longer I practiced, the more my confidence grew."
And she's enjoyed being a perpetual student. Today, most of her partners are DCG alumni, and she says they learn from each other every day. "It's like the dental school camaraderie all over again," she says cheerfully. "We're all on the same page philosophically, and I'm sure our DCG training is a big part of that. We all help each other, and even though I'm the oldest, I learn just as much from them as I would from a senior partner. Dentistry changes so much, so the younger graduates have a leg up in some ways."
And they all keep each other on their toes, she stresses. "One of the biggest advantages of being in a group practice is that we see each other's work day in and day out, and we are better dentists for it," Robinson says. "I don't want my partners to see something that isn't up to snuff. I want them to hold my work in high regard, and we all feel that way. And if we have a problem, we ask each other for help. Along with the basics, we all have different areas of emphasis: orthodontia, surgery, dentures, crowns, botox . . . . We've got enough variety in our skill set that we can offer a wide range of services to our patients."
Those patients, she stresses, are an immeasurable source of joy. "There's always something fun going on in our practice," she says, "and we follow along with our patients' milestones. One of my families dates back to my hygiene days — four generations! And I've got lots of three-generation families. The relationships I've formed over the years, that's the precious part."
She learned just how durable those relationships are when she was diagnosed with stage two breast cancer last year. Robinson had a double mastectomy, followed by chemotherapy and radiation. "Since my diagnosis, the outpouring of love from my patients and colleagues has been overwhelming," she says. "I've received mountains of cards. Two flower arrangements are in my office right now. My patients are so kind and so dear. Whenever I feel like I need a pity party, I think of all the people cheering for me and praying for me."
Her family, including now-grown daughters Mary and Kimberly, have been by her side every step of the way as well. "A health scare makes you take a step back and realize there are more important things than your job," Robinson says. "Nothing is more important than the love we have for each other. That's what makes it worthwhile to get out of bed in the morning."
Her prognosis is excellent and her outlook characteristically sunny. "I think a cancer diagnosis is harder on your family than it is on you," she says. "We were stunned for a couple of weeks, but once I had a treatment plan in place and the shock wore off, we were okay. If I'm brave, my family is less worried, so that's really good motivation to stay brave. I truly feel this is just a little speed bump in the road of life."
And her diagnosis hasn't slowed her pace a bit. In addition to maintaining her practice and frequent volunteerism, Robinson recently completed her tenure as president of the Hinman Dental Society.
She is incredibly proud that the Hinman focus is, as it has always been, students. "Our revenue supports scholarships for dental students. I received some scholarship assistance in dental school, and I definitely needed it. I appreciated everything I received; I know what it's like to be a struggling dental student." (See page 34 for more information about the Hinman scholarships.)
The society emphasizes other forms of assistance as well. "We help students prepare to be business owners and entrepreneurs," she says. "We guide them toward the type of career that will make them the happiest. I think mentorship is an extremely important area of focus."
Robinson is a particular champion for her own practice model. "I'd like to see the continuing growth of group practices," she says. "Patients like the convenience of a one-stop shop. It's great not to have to refer them down the street."
Her involvement won't slow down just because her presidency has come to an end. She's been an active member for many years and anticipates many more to come. But she has her sights set on other interests as well. "My husband and I went shopping for a boat the other day, and we've talking about touring the country in an RV," Robinson says. "I want to take golf lessons and learn how to play the guitar. I love the thought of getting around to the things I put off earlier in my career. I realize life is finite, and I'm excited about everything the future has to offer."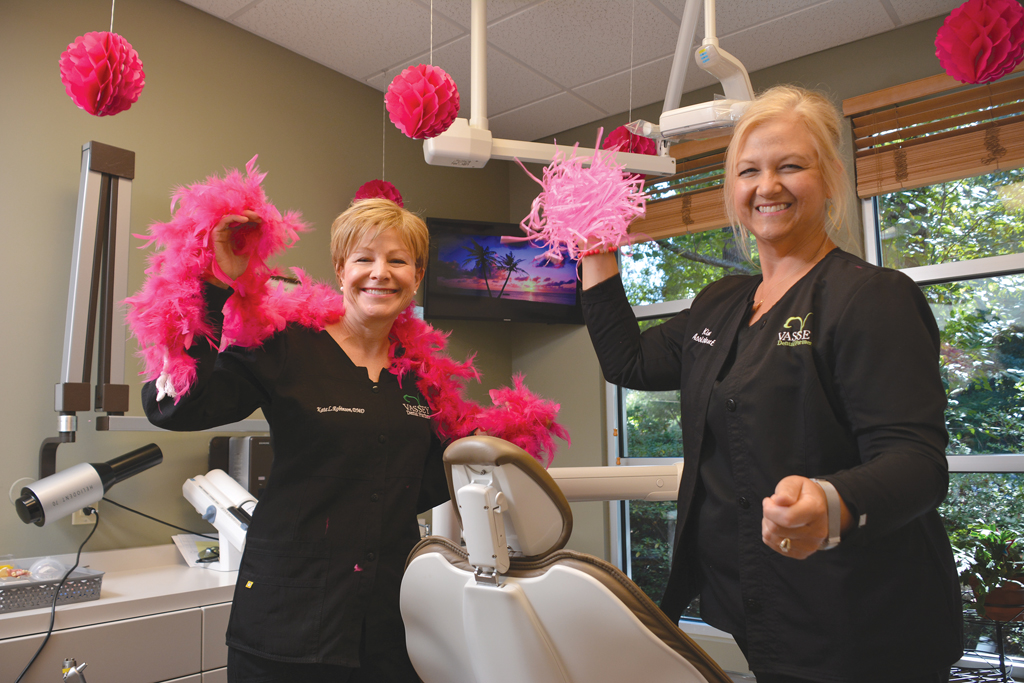 About the Hinman Dental Society
The Hinman Dental Society, a non-profit organization, is comprised of more than 850 member dentists primarily located in metropolitan Atlanta. Founded in 1911 by Thomas P. Hinman, the society is dedicated to the advancement of its membership through outstanding educational and professional development opportunities, as well as promoting the high practice standards of the field of dentistry through public advocacy and outreach. For more information, visit www.hinman.org.