While opportunity used to knock, now it mostly emails. So when Shannon Morris, gallery director for Augusta University's Mary S. Byrd Gallery of Art, noticed a message from the European Cultural Centre (ECC) in her inbox asking if she wanted to put forth an artist for an exhibition being held in conjunction with the famed Venice Biennale, in Venice, Italy, she knew it required investigation and follow-through. Investigation, because emailed opportunity taken on blind faith can quickly turn to folly, and follow-through because if legitimate, the chance to appear at Palazzo Bembo, a premier space on the Grand Canal during one of the world's most prestigious art events, represented a kind of Golden Ticket for the artist, the university and for Morris herself.
"For us in the visual arts, it doesn't get any bigger than the Venice Biennale," Morris says of the internationally recognized art event that brings over a half a million art lovers to Venice every two years.
Not only that, but the artist she had in mind — Cheryl Goldsleger — was perfect for the task. As the Morris Eminent Scholar, enhancing the university's reputation on the world stage is literally part of her job description. And Goldsleger's work, which explores space and our relationship to it, seemed tailor-made for an exhibition called Personal Structure: Identities.
So first Morris investigated, and when everything checked out, she followed through — with the ECC, with Goldsleger, with Scott Thorp, chair of the Department of Art and Design, and finally with Dr. Elna Green, dean of the Katherine Reece Pamplin College of Arts, Humanities, and Social Sciences — and they all agreed: It was an amazing opportunity. The only problem: The exhibition opened in six months, which in the art world is the proverbial blink of an eye.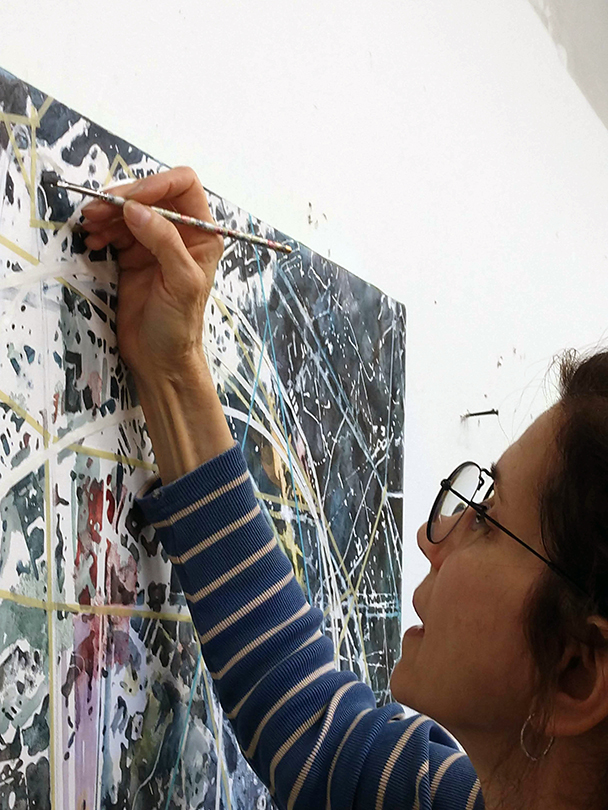 The Making of an Exhibition
According to Goldsleger, one of the advantages of being an artist at an academic institution is proximity to like-minded people who share the same experiences.
"In this department, I have 12 colleagues, so I have a built-in group of other artists that I can connect with and talk to," Goldsleger says. "There are always people who speak the same language."
One of those people speaking the same language is Morris, who not only crafted the proposal that got Goldsleger's work into the exhibition and wrote the catalog copy, but also hunkered down with the artist to figure out what spaces might work best in the venue, a majestic, multistory palazzo within sight of the Rialto Bridge. She also had the idea to blow up one of Goldsleger's drawings to serve as a wall covering behind the paintings. Goldsleger worked closely with colleague Kess Silva, professor of graphic design, who generously gave his time and expertise to transform the idea of her drawing as wallpaper into a reality.
"The layout of the space was very important to us because Cheryl had larger paintings, and we wanted to give them space," Morris says. "And I wanted to make it something more than just three paintings hanging on the wall."
For Thorp, that kind of specialized vision is important for the way viewers experience art at an exhibition like the one at Palazzo Bembo, which is really a large exhibition made up of smaller, individual exhibitions.
"To pull it off correctly is more difficult than one would think, and Shannon was pivotal in doing that," Thorp says.
For the wall covering behind the paintings, Morris commissioned a printer — a German printer — who took the image and made it into wallpaper. It was a subtle but necessary addition that Morris jokes took years off her life — not just because of the condensed timeframe, but also because she's hung enough exhibitions to know that nothing is ever level and that the space, while beautiful, was old … and in a building surrounded by water, which brings its own complications.
"It was very nerve-racking to have that done, and it was a very tight turnaround," she says. "Our wallpaper got on the last train to Venice."
And none of these worries took into account the paintings themselves. Of the three promised, only one was complete. And even the briefest glance at Goldsleger's work makes it clear that her art takes a lot of time to create.
"I was in my studio from 8 a.m. until midnight every day," Goldsleger says. "My husband, Larry Millard, was great. He brought dinner to the studio every night while I was painting. He was wonderful and very supportive."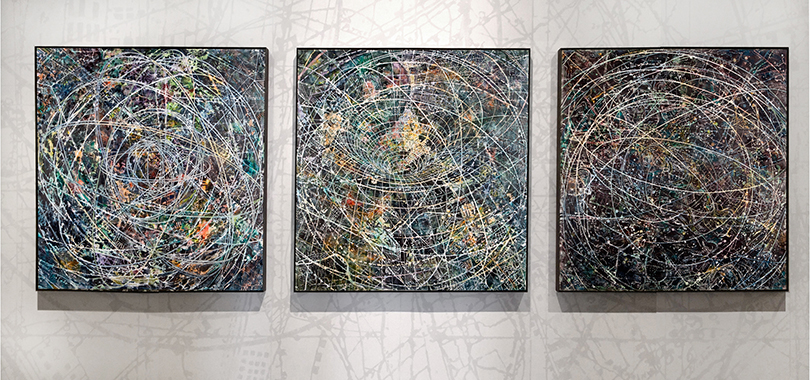 All very intricate and each requiring a long process of sketching and mapping out, one of the three proved particularly challenging. While the initial plan seemed solid, the more she worked, the more modifications seemed to be required. Wrestling with one particular element that just wasn't working, she fought and fought until she finally took that element out and — boom! — it all came together and the three paintings — Tenuous, Coalescence and Transient — were ready to be shipped, which was yet another hurdle to be cleared.
Boxing. Crating. Shipping. Clearing customs.
"We tried to surround ourselves with people who knew more than we do about certain things, because certainly I know how to coordinate a timeline and write an essay, but I'm not a graphic designer, and I'm not a printer," Morris says.
"It was a learning curve that had no curve in it — it went straight up," Goldsleger agrees. "I've shown internationally before but never had to do the shipping. Shannon really worked at getting that set up and arranged."
Portrait of an Artist
While getting invited to show during the Venice Biennale isn't, strictly speaking, part of the fine print that comes with being a Morris Eminent Scholar, bringing international attention to the university is.
When Goldsleger arrived at Augusta University, she found herself at a newly designated research university, and recognizing what a bridge art can be, she immediately made contact with Leonardo/The International Society for Arts, Sciences and Technology (Leonardo/ISAST) to host a Leonardo Art Science Evening Rendezvous (LASER) event. It not only brought the cultural director of the National Academy of Sciences to campus to speak about cultural programming within a science environment, it was a bold acknowledgment that the strange bedfellows created by the university's new identity weren't really so strange after all.
"I think the same sort of inventive quality is there in the thinking," she says. "There are these creative, imaginative leaps that have to happen. Artists go this way with it and scientists go that way with it."
And when you see her art, you're not surprised to hear her talk like that. Influenced by map imagery — she actually took a class in geographic information systems (GIS) to better understand the concepts — her work deals with how we feel in different spaces.
"There's a thread through my work, and it's always been about how we orient ourselves in space," she says. "At the beginning, it was very personal — an interior space, an individual's space — but as I've gotten older, my ideas have expanded, and I am thinking on a larger scale. It's our space."
Starting with interiors — an individual's space — she began by exploring different viewpoints and combining different perspective systems, eventually producing bigger, more complicated global spaces within her art.
"And as the imagery encompasses more space, my focus is on what do we know about the world and how do we put that together?" she says. "There's a layer that is topographic and organic, but then there's all of the manmade structures and infrastructure superimposed on top. It creates interesting juxtapositions."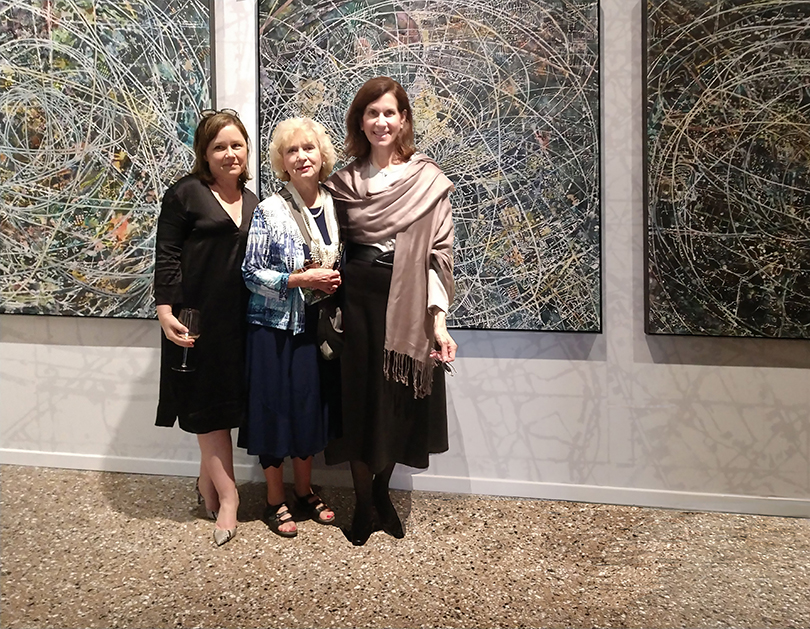 And now, she says, is an important moment for how we look at the world in terms of our man-made structures, immigration, ecology and all those other things that come into focus with a more global outlook.
It's a singular vision, but when it came time to join up with her paintings in Venice for the openings on May 9-10, Goldsleger wasn't alone. Thorp and Dean Elna Green felt so strongly about Morris' contributions that they sent her along as well.
Also accompanying the Augusta University delegation: the namesake of the university's art gallery, Mary S. Byrd.
A Place to Show and Grow
Mary Byrd had been funding annual scholarships for art students and music students since 1989, but in 2010, her name became attached to something far more public — the art gallery in Washington Hall on the Summerville Campus. And since then, Byrd has remained actively engaged with the Art Department as well as the gallery.
"We're lucky that our gallery is supported by Mary Byrd," Thorp says. "She loves having lunch with these students, and she comes to all of our events. She's far from a passive supporter, and she really loves the arts and education and students."
"I believe in art in school — in all grades — because it is important," Byrd says.
When she says this, she's sitting at one of the tall tables in the lobby of Washington Hall, nearly within reach of the multi-armed student sculpture guarding the entrance. "I tell people — and I keep telling myself — that art is not just a painting hanging on the wall; it can be anything your imagination tells you it is."
According to Goldsleger, the support Byrd has shown to the students and particularly the gallery has had a major influence on the program's reputation and, consequently, the school's.
"I feel like the gallery is one of the things that is the university's face," Goldsleger says. "Having a gallery on campus that shows vibrant, challenging art — that you can see in person and is curated by someone who is knowledgeable — is a real asset."
Thorp says Morris in particular has been very successful in leveraging the gallery to bring attention to the school and that the increased stature had a lot to do with winning the Ellsworth Kelly award, a $40,000 grant awarded from the Foundation for Contemporary Art. One of only 10 invited to apply for the grant, the Byrd Gallery beat out the other museums and galleries for the opportunity to exhibit the work of an emerging, mid-career or under-recognized artist. And the artist chosen to exhibit, Atlanta-based sculptor Bojana Ginn, seemed a particularly appropriate choice for a research university like Augusta University. Having received a medical degree from the University of Belgrade and with experience working in Emory University's biology department, Ginn's work combines natural fibers and contemporary technology to create a unique sensory experience.
"She's designing it specifically for the Byrd Gallery," Morris said before the Sept. 19 opening. "She'll create it on-site in the Byrd Gallery the Friday through the Wednesday before it opens."
It's the kind of thing that makes Byrd proud.
"The fact they won it from all those other galleries really puts the gallery's name out there," Byrd says. "The gallery, especially since Shannon has come, has really become known."
The Value of Venice
In the end, Goldsleger's paintings were finished and made it through customs; the last train to Venice brought the wallpaper; an airplane brought the Augusta University contingent to the city; and a boat ferried them to Palazzo Bembo in a scene so cinematic, it could have been lifted from a movie.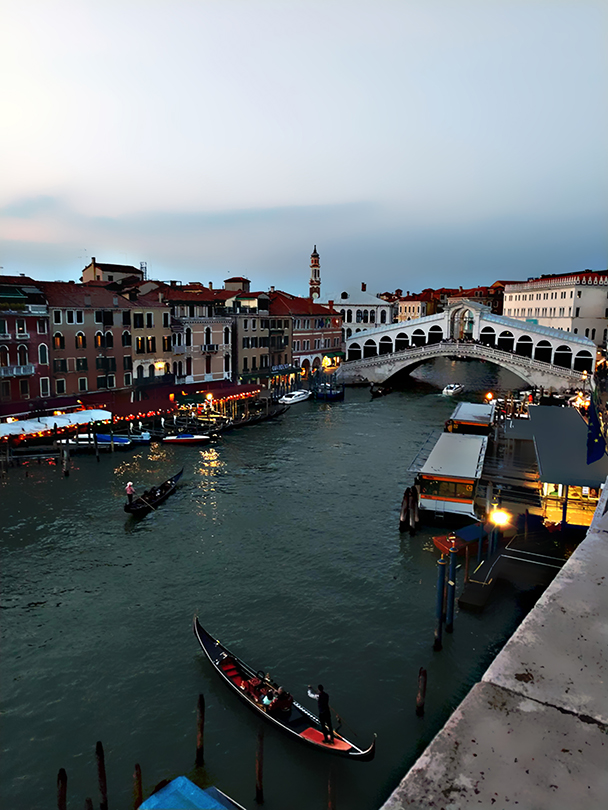 "It's Venice," Morris says, setting the scene. "There was lots of fog, and I was tired because we flew all night, but as we entered the main part of the city, through the area around the Grand Canal, and approached Palazzo Bembo — I think it was the most exhilarating moment of my life, other than my children being born and stuff like that. To see the banner where her work was going to be exhibited and to put it all in place contextually was like, 'OK — this is happening.'"
Inside the exhibition space, Byrd experienced a similar sensation.
"It was very crowded, and we just stood there and looked at those paintings, and they were what you'd call mesmerizing," she says.
For Goldsleger, who had visited the Biennale many times but never as an exhibiting artist, it represented a significant professional achievement.
"It was a dream come true. I met artists from China, Japan, Australia, all parts of Europe — everywhere," she says. "It's a completely different kind of exposure than anything I've ever done. A lot of curators, museum people, gallery owners and collectors come to Venice to see what's going on. My work was mentioned in a review in the Italian contemporary art magazine Juliet. Good career opportunities can develop from this kind of exposure. I've already received a couple of invitations to exhibit next year. I am very thankful to the university for its support of this opportunity and my work."
Morris says she's already been contacted by artists wanting to share their work with the Byrd Gallery and that she's in conversations with the European Cultural Centre about future collaborations.
These are exactly the kinds of benefits Thorp and the dean hoped to see from the participation and exactly the kind of impact the Morris Eminent Scholar position was created to make.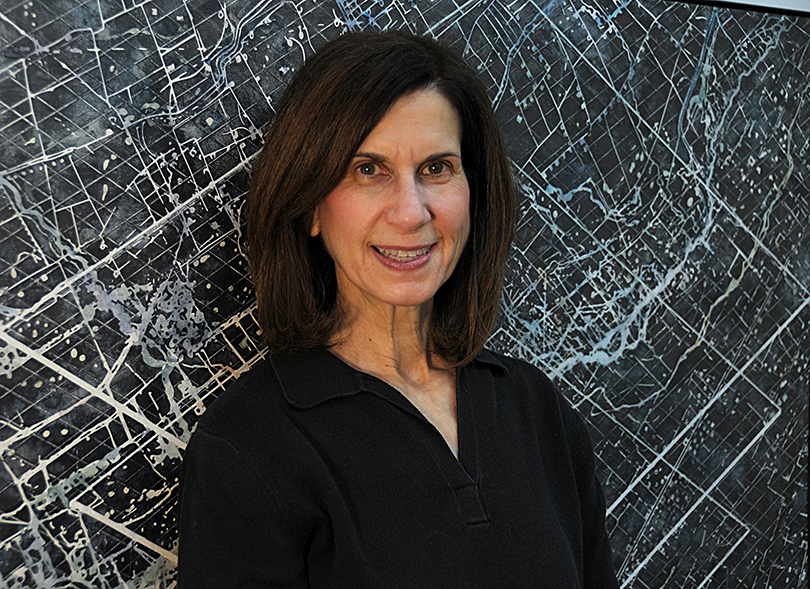 "It just automatically brings culture and professionalism and a broader network to our institution," Thorp says. "And having Cheryl exhibit over there — instantly, people are looking at our institution. And these are the best, most well-known artists, writers and critics."
All of which helps solidify the role of the department within the community.
"We want to be a place people can look to for support or direction," Thorp says. "We want to bring in national and international experts and be an intellectual hub for the community."
After Goldsleger's exhibition closes in November, it will return to be exhibited at the Morris Museum of Art in Augusta in the summer of 2020 before traveling to the Delaware Center for Contemporary Art in Wilmington.