Dr. Xin-Yun Lu
Chair
Neuroscience and Regenerative Medicine
She was a curious child, a voracious reader, the third of six children born to Fengying Zhang and Shunchun Lu in the Shandong Province, in eastern China on the Yellow Sea.
Dad was an engineer who built cooling systems in the capital city of Jinan, while mom stayed home to raise their many children. Like many families in her homeland, Dr. Xin-Yun Lu's large family lived with the grandparents until the end of the cultural revolution.
Her parents were supportive of whatever the children wanted to do with their lives, but one thing Lu's father definitely wanted his smart middle child to do was go to medical school. Lu was not yet sure what she wanted, so she went.
Medical school comes right after high school in China, so she was just 15 when she started at Binzhou Medical College. It's a five-year program with the last year a sort of general internship required to earn a medical degree. That's when Lu found herself really facing death for the first time. There was frankly not much that could be done for most patients, so much of the students' time was spent helping them and their families face death. It hit Lu hard and she soon realized that a better fit for her was trying to find more answers to disease.
She would enroll in the master's program in biochemistry at Zhanjiang Medical College then go to Beijing Medical University to work with Dr. Ji-Sheng Han, now director of the university's Neuroscience Research Institute. Han was already an internationally renowned neuroscientist in the area of drug addiction and pain research. His lab had collaborations with scientists in the United States and Lu had the chance to learn more about science and scientists there.
She would decide to come to the U.S. to earn her PhD at Washington State University, where she would hone her interest in drug discovery and neuroscience.
Great mentors
Lu understood then the importance of great mentors in becoming a great scientist, and at Washington State University, she had another one, Dr. Peter W. Kalivas, a renowned neuropharmacologist studying the neurobiological underpinnings of addiction, like Han, long before addiction was making daily headlines.
"When you work with someone, some things are learned and some things are influenced, like the passion of your teacher. He set a very good example of success," Lu says of Kalivas whose work has elucidated adaptations in the brain in response to repeated use of drugs like cocaine and amphetamines and paved the way for drugs like the over-the-counter antioxidant N-acetylcysteine, used for chronic respiratory problems, to be brought to clinical trials in addiction. He would become neuroscience chair at the Medical University of South Carolina for 21 years, chair the Scientific Advisory Board for medications development for the National Institute of Drug Abuse and serve as president of the American College of Neuropsychopharmacology.
In fact, this summer he was just stepping down as MUSC chair as Lu was stepping up as chair of the MCG Department of Neuroscience and Regenerative Medicine.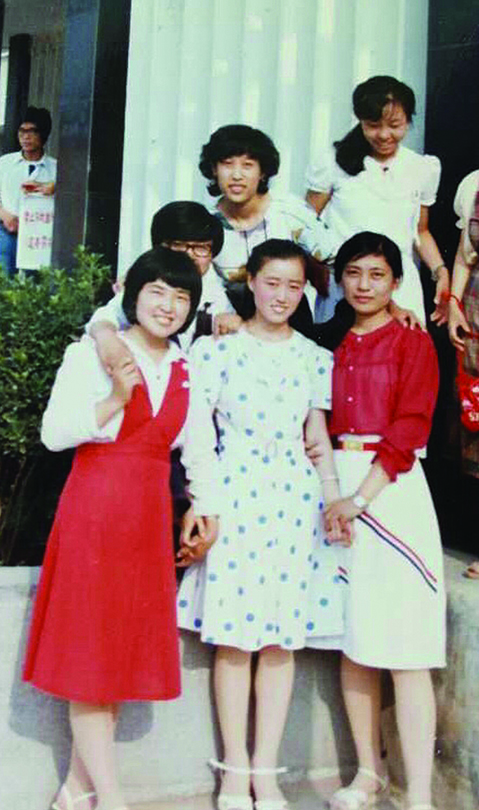 Taking on pervasive problems
Lu would pursue her postdoctoral fellowship at the University of Michigan Medical School's Mental Health Research Institute, join the faculty there, then move to the Department of Pharmacology at the University of Texas Health Science Center at San Antonio in 2003. She would remain in Texas until she joined the MCG faculty in early 2017 as a professor in the department she now leads and Georgia Research Alliance Eminent Scholar in Translational Neuroscience.
She had been rigorously recruited to the MCG neuroscience faculty by then neuroscience chair Dr. Lin Mei. She gave a research presentation at MCG in 2015, the next year she and Mei were reviewing grants at the same NIH study section and presenting at some of the same national symposiums. Mei liked her clearly relevant-to-humans, federally funded pursuits like how adiponectin, a signaling hormone made by fat cells and secreted into the bloodstream to help regulate glucose levels, might also improve some mental health problems. Low adiponectin levels are associated with diabetes, obesity, cardiovascular disease and cancer; and she has connected low levels to PTSD and depression and identified the hormone as a therapeutic target for both these pervasive mental health problems.
Lu also studies the infamous satiety hormone leptin, also secreted by fat cells presumably so we will stop eating so much, and has connected the dots that chronic stress — which can result in depression — increases levels of stress hormones, which decreases leptin levels, indicating that leptin could work as an antidepressant.
She recently reported how exciting the SIRT1 gene, which helps excite our excitatory neurons, in the prefrontal cortex — an area in our brain involved in complex behaviors like planning, personality and social behavior and known to play an important role in major depression — reduces classic symptoms of depression like social isolation and loss of interest, at least in male mice. It appears stress can reduce SIRT1 levels and cause depression and that drugs that increase SIRT1 can reverse symptoms of one of the most common mental disorders in the U.S.
Since coming to MCG, she has expanded her focus to also include Alzheimer's, exploring scenarios like whether our aging fat is part of the problem. Aging fat cells become less efficient at producing adiponectin, whose skill set also includes supporting the growth and survival of neurons and regulating their activity. There is evidence that adiponectin levels are low in Alzheimer's, and Lu wants to know whether that is a cause or a result of the disabling disease that is growing at a rate of epidemic proportions in our aging society.
She and Dr. Neal Weintraub, chief of the Division of Cardiology and Georgia Research Alliance Herbert S. Kupperman Eminent Scholar in Cardiovascular Medicine who is co-director of MCG's Vascular Biology Center, have just gotten a National Institutes of Health grant to look further at how our aging fat may accelerate brain aging. The investigators have early evidence that aging impacts levels of the protein-coding gene HDAC9 — known to suppress fat cell differentiation — by increasing expression in fat cells and decreasing expression in brain cells. Now they want to know more about HDAC9's impact in both key places.
Becoming department chair
Lu would join the MCG faculty two years ago to collaborate more directly with Mei, but would find other great colleagues as well.
Within days of her arrival at MCG, Mei would announce his plans to move to Case Western University, and she would become part of a rather frustrating search for a new chair. During that interval, she was recruited as a chair candidate elsewhere but MCG Dean David Hess, per his approachable style, also was coming to her about maybe stepping up here.
Lu sees at MCG the opportunity to build upon the solid base of faculty and grow in areas including Alzheimer's, depression, traumatic brain injury and stroke. The department also has a strong, parallel group, led by Dr. Carlos Isales, working in regenerative medicine, including keeping skeletal and muscle health solid as we age (MCG Medicine, Fall 2017/Winter 2018).
She is busy recruiting, and has already recruited
Dr. Lin Gan, who studies blindness and deafness and is an expert in the gene-editing technology CRISPR (see next page) and Dr. Yang Shi, a biostatistician with expertise mining and analyzing genomics data, who she wants to help develop expertise in neuroinformatics as well.
Snapshot: Dr. Xin-Yun Lu
Lu has been continuously funded by the NIH since 2006, and she has received $6 million in additional funding since she arrived at MCG. In addition to finding out more about the mechanisms of depression and Alzheimer's, she wants to identify and/or develop drugs based on those findings that will directly help patients with problems like depression.
She is a regular member of the NIH Neuroendocrinology, Neuroimmunology, Rhythms and Sleep Study Section and an elected member of the American College of Neuropsycho-pharmacology.
Lu's honors include an Independent Investigator Award from the National Alliance for Research on Schizophrenia and Depression.
She earned a medical degree from Binzhou Medical College in China in 1987; a doctorate in pharmacology from Washington State University in 1998 and completed a postdoctoral fellowship at the Mental Health Research Institute of the University of Michigan Medical School in Ann Arbor in 2001 and was a faculty member there for two years before moving to University of Texas Health Science Center at San Antonio.