As much as Dr. Bruce Riggs enjoys his lovingly restored cars, he relishes the story behind each one just as much.
There's the 1969 Jaguar XK-E, for instance, which was featured in the Justin Timberlake movie, "In Time."
Then there's the 1976 Triumph TR6, which was so clean "that you could turn it upside down and eat off it like a picnic table," Riggs say.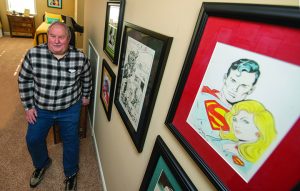 And there's the 1967 Triumph TR4A, which the previous owner would periodically paint a different color so he could present it to his wife as "new" each time.
"She eventually stopped falling for it, so it hadn't been driven in a while by the time I bought it," laughs Riggs, associate professor in the Department of Pediatric Dentistry. "It was totally rust-free. The history of a car is probably the most intriguing part of the purchase."
Riggs, who grew up in Flatwoods, Kentucky, would often attend car shows as a child with his father. "I spent all my spare time at the public library reading the latest copies of Road & Track, MotorTrend and Hot Rod magazines," he says. "That, along with being raised around mechanics and auto body specialists, definitely solidified my automobile education."
As much as his father encouraged the hobby, he counseled his son to pursue a professional career and retain his passion as a sideline.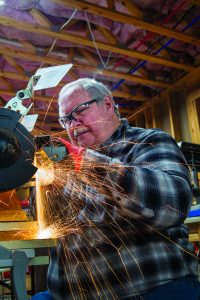 Riggs did just that, earning a dental degree from the University of Kentucky and an Advanced Dental Education in Pediatric Dentistry certificate from the University of Florida. He practiced in Marietta, Georgia, for 29 years before joining the DCG in 2014. Throughout his career, he has bought and restored dozens of old cars, usually reselling them once they meet his exacting standards. His favorites are ragtops.
He loves the similarities between his vocation and avocation. "Just like dentistry, restoring a car takes a lot of time and precision," he says. "You have to know how everything will fit together in the end."
Riggs also collects cartoon cels and restores advertising clocks. "I love anything old," he says. "You've heard of cleaning someone's clock? That's what I do."
His next car project is restoring a 1965 Porsche 356, and he hopes to enlarge his workspace soon. "My wife is tired of me taking up all the room in our house with my hobbies," he says with a chuckle.