As a member of DCG's inaugural class, Dr. T. Barrett Trotter ('73) has experienced many wonderful advancements in dentistry and dental education throughout his career.
"In addition to all of the technological innovations, another significant improvement is the availability of financial aid for DCG students," says Trotter, who completed both his dental education and orthodontics residency at DCG. "This need is ever-increasing since a dental education is among the most expensive of all professional educations."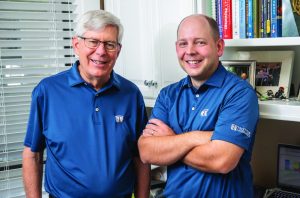 The state of Georgia has kept DCG tuition below the national average since the school's inception, "but in the early years, there were few if any scholarships available," says Trotter, who practices at Trotter Orthodontics in Augusta with his son, Paul ('10). Many of Trotter's classmates struggled to meet their financial obligations, and he knows that any aid is much needed and appreciated.
Trotter has made a gift to DCG as part of his estate-planning, knowing that the impact of every dollar donated will reap benefits far exceeding its original value. "Using retirement-plan funds avoids a significant tax liability, creating much more bang for the buck," he says. "My family and I have certainly been blessed in many ways, and we feel it's important and rewarding to express appreciation to the institution and profession that made it possible."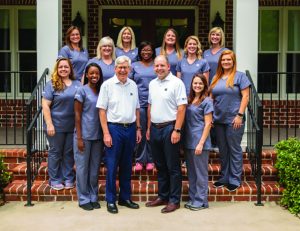 Trotter also feels that the recipients of the scholarships he supports will have an increased motivation as they progress in their careers to support the students who follow them.
"We want DCG to be able to recruit and enroll the best-qualified applicants who will then provide the best dental care for the citizens of Georgia," he says. "That's what it's really all about."
Trotter emphasized the ease and efficiency of including DCG in one's estate-planning, noting the expertise of both the GHS Foundation and the Augusta University advancement team. Mary McCormack, AU associate vice president for gift and estate planning, joined the team last year, bringing 20-plus years of expertise and experience in health care and higher education fundraising.
"We love not only the relationships we cultivate in serving our supporters' financial and philanthropic needs, but the ability to help them optimize the impact of their generosity and commitment to future generations of dentists," says McCormack. "It's incredibly satisfying to help people set their dreams in motion."
For more information, or to make a gift of your own, contact the AU Office of Philanthropy and Alumni Engagement:
Rhonda Banks, Director of Philanthropy, 706-446-4664
Mary McCormack, Associate Vice President, Estate and Gift Planning, 706-540-2885